Bus Simulator: Ultimate is a new exciting game from Zuuks Games inspired by driving simulation. This is a well-known developer with simulation games about driving themes like Truck Simulator 2018: Europe. Bus Simulator: Ultimate is an upgraded version with more features for players to experience. This game brings players to the world of endless driving. In which, players will have the opportunity to challenge themselves with controlling a bus. The game has diverse tasks with many attractive rewards. Bus Simulator: Ultimate is a much bigger idea compared to other games of the same genre. You will have a big world, a company and lots of things that need you to manage. In this article, I will share you with all the interesting information about the game as well as provide you with a link to download Bus Simulator: Ultimate for Android phones.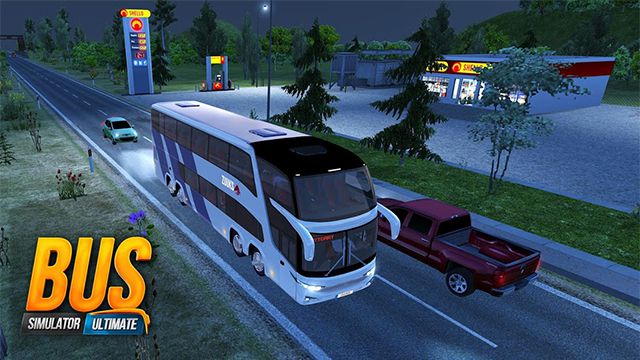 Introducing Bus Simulator: Ultimate
The gameplay
In Bus Simulator: Ultimate, you will have the opportunity to become a boss and a professional driver. Gamers can create a bus company and develop it into the world's largest company. When starting the game, you need to learn how to start the buses. There will be a lot of different function keys that make players confused. On the right side, there is a "Start" button that activates it to start your car. On the lower part of the screen, it is a lever to help you navigate the direction of the vehicle to go forward or backwards. Next, you press the accelerator to move the bus.
After understanding how to control the bus, you can start a journey in the "Routes" section. Here, gamers can choose other parameters such as destination, starting point, fare and service. As soon as you start, you can drive to the set point to pick up passengers. Do not forget to open the door and luggage compartment for customers to board. After that, you can drive along the red route on the small map. During the route, you will encounter many difficult problems such as customer complaints, complex traffic with many vehicles or extreme weathers…
In addition, Bus Simulator: Ultimate is a real-time driving simulation game so it requires players to have precise control actions. You do not need to press continuously but also need to work with a steady pace to control the vehicle in the right direction. Besides, you will find there are many other feature keys that you need to manipulate such as turning on lights, asking for help, whistle… Please use them when necessary to participate in proper rules.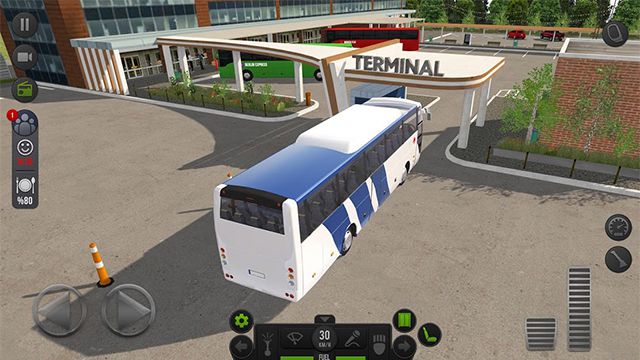 The key feature
Many vehicles: Bus Simulator: Ultimate provides 13 different buses with many types and designs. You can easily own them by buying in the store with certain amounts of money. The more expensive the bus is, the more luxuriously designed and the more capacity it is.
Upgrade and customize: The bus will be able to allow you to freely customize them. There will be four basic elements for you to change including Skins, Wheel, Paint and Personalize. You can easily create a car of your own style to make the game more interesting.
Company: You are the founder of a company whose mission is to serve customers and make profits. By buying more vehicles, you can open more branches worldwide and become richer and richer.
Driver: You can also hire drivers to drive you and earn extra income. Each driver will have the unique ability to help control the bus better and faster. You also need to pay them regularly every month so they can work for you.
Support multiple languages: Bus Simulator: Ultimate supports more than 25 different languages. These are common languages ​​in the world or come from multi-player communities. You can easily select a suitable language for easily playing.
The unique graphics and sound
First, this game graphics are built with modern 3D style. Players can experience many high-quality images of vehicles, roads, landscapes, etc. Besides, the game also brings a realistic and changing traffic system that constantly makes players feeling new. In addition, you can easily select the appropriate graphics level for your device including Low, Medium, High, and Ultra. Bus Simulator: Ultimate also provides players with many special effects such as weather changes, day and night changes, shadow effects…
Second, the sound is very diverse and interesting. The soundtrack will be exciting non-verbal songs that bring excitement to players.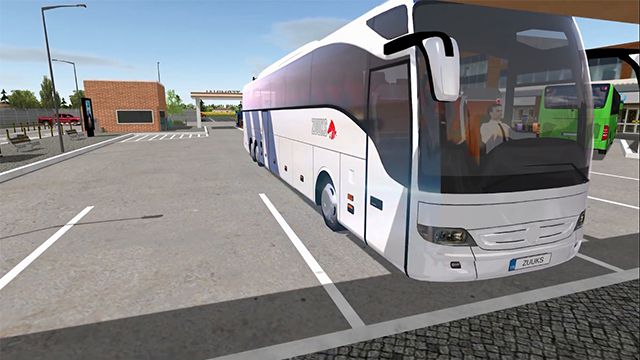 Download Bus Simulator: Ultimate MOD APK for Android
Bus Simulator: Ultimate is definitely a great game, which has a lot of interesting features. Please join this game yourself for more realistic reviews of the game. To download it, please go to the bottom of the article and click on the link. After that, let us know your review in this article. Don't forget to visit our Blog regularly to get more interesting games and applications. Thanks and have a fun game!