Freezer APK V0.6.14
Freezer APK is an interesting music application, helping users download free songs on Deezer.
| | |
| --- | --- |
| App Name | Freezer |
| Publisher | exttex |
| Genre | Music & Audio |
| Size | 15.05M |
| Latest Version | 0.6.14 |
| Update | January 8, 2023 |
| Get it On | |
Download (15.05M)
Freezer is an interesting music application in the market. It is simple but intuitive that allows users to quickly download quality songs on the Deezer music app. Freezer will definitely be a perfect app for music lovers worldwide at the moment. Please join us to find out more information about the app in the article below!
What is Freezer?
If you want to get free songs, Freezer can be a pretty good app, which is a modified version of Deezer: Music & Podcast Player. Deezer is a long-standing company in online music streaming. You can use this app to listen to many attractive songs on the market. However, to download songs and albums from such applications, users will need to pay for this. Freezer was customized by a tech-savvy (exttex) people. However, it still has differences in design and operation from Deezer. This makes more and more users enjoy it.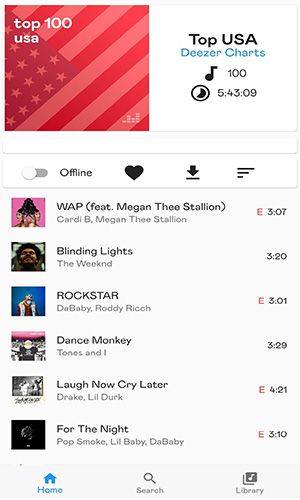 Features in Freezer
Download high-quality music
Downloading songs is a great feature that many people are most interested in Freezer. It allows you to download large numbers and continuously the songs or albums on the app. With just one click, users can quickly get songs in the phone memory. However, Freezer's download feature still has some disadvantages that have not been fully optimized. Specifically, you have not yet been able to track the download of songs. Instead, you can only check the list of downloaded songs in the device's memory.
Besides, most of the sóng that you download from Freezer is Flac high-quality songs. The size of the songs will be relatively large and consume a lot of memory on your device. However, you will have a great music experience with the best sound quality.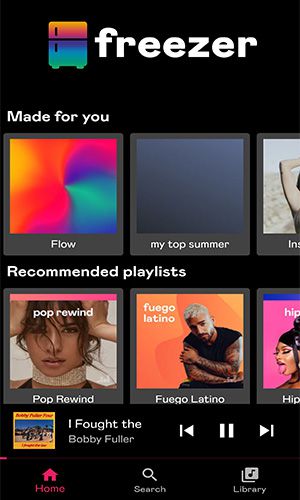 Update latest songs from Deezer
Freezer will take the data directly from Deezer to display on the application. Therefore, all the latest songs and album of Deezer will appear here. Also, Freezer requires users to sign up for a Deezer account to use it. You can register right on the Freezer screen or go to the Deezer home page to subscribe. Once you have an account, you only need to log in to be able to use it.
Moreover, if you have installed Deezer Music Player, can we install Deezer? Is there a problem if logging in with the same account? The answer for you is no problem. We have already tried using the same Deezer and Freezer account on the same phone then it still works well. However, to avoid unnecessary risks, you should create a new account to use if you have a Deezer Music Player Premium account and want to experience Freezer. Because of long-term use, the developer of Deezer Music Player may take some tough measures to ban the app.
The optimized music player
Freezer has also improved a lot in playing songs. It looks like a classic player with simple and more optimizations. Users will experience the simplest controls without annoying and distracting eyes. Also, you can sync the songs on the device memory to play with this application. At this point, you will not need any music player anymore. Besides, Freezer also has no ads, bringing the best listening experience to users.
Create playlists and connect with Spotify
Moreover, this app provides users with a rather unique feature of Freezer. The Importer feature will help you use playlists from the Spotify app to import into the app. You just need to enter the playlists' link in the URL section to be able to connect. However, this feature is currently only available for playlists with a maximum number of 100 songs.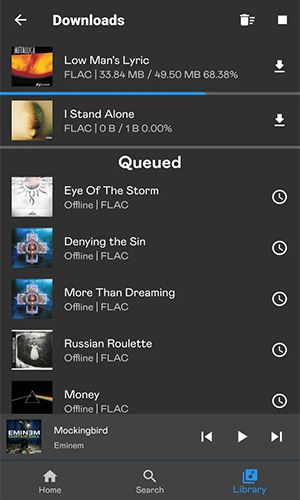 Download Freezer APK for Android
Freezer is a free app, but you cannot find it in mobile stores. The only way for users to get this app is by downloading the APK files on the Internet. If you are interested and want to download this application, you have come to the right place. In this post, we provide you with the link to download Freezer APK for free. Surely, it is very safe for your device.
How to install Freezer APK for android?
Please follow these steps:
Open the folder containing the APK file you have just downloaded and click on it.
Select "Install" to automatically install it. At this point, your phone may ask for installation from unknown sources. Please agree and activate unknown sources with Freezer.
Go back to the folder containing the APK file and click it again to install.
Conclusion
Overall, Freezer is a great app for music enthusiasts. It has all the advanced features that users need to enjoy and download songs online. More especially, Freezer is completely free and has no ads. Readers can download the app at the link below. If you have any comments about the app, please let us know in this article. Thanks and have fun!
Available Versions