Frostborn is a very new type of survival game on mobile phones. It brings familiar gameplay but still attracts players around the world. The game is an ancient world with the appearance of countless strange creatures and hideous monsters. In which, players have to find a way to survive in this land such as fighting, hunting, creating, etc. Besides, it offers addictive gameplay, improved graphics and lots of advanced features.
Frostborn is a newly created work of producer Kefir!. This producer is no stranger to many players around the world with many popular games like Last Day on Earth: Survival… Now, Frostborn will be a similar version but players will start in a more ancient and mysterious world. The story of the game is also featuring the fairy tale. In this article, we give you all the information about the game as well as provide you with the link to download and install it for free.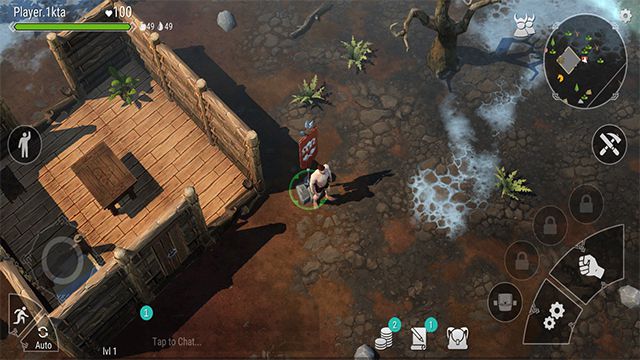 Introducing Frostborn
The story
Ingard is a beautiful land with fresh lakes and many interesting animals. However, that landscape was destroyed because of the zombies. These creatures came to the world through the gate which had opened by the goddess of death Hel. She wanted to take revenge on Odin who dominated Frostborn's world for taking her to the Helheim underground world. The corpses came to Ingard through cracks between the world of the gods and the human world. The survivors stayed together to fight against the evil from Ingard. This is an extremely difficult task for all players in Frostborn. The battle will be difficult but prove that you deserve to be true warriors.
The addictive gameplay
Frostborn still retains the survival game style that makes tens of millions of players passionate. In the game, you can choose a character with various advanced options such as hair color, skin colour… After that, you will immediately appear in an ancient and desolated world. You have to go around and look for some basic materials to make tools or find weapons to protect you from the dangers. After that, you can use the tools to collect more materials as well as use weapons to kill the corpses and hunt animals. All activities in the game will bring you experience points for levelling up the characters. The higher the level is, the more powerful buildings and equipment you can build.
In Frostborn, you will also need to build a shelter, which can be called your home. It will help you store materials and protect your safety from the attack of the enemies. After you have a strong base and powerful equipment, you can continue to explore the world. In this journey, you can use energy points to move between lands. However, you should always be cautious when coming to new lands because the danger will be more and more. Besides, you must try your best to not to die because you will lose everything you have collected.
When playing Frostborn, you can play with friends or other players. You can work with them to build an alliance to fight together. Or they will become enemies and invade your land. The control of the game is quite familiar to players. It will be relatively similar to Last Day on Earth Mod Apk. However, there will be some differences in layout and design with a more intuitive mechanism.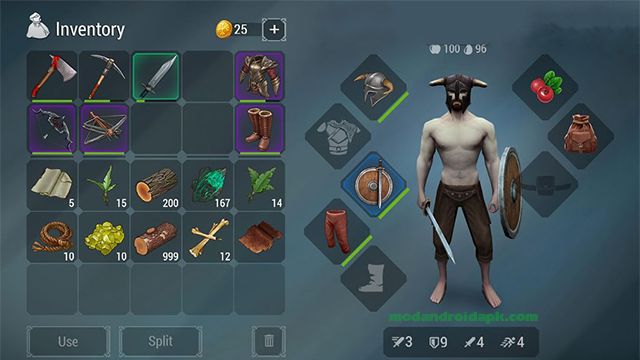 Realistic graphics
Frostborn brings a rather familiar design style. You can see this style in many previous survival games. The viewing angle will still be easy from the top down. Frostborn's image is also rich and bright. The game comes with a lot of special effects like a shadow or ambient effects.
Multiple game modes
This game brings a lot of game modes for players. In which, PvE mode allows you to battle many mysterious creatures and monsters. In PvP mode, the game allows you to battle other players who appear inside the game system. This will be a fierce competition regime for life. A maximum of 4 players co-op mode allows you to play with your friends for more fun. In addition, players can create or join a guild to interact with more players.
Rich World
Frostborn's world appears spectacular with ancient Scandinavian scenery. This is a vast and diverse world, in which players can participate in exploring various maps and locations such as Thor and Odin's dangerous underground reserve, Cursed Forest, Sacred Tree, Winter Gate…
Diverse manufacturing feature
Frostborn brings a rich and easy craft system. In which, players can easily craft themselves a weapon, tool or equipped from the materials available in the collection. You will absolutely not need to spend money to buy materials. Items will also be very diverse. They are divided by the level of the player to help players easily find and align power.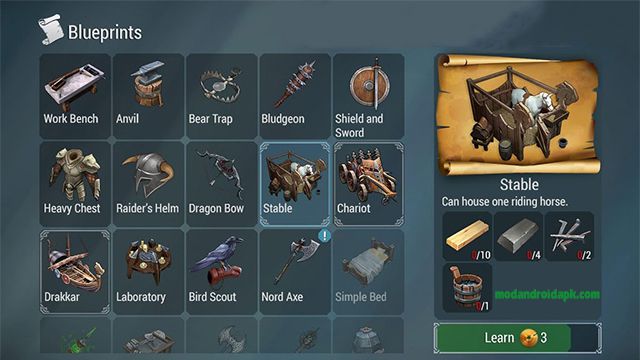 Download  Frostborn APK for Android
Frostborn is a great and very modern game. It offers fascinating gameplay and a very special control mechanism. I will regularly update the new version of the game in this article. We provide you with the download link of the game at the bottom of this article. If you have any question about the game, please leave a comment below. Thanks and have a fun game!