Naruto: Slugfest is a new game that gives players a fascinating story about Naruto Uzumaki. This is an officially licensed game, which brings many interests to players. Besides, it will take you to the first 3DMMO world. Naruto: Slugfest will be for Naruto fans around the world. It provides players with a classic story, engaging gameplay, great graphics and many advanced features.
Naruto: Slugfest was developed by GAMESAMBA. This is a developer from China specializing in developing popular Manga style games like Fairy Tale, Tokyo Ghoul: Dark War, Attack On Titan: Assault… Naruto: Slugfest is the latest game launched on the Android platform. In this article, we will give you all the information about the game as well as provide you with the link to download the game's APK and OBB file simply and quickly.
Introducing Naruto: Slugfest
The story
Naruto: Slugfest was developed with a classic plot that allows players to develop with Squad 7. In which, Naruto, Sasuke and Sakura are organized into a team after graduating from the Academy to balance their talents. Naruto is the worst student in the class, who will be compensated by Sakura's intelligence and mastery. Sakura will be compensated by teammates who are more capable of fighting. Sasuke will benefit from being forced to work with others. Kakashi was chosen to lead Squad 7. They have overcome many difficult tests before.
In the game, the initial missions of Squad 7 were all D rank, but Naruto believed that they were too qualified to compete on the rank C mission. So Naruto had to pressure the Third Hokage to give them a C-level mission. It is escorting Tazuna to the Land of Waves. After accepting the mission, they discovered that Tazuna had lied about the details of the quest and the real mission was class A that far surpassed the skills of the genin. However, Squad 7 persists with the mission and can complete it. This game offers a lot of special missions that need to be completed by Squad 7 members.

The gameplay
Naruto: Slugfest is an MMO role-playing game. In which, players will be able to choose one of four different character classes including Capsicum, Phantom, Jungle or Earthquake. Each character will have a unique ability with different fighting styles. Soon, you can start the game with basic tasks to get extra experience points, money and items, etc. This is also a basic step for players to get used to the game. Besides, players will begin to develop their characters through collecting, upgrading equipment and skills, levels… In addition, Naruto: Slugfest also has many attractive side quests. You can also call other Ninja friends to join the fight.
In Naruto: Slugfest, the control is quite complicated with lots of keys on your phone screen. The lower left corner is a typical moving key so you can move the character in the direction you want. The lower right corner will be the skill set of the character with other actions such as jumping, tumbling, etc. At the upper part of the screen, there will be special feature keys such as map bags, quests, events, map…
The large game world with a huge number of players
Naruto: Slugfest is created from a unique Sandbox world. Many large maps created with rich scenery which will make players excited. You will be comfortable travelling through many attractive locations, exploring various missions and meeting different players. The community of Naruto fans and players number is huge. You will recognize this as soon as the game starts. You can interact directly with them via chat channels in the middle of the phone screen. Let's share the passion with the gaming community around the world.
The beautiful graphics
Naruto: Slugfest is designed with the latest 3D technology. The images in the game are very smooth. Images of characters are also simulated 100% similar to characters in the comic world. Besides, the game world is also created with today's leading animation rendering technology. Moreover, Naruto: Slugfest also has many special effects such as lighting effects, cinematic shadow effects and skill effects.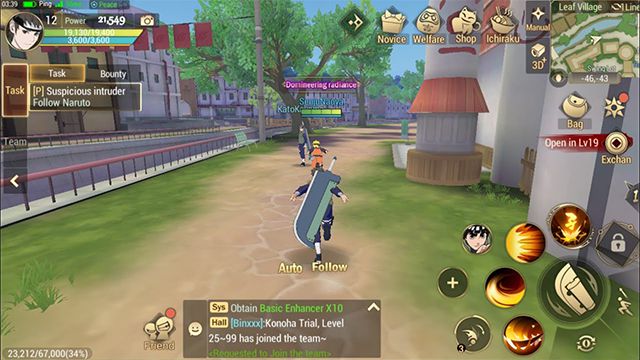 Download Naruto: Slugfest APK on Android
Naruto: Slugfest is one of the best games for Naruto fans. This will be a game developed in the long run. So if you love it, don't forget to pin this article and get the latest updates. In this post, we provide you with the link to download Naruto: Slugfest APK and OBB data. You will need to prepare a stable connection and a 1.3 Gb memory to start downloading this game. Thanks and have a fun game!