If you are a fan of sports games on your phone, it may be too familiar to the game maker First Touch Games Ltd. They always invest carefully in the gameplay, graphics and gamers' experience before launching the game. Their products are a few but the quality is very nice. Recently, First Touch Games Ltd continues to release the newest game named 8 Ball Hero for smartphones. It was built with the idea of ​​Billiards sport. This sport is exploited by many developers that we can mention 8 Ball Pool from the developer Miniclip. However, 8 Ball Hero will be developed in a completely new way. It is not just ordinary matches, in which you have to solve difficulties in situations. In this article, I will introduce interesting information about the game as well as provide a link to download the Apk Mod version.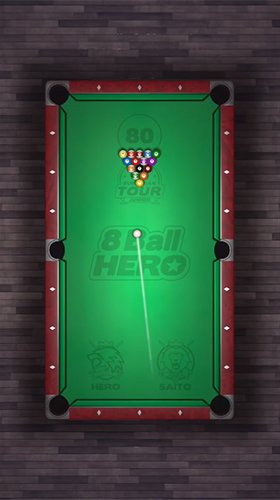 Introducing 8 Ball Hero
The gameplay
If you have ever played Score! Hero, you will feel that these two games have some similarities. In the game, you have to find a way to solve difficult situations. Your task is to bring the ball into the hole under the cheers of the audience. In each game, you will have to solve different tasks. Only when you complete them can you continue on to the next stage. Each player has playing turn displayed as heart icons. When you finish all of them, you can buy more or wait for the free one.
After winning each game, you will receive an amount of cash and stars. You can get up to three stars. However, with just one star, you can unlock the next screen. Of course, you can still play again until you reach three stars. The more stars you have, the faster you can unlock achievements on the way to becoming a professional player. Besides, Cash will help you get some interesting items. They are also intended to help you continue playing if you fail.
In 8 Ball Hero, the control is very simple. Gamers just drag to move the stick to rotate in the direction they want. Also, you can swipe and drop to perform a stroke. This game will not require you to play fast because there is no time limit. You need to calmly observe the ball situations and hit them correctly to complete the game.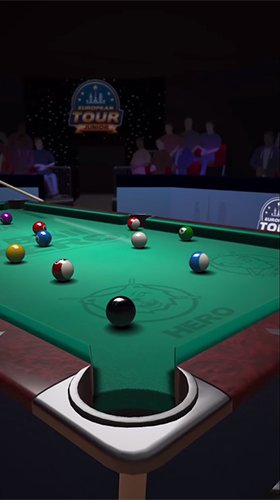 The key features
Diverse challenges: 8 Ball Hero provides hundreds of different levels. It takes players to discover all the interesting stories in the game. The higher the level is, the more difficult the game will be. You need to practice a lot to get more rewards and achievements in the game.
Interesting story: 8 Ball Hero is about a Billiards legend that is you. That story will inspire very well for players. You will feel passionate and love your story. Maybe you will feel addicted to this game after exploring its story.
Beautiful graphics: This game is designed with a combination of 2D and 3D graphics. The viewing angles will be changed continuously to suit the player's observation. 8 Ball Hero also has more exciting sound effects, which make you more interested in.
Become a professional player: Players can develop characters in this game. You can make your own customizations and upgrades, which will make your character stand out in every match.
Simple synchronization: This game allows players to log in with social networks. You can log in to start connecting with your friends. Your achievements will be saved and shared with many players around the world. You can also login quickly on other devices to continue the game or show your achievements.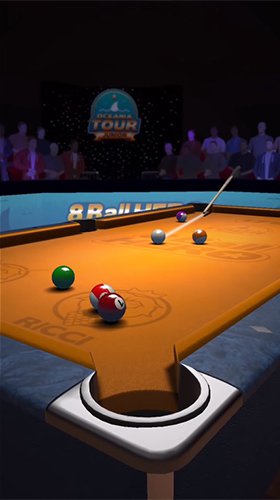 Download 8 Ball Hero MOD APK for Android
8 Ball Hero Mod Apk is a new exciting game. This will be a game that promises to attract millions of players. You will not be able to find the download link from any store. Instead, you can experience the advanced features unlocked right in this article. I will share a link to download this game at the end of this post. You can quickly scroll down to the bottom of the link to download.