Nowadays, smartphones are becoming a popular device to help users access the internet. Instead of having to sit in front of a laptop or PC for hours looking for information, you can now move anywhere or in bed to find what you want. Sometimes, you will find interesting things that you want to download them to your phone. ADM (Advanced Download Manager) is a great application that makes it easy to download whatever you want on the internet. ADM is provided and developed by DimonVideo. It was developed for modern Android devices. The app provides simplicity and ease for everyone during use. Besides, ADM also provides users with many other advanced features. In this article, I will introduce you to interesting information about the app as well as provide the link to download ADM Pro APK. Please find it out right below!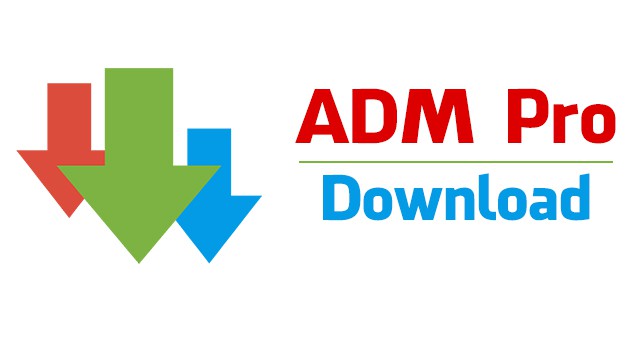 About Advanced Download Manager
Easy download manager
If you have used a computer to download any things, you will definitely know Internet Download Manager (IDM). It helps users quickly download files on PC. ADM will work similarly. However, one small difference is that you need to have the links of the file you need to download. In which, you just paste a link into the app then it will do all the rest.
In addition, ADM has a very simple and easy to use operation. Also, it has a completely simple and clean interface. The dominant blue colour is quite attractive and similar to the µTorrent® Pro – Torrent app. You can easily track what you are downloading with specific reports about the time and download speed. Besides, you can also set get notifications when the application has finished downloading.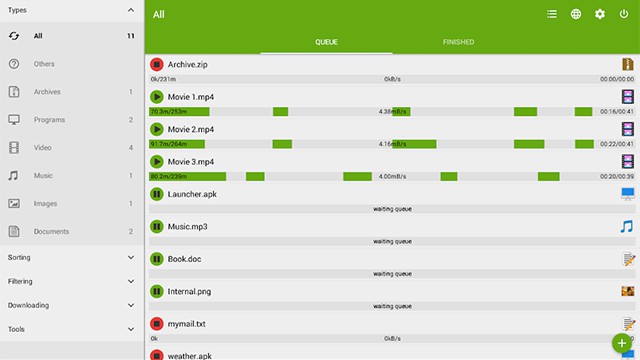 The key features
Download multiple files: ADM allows users to download up to 3 files at the same time. For files that are too large, you can split them into multiple parts (up to 9 parts) for faster download.
Notice: When downloading files, users will receive a lot of information from the file you want to download. You can work and control them easily. In addition, the application also allows you to display downloads as icons or windows.
Tools: This feature will have some advanced parts to give you better control over the download. You can schedule to download, categorize the files, download only with Wi-fi or exit immediately after successful download… In addition, users can also add a ".txt" file to list things needed to download then the application will automatically download all.
Classification: The downloaded file will be stored and categorized in detail. You can easily find them to use or delete. ADM can categorize includes programs, videos, music, photos, documents, etc.
Arrangement: A more advanced feature that helps you control those files is organizing them. You can arrange them by size, by name, by download time or by type.
Filter: Users can also consider downloading simply with filtering files. You can review files that have stopped downloading or files that have started downloading. From there, you can decide whether to continue downloading it or not.
Should we use ADM Pro?
ADM Pro is a paid application. Therefore, deciding whether to pay for an application will need to be carefully considered. If you are a person who uses the internet simply for searching for information, you will not need this app much. However, if you have a high demand for downloading files, documents, etc., ADM will be a very good choice. In this article, we bring you a better solution. You can download the APK file of the application and install it for free. If you want to know how to download and install it, please go to the next section.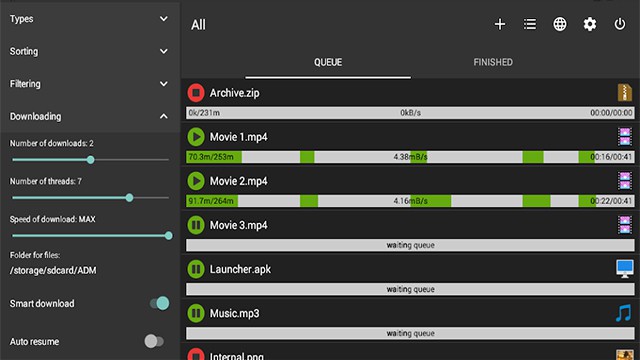 Download ADM MOD APK for Android
ADM is a great application. It's effective for those who want to quickly download files on the internet. The application is also very easy to use with many languages, no ads… You can download ADM Pro Apk simply and easily with the link below. Don't forget to leave a review or share this app if you feel it interesting. Please visit our blog regularly for more exciting games and apps. Thanks have fun!