Adobe Photoshop is a world-famous brand of Adobe developers. It is a professional photo editing software on multiple platforms. Especially, Adobe developer has also continued to work and bring compelling features of Adobe Photoshop on smartphones and tablets. There are also many different versions of Adobe Photoshop that we have introduced to everyone, such as Adobe Lightroom CC, Adobe Photoshop Express… Today, we would like to introduce another quality photo-editing application name Adobe Photoshop Touch. It will continue to be a perfect choice for photo editing enthusiasts and professional artists. Please join us to check it right now!
About Adobe Photoshop Touch
Simple usage and detailed instructions
If you have ever used Photoshop software on a PC, it is not difficult to grasp this application on mobile. The position of the toolbars will not change much besides optimizing to fit mobile devices. However, most users will remember the location of the toolbars after a few times of using them. Besides, the interface of Adobe Photoshop Touch is also a bit different from phones and tablets.
In addition, new users do not need to worry too much because the developer has integrated detailed instructions right on the main screen. However, these are not all the features included in the application, but just the basic suggestions for you to make good modifications. You can be more creative during use.
The key features of Adobe Photoshop Touch
Change object color: This feature helps users change the color of the object in the picture without affecting its details. You should select monochrome areas to perform this feature.
Insert and delete objects: In case you want to add a new object to the photos, this feature will be extremely useful. You only need to crop the object that you need to add with a transparent background and place it in the position you want on the image. Of course, you can also do the opposite by deleting objects.
Create fun photos and collages: Adobe Photoshop Touch supports taking photos directly on the app. Users can add photos available during the process to make your photos more fun. Moreover, users can also add impressive effects to enhance the art of the modification.
Photo effects: Great effects will be indispensable when using Adobe Photoshop Touch. By combining different effects and editing, users can transform photos with many different styles. You can even create an old photo like it was taken hundreds of years ago.
Add Text: Inserting text is an almost basic feature that every photo-editing application should have. Adobe Photoshop Touch will help you easily add the text. After that, you can change them to a variety of sizes, fonts, colors.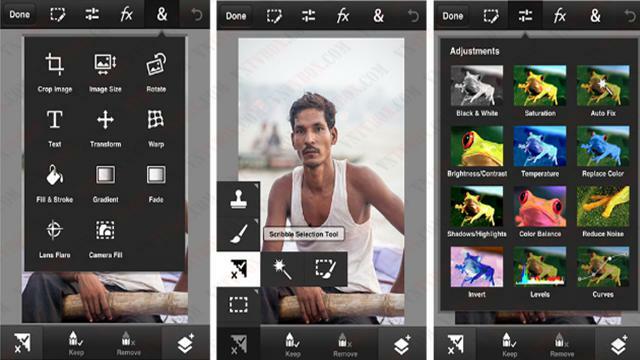 Download Adobe Photoshop Touch MOD APK for Android
Adobe Photoshop Touch is a free application. However, this application is only available in some countries, making it difficult to download for many users. In this article, we provide you with a link to download Adobe Photoshop Touch MOD APK for free. This is a modified version that has already unlocked all the features and removed ads.