Fish idle is an extremely attractive entertainment game for all mobile phones and tablets. It exploits the idea of idle fishing with simple and addictive gameplay. In the game, players will become professional fishermen to adventure across the oceans and become the richest fishing tycoon in the world. Let's explore Fish idle with our reviews in this article!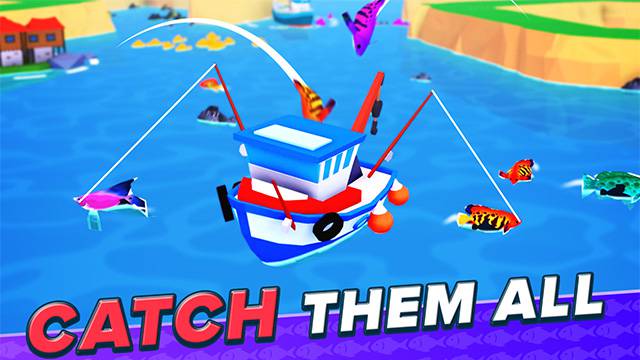 About Fish Idle
This is a product from the developer Mamboo Games. It simulates quite well the fishing job on the seas. Fish idle is fun with many advanced features that go beyond even a regular idle game. By upgrading, shopping, and calculating in fishing, players can earn better revenues and make the game a lot more interesting. Currently, it is free to download on any mobile store. You can immediately try it for a unique fishing experience.
Simple gameplay
In the beginning, players will learn how to control their boats in the waters. You just need to use one finger to pull your boat in the direction you want easily. As soon as you encounter schools of fish underwater, the fishing rod on the boat will automatically operate within a certain area. You should follow the fish until the work is done. The more expensive the fishes are, the longer the fishing time will be, and vice versa. Each boat can only hold a certain amount of fish. After finishing, you have to bring them to your facility to sell and get money.
The levels will be separated by different portals, which will open when you achieve certain elements in fishing. Besides, players can upgrade the boat's equipment to be able to catch faster and carry more fish. The more you upgrade, the easier and more fun your fishing will be.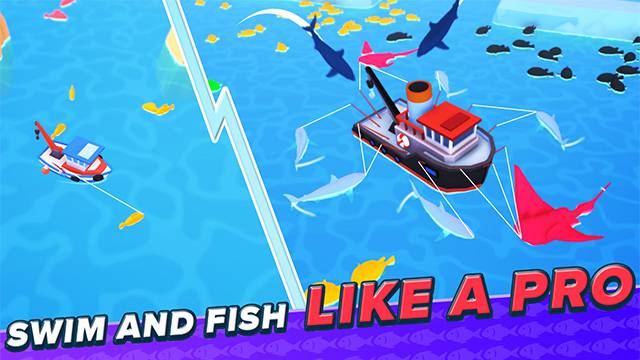 Many kinds of fish
In Fish idle, the fishes will have different ways of working that require players to understand them to be able to fish. Some species will gather in flocks and others will move individually. The rarer the fish is, the less likely they are to appear and fishing for them also requires more patience. Of course, the fact that you catch rare fish will bring more money and experience points.
Upgrade boats and tools
In Fish idle, gamers will be able to upgrade many different parts related to the boat to improve fishing performance, including:
Upgrade the speed so that the boat can move faster to reduce the time it takes to travel to the waters or chase rare fishes.
The boat's capacity: helps players bring more fish.
Fishing speed to reduce fishing time.
Upgrade your fishing rod to catch more fish at once.
Health to protect your boat from collisions.
Fishing radius to be able to catch fish farther.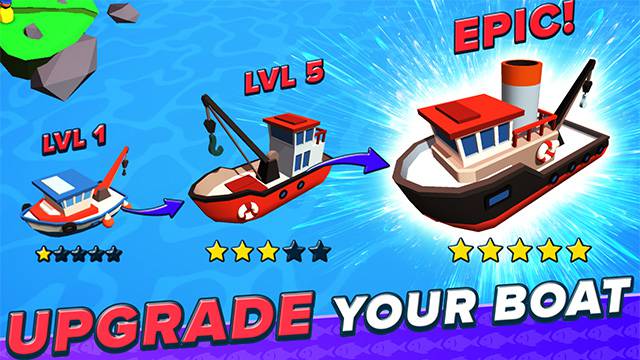 Other interesting additions
Fish idle has the same activities as in real life, in which players have many ways to earn more profit in catching fish. You can hire more workers in the Bots shop to work for you. Also, you can exchange many rare items and currencies for perks in the Exchanger shop. If you visit the black market, don't forget to upgrade your boat beyond the usual standard levels to get more advantages.
The game's design
This game has a unique and interesting design that is different from many common idle games. Specifically, players will have direct control of the ships and make more interesting controls. Beautiful 3D visuals have been perfectly optimized to fit most mobile devices today. In addition, the game also has very relaxing music and many sounds related to in-game activities that bring real emotions to the player.
Download Fish idle MOD APK for android
Fish idle is an attractive game with simple gameplay and diverse advanced features. In this article, we would like to provide you with Fish idle MOD for free on Android phones. Readers can download it at the link below. Don't forget to rate and share it if you find it interesting. Have fun!