The dark always contains mysterious and scary things in the imagination of many people. Nowadays, people are developing power system for lighting all the darkest places in the world. However, it cannot cover all parts of the world. Therefore, many people want to do something good for changing the darkness of the world but it is also very challenging. Today, we bring you a great solution to make your desire come true. It is a completely new idle game called Idle Light City. In the game, you will start operating a light factory and produce a lot of light bulbs to bring light to the whole world. Currently, Idle Light City is available for mobile phones. In this article, we give you all the information about the game and provide you with the link to download it for free.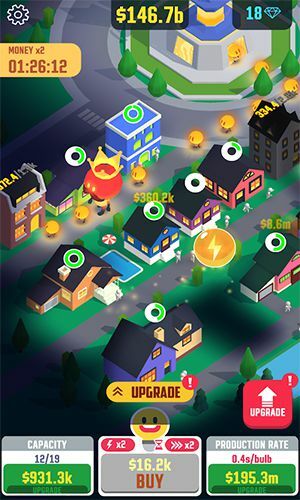 Introducing Idle Light City
The gameplay
In Idle Light City, the player controls a light bulb factory, which will produce lights. Instead of a complicated system, the lights will automatically run to every house in the city. Those houses will need different numbers of shadows to be able to light them. At first, you will use your fingers to speed up the production and movement of the light bulbs by clicking repeatedly on the screen. When the lights have light up the houses, they will bring money to your factory. From there, you will continue to buy more bulbs so they continue to light the city. The more lights you have, the more money you will get. Also, Idle Light City allows people to carry out construction and upgrading work on various parts of the city so that things become more impressive.
Diverse upgrades
Idle Light City allows players to upgrade many different things for lighting the city faster. First, players can upgrade the houses so they bring you faster income. When you upgrade the house, their designs will change and bring you more money. Besides, the houses will automatically make profit for you without having to collect money manually. After that, the player can upgrade the light bulbs with different abilities such as increasing the running speed, automatically buying, Lightbulb Power…
Creative design
Idle Light City is one of the most creative games. In which, the images of stylized light bulbs are completely new with faces and body parts like humans. They can move and run to the houses in smartly. Also, the city was built with a simple style, which is well optimized for many mobile devices. You can also hear playful pianos and lively music throughout the game.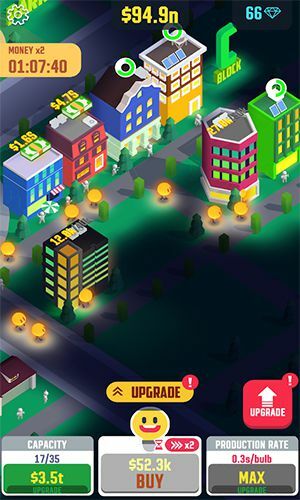 Download Idle Light City MOD APK for Android
Overall, Idle Light City is a fun and highly addictive game. It brings many interesting features and especially a very simple gameplay. If you want an entertaining game to play in your free time, Idle Light City is a very good choice. We will regularly update new versions of this game in this article. So do not forget to regularly visit our website for more interesting games and apps! Thanks and have fun!