Jumanji: Epic Run is an engaging adventure game based on the famous movie Jumanji. It is a great idea of ​​an endless race in a mysterious jungle full of danger. The game will help you to meet familiar characters on your mobile phone. They will participate in fascinating game modes to rediscover the sacred Falcon gem. Jumanji: Epic Run promises to be a hot game. In this article, we give you all the information about the game, as well as provide the link to download it for free for Android phones. Please join us to check it out right now!
Introducing Jumanji: Epic Run
New adventure
In Jumanji: Epic Run, you will transform into one of the 4 characters in Jumanji's story. You will run with them along the mysterious roads in the jungle to hunt down thieves. Gamers will have to dodge obstacles, fight thieves or escape from dangerous animals. You have to collect as many gold coins as possible on the road, which is also your reward after finishing the game. You can also randomly collect some power on the run to increase your power. The player's achievement will be evaluated by the score you receive at the end of the game. It is also equivalent to an amount of money. After that, you can use the rewards you collected to unlock characters, upgrade the power to make your race more fun.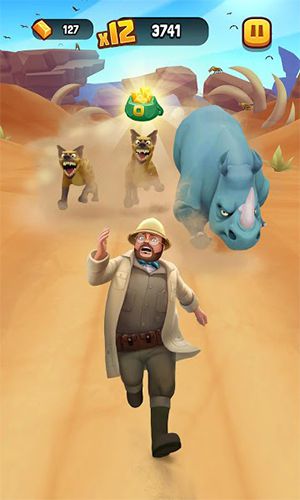 Missions and achievements
In each race, players can receive a random task, such as collecting gold, picking up keys… You can complete them during the race. After completing them, you will receive rewards. They can be precious chests with many valuable items. Also, gamers can create their achievements during the game. You will know which achievements you have reached by clicking on the trophy on the main screen and receive the reward worthy of it.
Unique character
The four characters in Jumanji: Epic Run include Dr. Smolder Bravestone, Franklin "Mouse" Finbar, Ruby Roundhouse, and Professor Shelly Oberon. However, you will be able to encounter many different versions of them in this game. Each version will get new designs and unique capabilities, which will help you a lot in the race.
Interesting items
Jumanji: Epic Run offers a variety of unique weapons and power-ups in races including:
X2: Double your cash to gain more and more achievements in the race.
Magnetic fields: Collect all coins near you.
Bubble Shield: Protect the character from obstacles
Steering wheel: Summon a random vehicle to help you get through everything.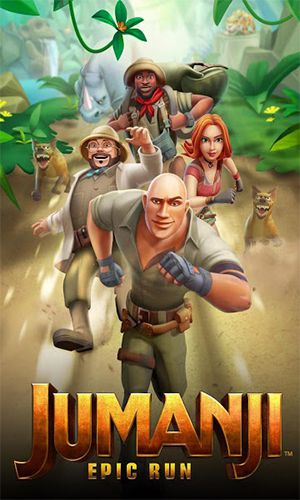 Impressive graphics
Jumanji: Epic Run is a good game with extremely modern design. There are many quality and beautiful images with the cartoon style. Besides, your race is impressive with the beautiful 4D design. Players can experience many special perspectives that are constantly changing. Also, the sound is a plus point when the player can be immersed with the sounds of nature and other activities.
Download Jumanji: Epic Run MOD APK for android
Jumanji: Epic Run will be a fascinating game with races through a dangerous jungle and meet new things. The game is entertaining and suitable for everyone. In this post, we provide gamers with the link to download Jumanji: Epic Run Mod Apk latest version. Do not forget to rate and share this game if you find it interesting. Thanks and have fun!