Monster Explore is a unique adventure game on mobile. This game is the international version of Let's Go Pokemon Mobile. After launching a trial version, it has received huge attention from gamers around the world. To meet the expectations of many players, Monster Explore will support English. This game will bring players to the world of Pokemon and magical creatures. You can collect and train them to fight. Besides, you can train skills and tactics to become a top trainer in the pokemon world. Monster Explore has a lot of interesting things in terms of the story, gameplay, graphics and more. Let's together with us to check it out right now!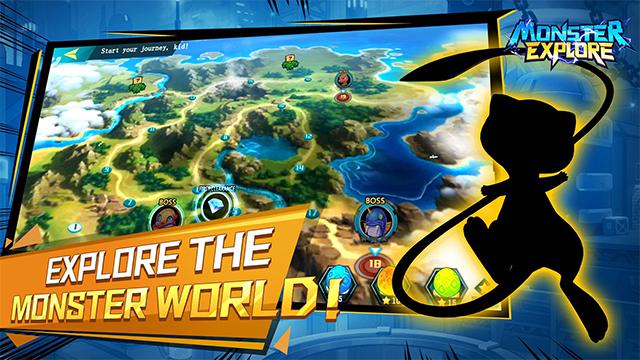 Introducing
The story
Monster Explore is based on the original anime storyline Pokemon with adventures of adorable characters. Players will take a special journey. In the game, your task will be to find and collect cute Pokemon through combat. Monster Explore combines a variety of stunning effects to create an engaging 3D card game that brings you closer to the Pokemon world. Gamers will create unique squads with a combination of many different types of Pokemon as well as use tactical thinking and coaching ability to become the best coach.
The gameplay
Starting the game, Monster Explore will allow players to choose one of two characters, Satoshi or Kasumi. After that, you can participate in a practice match to quickly grasp the basic gameplay of the game. Monster Explore matches will take place in turn. You will summon your 3 most powerful Pokemon to fight. Each Pokemon will take turns to attack each turn towards the opponent's formation. When players win matches, they will receive rewards. That reward will help you a lot in building and developing your Pokemon squad.
Besides, the Turn-based mechanism will also make the gameplay of the game slower. Players do not need to be too fast in operating but need to use thinking ability to create good tactics. The key is how you choose the squad. Pokemon will have the properties to counter each other. With a reasonable squad, even if your Pokemon are weaker, you can still win opponents.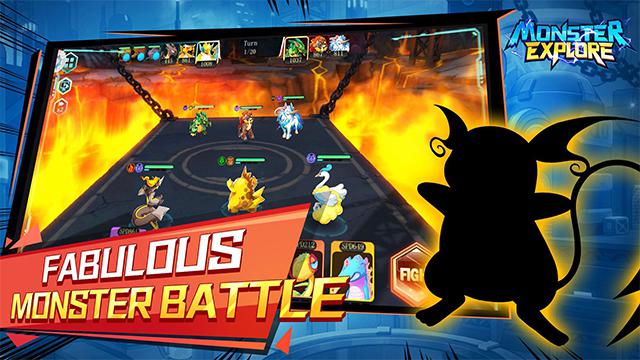 The key features of Monster Explore
Diverse Pokemon collection
Monster Explore has over 100 different types of Pokemon. They are available everywhere in the game. Also, you can get them through the draw from the Gashapon machine, which will bring random Pokemon with different star levels and attributes. If you are lucky enough, you can get legendary Pokemon with the best stats.
Training, upgrading and developing
Monster Explore allows players to level up, upgrade and develop monsters. Combine unlimited monsters to create stronger squads. Players can also learn more skills for Pokemon to enhance strength. Besides, you should pay attention to the evolution of Pokemon. After evolution, the indicators such as HP, Attack, Defend, Speed… will all increase significantly.
Adventure and discovery
Monster Explore is not just a fighting game. It also brings new characteristics to the player's journey. There are many different sections such as Rumor, Adventure… In each different place, players will discover interesting battle locations like hills, cities… You will also encounter different opponents such as Demon Dungeons, Bosses, …
Missions and events
Monster Explore provides a lot of main quests and side quests so that players can challenge themselves. The missions will require the player to complete with the maximum difficulty. However, the rewards that you can receive will be well worth your effort. In addition, Monster Explore also offers many weekly events for you to get more amazing prizes.
Connecting players
Monster Explore brings strong interaction between players. You can meet many gamers through player sections such as Guilds, inviting friends or moving around the city. Also, you can chat and exchange with different players to gain more experience in building and developing your Pokemon team.
Beautiful design
Monster Explore has an impressive design with high-quality graphics. Everything will be in the 3D environment with meticulously elaborate images. The Pokemon will be vividly and faithfully shaped like a modern animated movie. They will have interesting interactions. Besides, the game will also highlight combat with great effects. You will see close-ups and slow-motion of the Pokemon skills. Also, the music of the game will be very exciting with exclusive wordless music as well as many interesting sounds.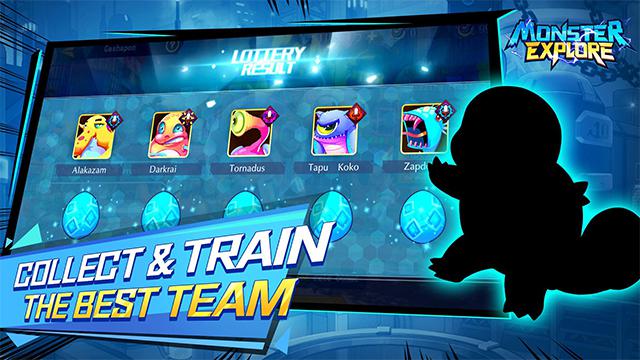 Download  Monster Explore APK + OBB for Android
Monster Explore is an attractive game for Pokemon fans. Besides, the games developed by The Pokemon Company, one of the most popular gaming company in the world. Monster Explore offers cool gameplay, nice graphics and a lot of interesting features. Readers can download Monster Explore at the link below. Do not forget to rate and share this game if you find it interesting. Thanks and have fun!