RS File Manager is a new and special management application for increasing the productivity of the Android phone. It is free, safe, and simple. Specifically, the app will assist users in many tasks of managing files and folders with diverse options. If you want to explore this wonderful application, please follow our reviews below!
About RS File Manager
This app is provided and developed by RS Mobile Group. It is a very new application compared to many apps of the same genre that we have introduced before like Solid Explorer File Manager or ES File Explorer Manager. RS File Manager operates stably on most Android devices. So far, it has received a lot of positive reviews from users. Besides, RS File Manager helps you manage files, applications, and many internal factors directly related to the performance and capacity of your phone. It will definitely be a useful application that makes it possible for everyone to use their Android phone more effectively.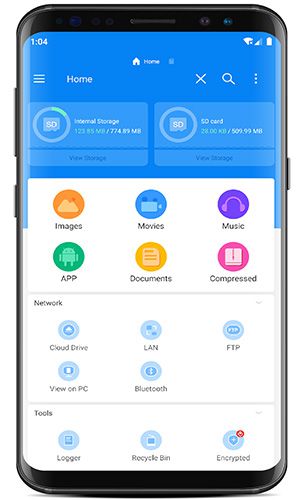 Features
Efficient and easy file management
RS File Manager will analyze your memory space and give detailed statistics about your resources. Thereby, users will be able to keep track of all the folders on the device. Then, you can fully operate those files such as cut, copy, move, rename, etc. involves adding or removing phone resources for more convenience.
Access and manage files online
Besides, RS File Manager allows users to connect the app to cloud storage like Google Drive, Dropbox, or OneDrive to store data. Moreover, you can also edit and manage files through many powerful protocols like FTP, FTPS, SFTP, WebDAV, SMB 2.0, NAS, NFS…
Applications manager
Also, RS File Manager will allow users to perform multiple requests and actions, including sharing, removing… Besides, you can also back-up the installed applications to APK files. This feature will be handy for those who want to work more with apps and games installed on their phones.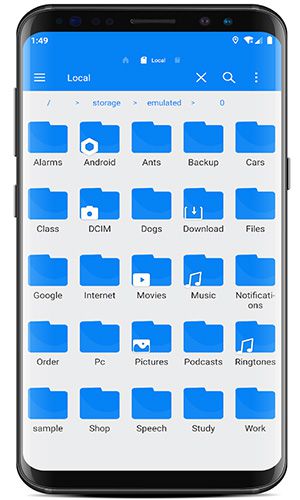 Support for root devices
If you have a rooted phone, RS File Manager will be a great and even more powerful tool. Specifically, users only need to enable the "Root Explorer" features to be able to interfere more in the system of the phone. More specifically, you can make adjustments to the files and applications of the phone system. However, this will require you to have specialized knowledge to avoid an error.
Compress, decompress and encrypt files
In RS File Manager, users can easily compress and decompress formats, such as 7zip, Zip, Rar. The operation is like on the computer. Also, you can work with those archives as a normal folder. Users can even view the APK files as Zip. Moreover, the app offers a more secure level for compressed files with 128-bit encryption.
Connect, control and view files conveniently
At this point, the app supports viewing and controlling files on your phone across many different devices. Through a USB OTG connection or a LAN, users can easily access files on their phones from a PC. Besides, you can also share files via Bluetooth, email, or whatever your device allows for connection.
Multiple languages
Users need to understand its features to have the best experience. Therefore, the app provides you with different languages, such as English, German, Spanish, Italian, Russian…
Download RS File Manager MOD APK for Android
RS File Manager is a free app to download. However, the free version will come with ads and limited features. To enhance the experience, many people have turned to a more advanced version. In this article, we would like to bring the free unlocked RS File Manager Pro. You just need to download this app at the end of this article and install it on your Android phone as usual.
Conclusion
Overall, RS File Manager is an excellent phone management application. It has powerful and advanced features so you can better optimize your Android phone. Also, users have more engaging experiences when using our version of RS File Manager MOD APK in this post. Don't forget to rate and share this app if you find it interesting. Thanks and have fun!