Racing is always an interesting topic for many players around the world. Even on Android devices, the racing category is also extremely outstanding. We can mention some famous game in this genre such as Asphalt or Need for Speed. Recently, Ivy developer has released a new interesting game of racing genre on the mobile platform named Street Racing HD. With the most advanced technology, outstanding features and realistic graphics, Street Racing HD will contribute to making your game store more diverse. In this article, we will give you all the information about the game as well as provide the link to download it for free. Let's check it out right below!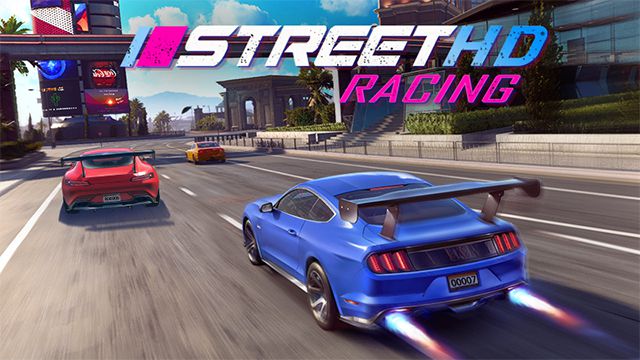 Introducing Street Racing HD
The gameplay
Street Racing HD was developed with a combination of racing and adventurous action. In the game, players will control a car with tremendous power and participate in the most fierce race in the world. You can compete with a lot of competitors, for the ultimate goal of top position on the ranking board. However, it is not easy to win the game. Gamers have to have a lot of factors such as upgrading skills, driving skills… To capture these factors, players must take the time to learn about it. When you have a car, you need time to get used to its features. Besides, it will take you time to learn about the laps and the driving skills. Also, Street Racing HD uses Nitro to help cars reach maximum speed.
Street Racing HD will give players a good control mechanism. With many different types of options such as tilting the phone, using the keys…, the player can choose the best suite control. Moreover, Street Racing HD will have very attractive rewards like money, diamonds, stars and upgraded items. You can use them to upgrade and customize the cars at will.
The game modes
Street Racing HD offers two modes including Career and PVP. Each of them will have different characteristics. You can join both to have your own experience of this game.
Career: This is the basic mode of this game. It both helps you practice and get valuable rewards. Players will step by step join the challenges. After winning, you will get rewards.
PVP: This mode is more competitive when your opponents will be smart players. You have to try to win them for getting the top position on the ranking board.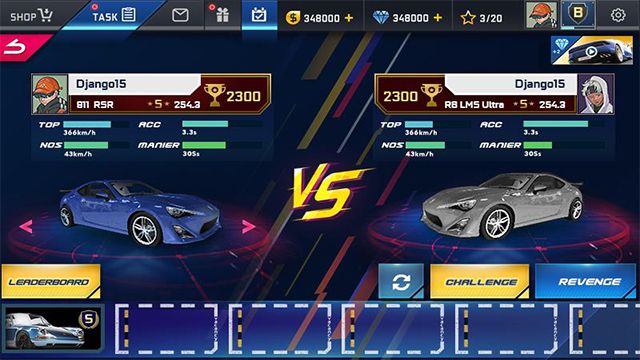 Many attractive cars
In Street Racing HD and many other racing games, the most exciting feature is the car collection. They are a great inspiration for players. Street Racing HD will give players many cars with diverse brands such as Mercedes, Lamborghini, Ferrari… Besides, the in-game vehicles are divided into segments from low to high including C, B, A, S. Each car will have unique design indicators and styles. Players need to spend money to unlock these cars. After that, you will see many advanced customizations, which helps you turn your car into a real monster.
The key features
Street Racing HD includes a lot of advanced features. I will highlight the key features that help you understand more about this game before deciding to download and experience it.
Various upgrades: Upgrading the cars is a great activity in all the racing games. In Street Racing HD, the cars will have many different parts to upgrade and change like colours, designs… Each of these upgrades you just need to choose to unlock and change. The operation is simple.
Unique Racing Street: Street Racing HD brings the most famous and harsh roads in the world from the cliffs to the bustling cities of Japan, America… They create the most interesting racetrack collection for you to discover.
Events and shops: Street Racing HD brings many new and daily events. You can join them to receive amazing offers and rewards. Also, gamers will have a diverse store to buy everything you want to make your game more fun.
The graphics and sound
Street Racing HD has a good design in terms of images with high quality. Everything is placed in a vivid 3D environment that brings true experience to players. Besides, the game also brings highlight with the bumps and extreme accidents for racing cars. You will see beautiful and attractive effects when hitting or using Nitro.
In addition, the sound is the plus point of the game with vibrant music following the drifting and action style. Players who just hear the music will immediately feel excited and want to race immediately. You should wear headphones so you can experience better engine sounds and more.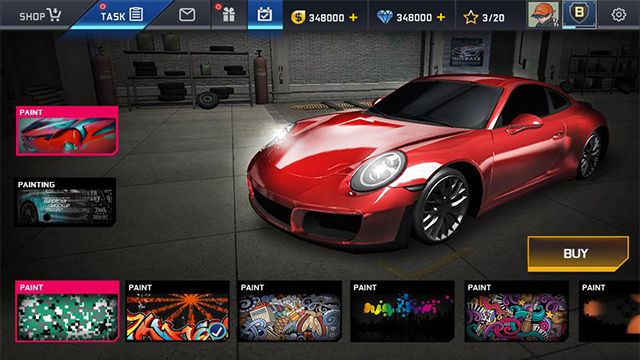 Download  Street Racing HD MOD APK for Android
Street Racing HD is a new exciting game in 2019. It brings great experiences about a modern racing genre. Many new features in gameplay, cars and design have made the game stand out and attract players. Readers can download Street Racing HD at the link below. If you have any question about the game, please leave a comment below. Do not forget to visit our website regularly for more interesting games and apps! Thanks and have fun!