Volleyball is a popular sport in the world. It is attractive and inspires many players. However, volleyball sports games have not been exploited much, so we hardly find a good enough volleyball game in the market. Recently, an exciting game called Volleyball Challenge was released and has made a trend in the gaming community. It is very addictive that brings a lot of fun to players. Inspired by the ideas of solo matches, the game promises to bring about you the best matches with many exciting and amusing situations.
Volleyball Challenge was developed and provided by Simplicity Games. It exploits a new aspect of this kind of sports. The game offers many interesting features in gameplay, graphics and more. In this article, I give you all the interesting information about the game as well as provide the link to download it for free. Let's find it out right now!
Introducing Volleyball Challenge
The addictive gameplay
Volleyball Challenge is interesting with intense solo matches. Also, there are lots of laughter. In the game, the player's mission will be like a regular volleyball match. You will hit the ball then the opponent will defend, and vice versa. You do not have to let the ball touch the ground because you will lose points for the opponent. You should move to predict the ball direction. From there, you can quickly make quick and accurate decisions to defend as well as counter-attack your opponent. After each win, you will receive bonuses and many other valuable items. You can use them to upgrade costumes, Skills, powers…
In addition, Volleyball Challenge has quite a simple control mechanism. You will easily control your players to move with the keys on the left side of the screen. On the right, there will be the hit key and jump key. Although it is simple to control, it will need you to make very fast combinations. Therefore, you also need to practice more and more to master and win the game.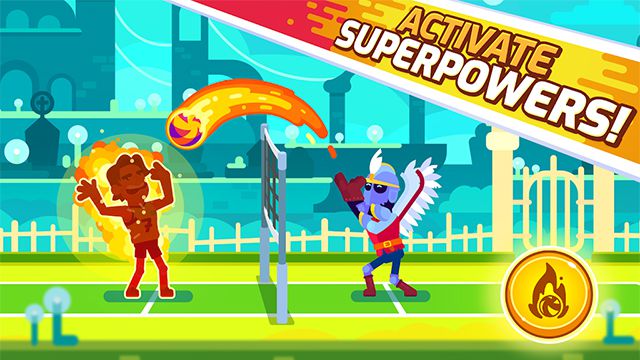 Many in-game stages
Volleyball Challenge brings an overview of the career for players. You will step by step explore the game through the various Court. At each Court, you will encounter dozens of different opponents. All of them will be AI. Each time you pass an opponent, you can continue to compete with the next opponent. The longer you play the game, the more intelligent your opponent will be. Although Volleyball Challenge has many different stages, the game mode is not diverse. Only a single game mode will make it easy for players to get bored. However, developers will update the game with more modes and levels in the near future.
The key features
Outfits: The character's uniforms and looks will bring a lot of interesting experiences to the players. You can change the look and gender of the players. Besides, you need to collect cards to unlock special characters in the game. Outfits are divided into 3 different levels including Normal, Special and Legendary. Each level will require different card types with different numbers.
Skills: Your character will gain some special skills. They help improve the ability of players. You can upgrade these for more power.
Super Powers: Volleyball Challenge provides some special powers for players. It helps your players increase their attack indicators and reduce the opponent's strength. You can unlock new skills at different levels. There are about 10 different skills so you can unlock and upgrade until you reach level 50.
Bags: Bags are rewards for players. You can collect them by winning or buying in the store. The game will have many different types of bags with different levels from popular to legendary. Each bag has unique materials and items depending on its level.
Unique graphics: Volleyball Challenge brings you the 2D design with the colourful feature. This design style is currently very popular in many top games. Some nice effects are also available in the player's skill set to make the game much more attractive.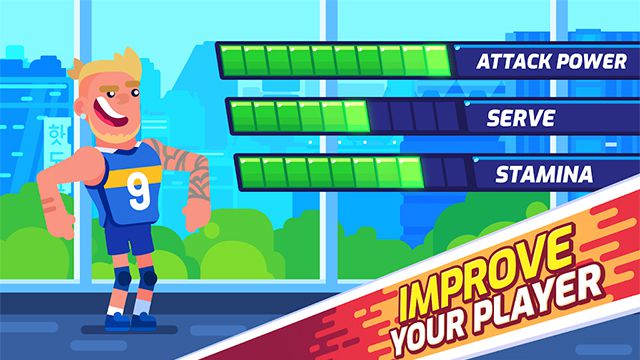 Download Volleyball Challenge MOD APK for Android
Volleyball Challenge is a new game that contains many interesting features. The game brings a special design style with cute graphics, many beautiful images and extremely exciting sound. Volleyball Challenge is a very unique experience about a top sports game. In addition, the Mod Apk version will also be available with free shopping feature. You can go to the store and buy anything without worrying about the costs. You can download it at the free download at the end of this article. Have a fun game!