X Icon Changer is a unique tool helping users change icons for applications. It offers a variety of options for you to set up a lot easier and more enjoyable. Don't miss out on this great personalization app with useful information below!
About X Icon Changer
X Icon Changer is under the development and distribution of ATER PLAY. It is not a prominent developer but their app is really awesome. In which, this app provides you with a powerful ability to change the icon of any pre-installed application on your phone. After, you go to home screen to see the new icon. Besides, it is suitable for every user and almost device today.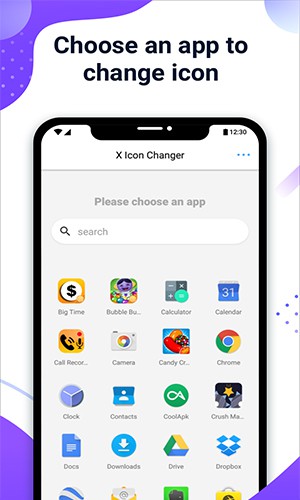 What is an Icon? Why do people want to change it?
App icons are small images that appear when you install apps or games from the store. Each will have its unique icon for users to easily recognize. However, many users do not want to keep the original look and want to change it. Thus, icons-changing applications like X Icon Changer were born. Most people want to change the icons to further personalize their phone with funny pictures or have lots of memories. Anyway, changing icons will be fun and easy for anyone.
Customize the icon with any image you want
Using X Icon Changer to change icons of applications will be very easy, even easier than changing the avatar of social networks. Specifically, users just need to open the app X Icon Changer and select any application they want to change. After that, you can choose one of the hundreds of icon packs, photos, or GIF in your device's memory. For the most perfect change, users should try to prepare a square photo. In addition, this app also supports renaming applications instantly by entering characters.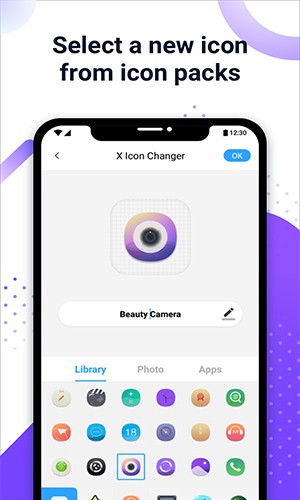 Swap app icon with each other
This feature will help you change the icons of any two available applications without having to do anything else. It is to tease other mobile users. They won't be able to realize their apps have been weirdly altered. Besides, you will have plenty of laughs when they're surprised.
Dark View
This mode will make people interested. Only by activating it in the settings can you turn it dark. However, users need to receive a bonus to activate it in the free version.
The extended Pro Features
The app has some paid features that users can support the developer and experience the best features. Besides, users will need to pay $1.99 to be able to remove all ads, from which some features like icon swapping or dark mode will be free to use. Also, if you like the free X Icon Changer MOD APK, we have it in this article.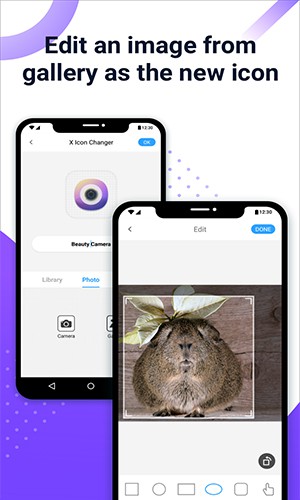 FAQs
Is X Icon Changer MOD APK safe?
Yes, It is. The app has been revised and double-checked before being shared with everyone.
What image formats does X Icon Changer support?
Using images to replace icons is a bit more complicated. At this point, your photo needs to meet the required size and format. X Icon Changer supports many popular image formats such as JPG, JPEG, PNG, GIF, SVG…
Download X Icon Changer MOD APK for Android
X Icon Changer is a cool app. It's simple to be able to replace the icon for any application on an Android phone. In case you cannot pay to have the Pro version, we provide you with the MOD version with full Pro features and other additionals tools. Moreover, users can be lighter, faster, and more stable. Readers can download X Icon Changer MOD APK with the options below. Have fun!