American Dad! Apocalypse Soon is an engaging role-playing game from the developer My.com B.V. This is a new idea that helps players engage in fascinating battles against the evil forces. American Dad brings fun and very familiar gameplay to players. If you have ever tried Hustle Castle, you will see the tactical gameplay. Besides, American Dad! Apocalypse Soon also offers many other interesting features. Let's together with us to find it out right now!
Introducing American Dad! Apocalypse Soon
The story
Aliens invaded Langley Falls. The Stans is being the hostage as well as the lives of all humanity are endangered. You need to build a shelter underground and gather an army of survivors to fight for protecting the earth. In the game, you will have hundreds of interesting jobs to do such as collecting weapons, producing money, developing troops… When you are ready, let's stand up and fight.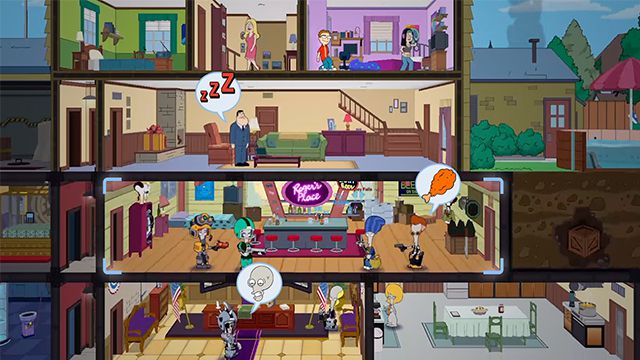 The gameplay
American Dad! Apocalypse Soon brings a lot of interesting things in terms of the gameplay. In which, players will enter a ruined world. Your shelter will be a basement with a few survivors. During the game, you play the role of a leader, who needs to provide them with the necessities of life and equip them with weapons to fight. Besides, gamers will need to produce and develop everything like in real life such as developing warriors, production engineers, chefs… All will work together to create great power for the battles.
After you have the warriors, you can take them into the match. Your warrior team will start fighting with many enemies. It will take place automatically. The battle will stop until one of the two sides is completely defeated. If you win, you will overcome the game and receive valuable rewards to enhance the strength of the base and the warriors. Moreover, American Dad! Apocalypse Soon will not require players to be quick. You need to calmly develop tactics and strength to enhance the chance of winning.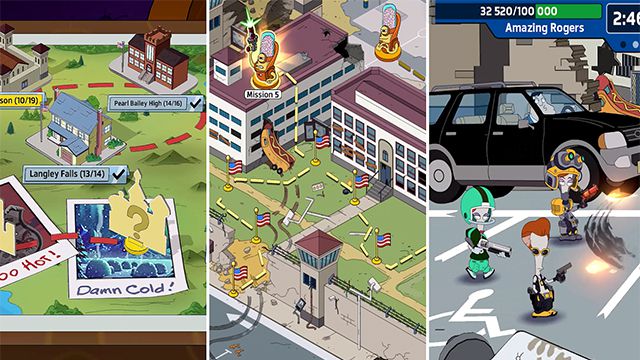 The key features
A new chapter of American Dad: A new story takes place right in the heart of Langley Falls. You will play this role with familiar characters but with a newer chapter, story, enemies… You will laugh madly through the new jokes or battles that American Dad brings.
Multilayer and customizable RPG system: American Dad has a multitude of options to create an unstoppable Roger army. To survive in this game, you need to find the right weapons and armour. Those things will help you defeat the enemy more easily.
Interesting game mode: American Dad! Apocalypse Soon brings exciting PvE campaigns and PvP matches. You can play by following the story of the game to search for rewards or fight against the Smiths to prove that you are the best in RPG matches.
Upgrade and develop: Build and upgrade your shelter to protect Stan and his army. Besides, you have yo rearrange the rooms and give the house a new look. Also, gamers can open new rooms to help more people get shelter.
Missions and Events: American Dad! Apocalypse Soon has a lot of quests. When you complete the campaign, your task finishes, as well as, you will get the rewards immediately. Also, the game provides events regularly so that players can meet many familiar characters and communicate with them.
Map: American Dad! Apocalypse Soon brings many maps of different cities, which will be damaged by monsters. Many levels are arranged in cities where there will be many enemies for you to fight. Besides, the maps are all very special.
Simple design
American Dad! Apocalypse Soon was developed with 2D graphics, which is not really impressive for many people. However, it is very suitable for a strategy game. You can experience fast and interesting matches. Gamers will see many familiar images with high quality. Also, the characters act very naturally and intelligently, making things a lot closer. You will definitely love this game and its design.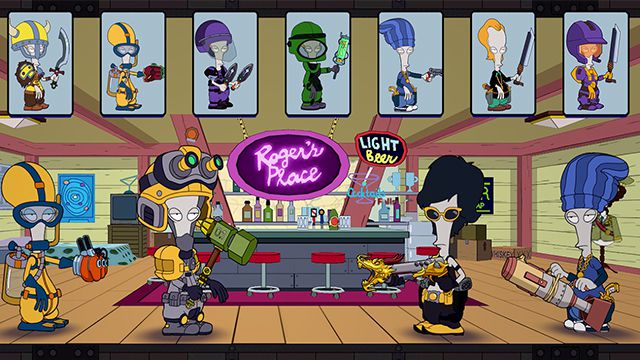 Download American Dad! Apocalypse Soon APK for Android
American Dad! Apocalypse Soon is a new and attractive game, which is a unique idea for gamers to enjoy quality RPG battles. Readers can download the game at the link below. If you have any question about the game, please leave a comment below. Do not forget to visit our website regularly for more interesting games and apps! Thanks and have fun!