Apple Knight MOD APK is a modern Platformer action game based on precise touch controls of mobile devices. Players will join the adventure with the Apple knight in the journey to regain freedom for the kingdom. Explore vast levels filled with secrets, dangerous quests, and fascinating loot. It would help if you fought through spells, knights, mysterious creatures, or trigger traps. Customize character fashions, weapons, and abilities and add pets to enhance their power. The game supports six touchscreen control layouts and multiple external devices like Gamepad, Chromebook, or Samsung DeX. Apple Knight MOD APK brings a lot of gold and unlocks many advanced features to make heroes stronger in battles.
Introducing Apple Knight
The gameplay
At the start, Apple Knight allows players to choose many types of characters, weapons and skills. Gamers will not have the cash to buy powerful things. So, you have to use what the game provided to start this journey. Your journey will be placed in rich maps. Here, players will encounter continuous challenges, such as enemies, traps… You have to fight to destroy the enemies, overcome all obstacles and earn the rewards. However, gamers have to always be careful in every move because your knight only has 4 lives. When you face a powerful boss, you need to show great fighting and dodging ability to win the final.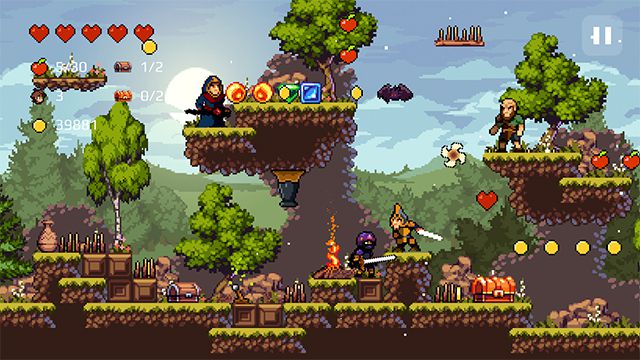 Many game modes and levels
Apple Knight has attractive gameplay with diverse game modes and levels. After selecting the game, players can choose game modes, including Story, Casual, and Hard.
Story: Players will have 2 Checkpoints at every level and unlimited lives on each level.
Casual: Players will still have 2 Checkpoints at every level but only 3 lives for each level.
Hard: This mode will have no Checkpoints, and you will have to play from the beginning right after death.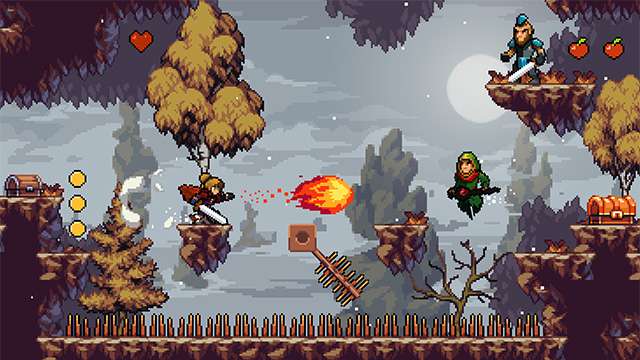 Develop the strength
In Apple Knight, there are several ways to strengthen your character. You will need to use the in-game currency to buy more advanced items to improve your character's stats.
Skins: In Apple Knight, Skins are used not only for decoration but also for power and companions. Each Skin will have unique indicators that you can refer to before you buy them. The stronger the stats are, the more expensive the Skins will be, and vice versa.
Weapons: The game mainly provides swords to players. Of course, strong swords will be more expensive. However, each sword will have additional special abilities.
Abilities: Like Skins and Weapons, Abilities also need gold to buy. They will provide very good support for players during the battle. Each player screen will only bring one Ability.
Unique design
Apple Knight is a fast action game, so it also needs a design that fits the gameplay. Retro graphics will be a perfect choice given. Players will see the characters, the landscape, the environment in the simplest way with the lightest graphics. From there, the activities in the game will take place quickly and smoothly. Besides, the music with an exciting and heroic atmosphere will make all players more excited.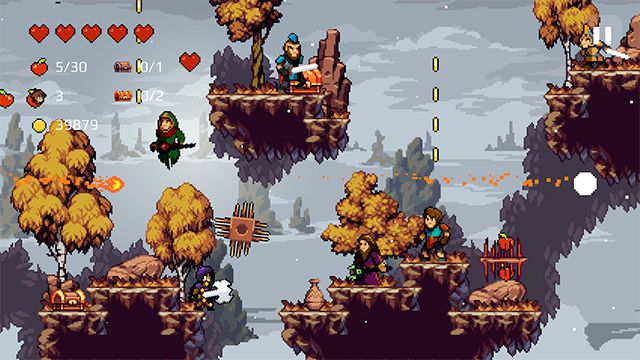 Download Apple Knight MOD APK for android
Overall, Apple Knight is a fascinating game with lots of interesting features. The deposit will not be able to help you win because the challenges will be really difficult, which requires players more concentrated and skillful. Please click the link below to download the modified version of the game named Apple Knight Mod Apk. It will bring gamers much money from the beginning of the game. Please pin this post to update more information about Apple Knight as well as receive the latest games and apps as soon as they are available. Thanks and have fun!