Crash Bandicoot: On the Run! MOD APK is a new and exciting action game on mobile phones. This is one of several interesting products with the idea of an endless race. Also, players will be reunited with the character Crash Bandicoot on their journey through Wumpa Island to stop the evil Neo Cortex. In this article, we would like to provide you with all the cool features of the game. Also, you can download the Mod version for free on Android.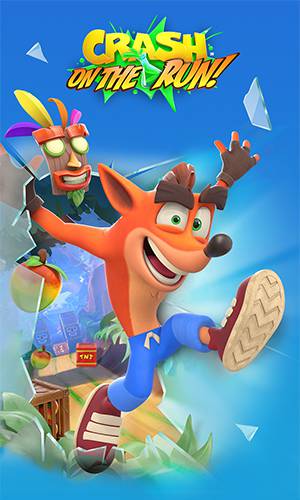 About Crash Bandicoot: On the Run!
Crash Bandicoot: On the Run! is a new game from developer King. This is the developer of many famous games in the market, such as Candy Crush Saga, Pet Rescue Saga… Crash Bandicoot: On the Run is a new game, which started to be available in mobile stores with beta testing. However, players can start playing it with the APK files at the end of this article. Also, the game content revolves around a familiar character to many people, which is Crash Bandicoot. This character was created by the evil Doctor Neo Cortex. However, he wanted Crash Bandicoot to die because he assumed he was a failed experiment. At this point, Crash Bandicoot's main task is to defeat this mad doctor and overturn his plan to dominate the world.
Fun gameplay
Crash Bandicoot: On the Run! is a game inspired by the endless running topic. At this time, the developer King renewed this idea by dividing it into multiple levels with shorter running distances. In each level, players will need to achieve mission objectives to be able to win and go to the next area. Besides, gamers also need to craft items to power up or attack enemies in many other unique ways.
In the game screen, players need to control Crash Bandicoot character to overcome many difficult roads on Wumpa Island. Specifically, you will dodge dangers from obstacles or enemies, but you can also use some special abilities such as sliding or spinning to destroy them. During the run, players should try to collect more colorful apples to use them in the essential works.
Also, Crash Bandicoot: On the Run! has simple and easy controls that anyone can get used to. You can play it with one finger with gestures, such as swiping left, right, up, down or clicking the screen. Also, the character will have some special actions to make the game more interesting like finishing enemies, making acrobatics, or sliding.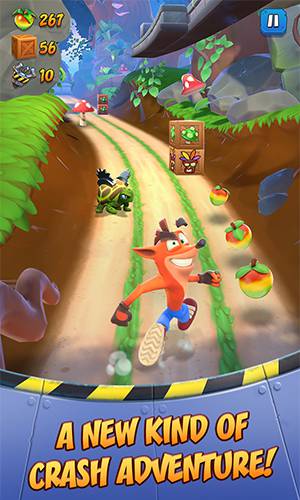 Fight with many enemies
In the game, players will have to fight many of the toughest Crash bosses. You will join battle with iconic characters like Scorporilla, Nitrus Brio, Nina Cortex or Dingodile for awesome rewards. Also, gamers need to practice their Bandicoot running and scouting skills to defeat all those minions. Let's defeat the enemies in a real way to help Crash Bandicoot to gain more experience points.
Discover more
In Crash Bandicoot: On the Run!, there are many areas for you to explore. Specifically, the Turtle Woods area has fungi, turtles, Nitro and several other things. You can collect them to create serums, which is the poison that can kill bosses. Next, the player can visit the lost city and the temple ruins on Wumpa Island. Each location will provide more interesting things for players to explore. Moreover, players can also choose to follow secret paths on the island to increase the challenge of the game.
Customize and upgrade Crash Bandicoot
At this point, you can customize Crash Bandicoot character with rewards. Also, you can unlock more special characters in this game. Your character can also become more interesting with new outfits. Although they will not increase the power of the character, it still makes the game more lively and attractive.
In Crash Bandicoot: On the Run!, the weapons to destroy the final boss in each level will be different. You need to upgrade them so that they are stronger and suitable for defeating your opponents. With increasing difficulty levels, you also need advanced weapons to balance.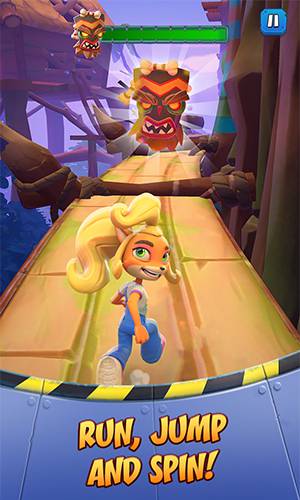 Play with other people
At this point, the game has a fun team mode, allowing you to join with other Bandicoots in the multi-players race. You can now run across islands with custom Crash friends or build a team. Besides, players can also earn in-game points to rank up for individual leaderboards for huge rewards.
Impressive design
Crash Bandicoot: On the Run! is a game with a modern and beautiful design. 3D graphics help the game become more attractive to players. Moreover, the game brings a lot of impressive effects and unique actions of the character. You can also further experience the thrill of the vibrant background music or in-game action. All of them create a great game Crash Bandicoot: On the Run!.
Download Crash Bandicoot: On the Run! MOD APK for Android
Crash Bandicoot: On the Run! is a simple and interesting game. It has many unique features that attract the people. You can play it for relaxation or entertainment in your free time. For the Mod version, you need to download it from our website as a MOD APK file. Please go to the bottom of this article to download it for free. Thanks and have fun!