Blades of Brim MOD APK is a free mobile game of the developer SYBO Games. This is also the developer of the famous game Subway Surfers. Blades of Brim will continue to be a race in mind but it has been greatly improved. You can enter a fairy tale world with races with diverse combat mechanics. Besides, the modern design will also help it attract players more than other games of the same genre. Let's get started!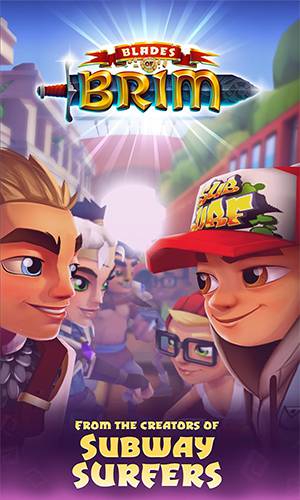 About Blades of Brim
The game's story
Brim is a magical land with diverse mystical creatures and mysteries that humans have not discovered yet. One day, Lord Goon rose with dark power. He began to send his army to and invaded this land. At this point, players will become a hero with weapons in hand and stand up to fight against lord Goon and free the land. You will receive valuable rewards and many other exciting things in this endless adventure.
Run to become the greatest knight
Starting Blades of Brim, the system will instruct players on how to play with extremely easy swipe controls. You with surely get used to it quickly. In the game, the track will not be fixed for players to easily perform. Instead, it has a lot of different directions that require you to have enough reflexes. To fight, gamers can swipe left, right, up, or down. Your character will slash at the enemy. However, players cannot run straight and ram the enemy because the character will not automatically fight. On the screen, the hearts will represent the lives of the characters. Players will have more or fewer lives depending on its upgrade.
Besides, the challenge is not only complicated terrains or obstacles but also monsters. They look stupid but have attacks that make it difficult for you. Sometimes, it costs you a life. After each race, gamers will receive rewards (coins or gems). You will use them to upgrade, buy equipment, and make most of the trading in this game.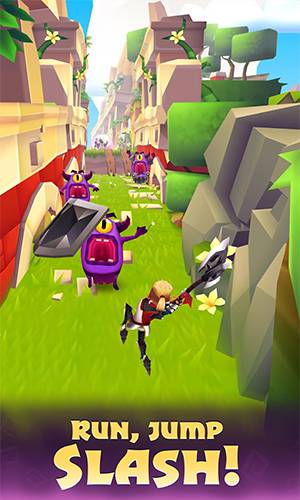 Rich equipment
In Blades of Brim, each character will equip with specific weapons and 3 other basic equipment. Weapons will help your character have more power. Each type has a special passive skill that can be activated when the character fights. Players can upgrade weapons by using coins they collect. The equipment will come with the character. You can unlock the equipment and they will appear on characters but you will still not be able to use the equipment if you have not unlocked the character. According to statistics, there are hundreds of different weapons and equipment in the game. So you will have to try to accumulate more bonuses to be able to unlock them.
Support powers
Blades of Brim offers a variety of abilities and powers that players can activate during gameplay. You can unlock skills in the game's upgrade section. After each upgrade, the character will receive additional stat percentages that can help them get more power. Initially, you should prioritize upgrading to some ability that offers cash benefits so that you can accumulate more coins quickly.
Various characters
Currently, Blades of Brim offers 8 different characters including Aric, Fay, Zamu, Atlas, Lilith, Dela, Wukong, and Isaac. Changing characters during the game does not give too much power. Most characters will bring additional achievements. In addition, the game will bring an interesting pet system. You should collect them for a better fight.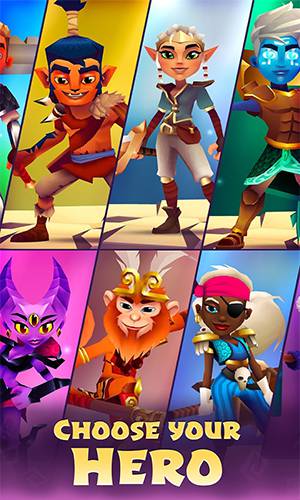 Modern design
Blades of Brim has modern 3D graphics. In the game, the image is extremely bright and diverse. Especially, the game works smoothly with fast movements, making your game more interesting. The track is also new with many different directions to move, making players never bored. The sound of the game is also very carefully invested with the background music and the actions of the characters are also taken care of.
Download Blades of Brim MOD APK for android
Overall, Blades of Brim is a familiar idea of ​​​​the racing game genre, but it has been impressively re-imagined by the developer SYBO Games. The entire game better suits modern trends to bring more feelings. Currently, readers can download it for free for Android phones at the link below.