Android phones are popular with many users with highly customizable capabilities. These functions can make many users feel interested in. You would be very surprised when your phone has the interface of a computer. The app Computer Launcher will make it the truth with a Windows 10 interface right on your phone. In this article, we give you all the information about the app, as well as provide the link to download it for free.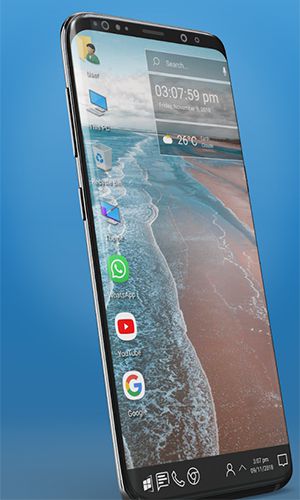 About Computer Launcher Pro
Windows 10 interface on Android
In the past, you have probably seen many other interesting Launchers for Android like iOS, Symbian… The idea will not only stop at the traditional phone interface, but it will also develop to even PC interfaces. The developer Pro Themes and Launchers took the main inspiration from the interface of Win 10 and brought it to Android devices. The app is Computer Launcher, which will provide an interface and familiar operation of Win 10 on Android phones. Computer Launcher is unlike the previous Windows platform. Instead, it is much more intuitive and interesting.
New type of management
Surely, you has been using or seeing Windows 10. It can be said that the control of Computer Launcher will be the same as you are using Windows 10. There is a C drive that will be named, like on the main PC, which is the memory on your device. You will control the normal files in the folders containing them. The usual operations that you can see on your phone like deleting, moving, renaming… will be redone uniquely. You will see them appear on the toolbars of the folder. Also, the applications that you have installed on your phone will be able to appear in the Windows icon. You can bring them to the main screen by creating Shortcuts.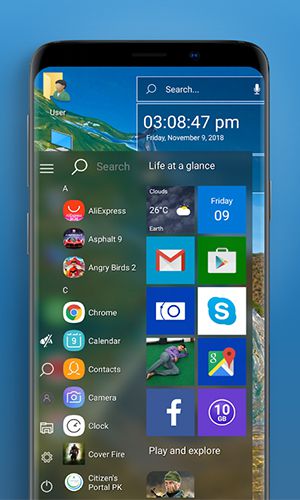 Diverse utilities
Computer Launcher will almost change everything on your phone's interface. The traditional views of the phone will be removed and replaced with more attractive features and utilities. Users can tweak many provided services such as a clock, weather widget, RAM information, wallpaper… Besides, the taskbar on the launcher will also add a lot of unique icons, which are remade from the taskbar of the phone. Of course, there will be icons you have never seen on your phone, such as Location, status notification type win 10…
New design
Computer Launcher is similar to many other Launchers. Users only need to launch it to access its main interface with Windows 10 style but matching Android devices. Also, Computer Launcher has iconic icons from Windows 10 and many unique icons of design developers. Computer Launcher will be a launcher worth your try with its impressive design.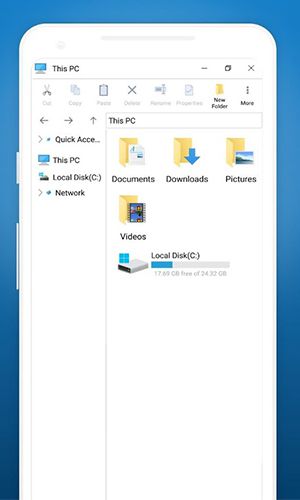 Download Computer Launcher MOD APK for android
Overall, Computer Launcher is a good idea to refresh boring phones. Users will have more exciting experiences only with regular Android smart mobile devices. When you bring the Windows 10 interface to your phone, you can show it off to your friend. They would be surprised. In this article, we also share Computer Launcher Pro with more advanced features. Please click the link below to download it! Thanks and have fun!