Diamond Quest: Don't Rush is an exciting adventure game, which has been popular worldwide. This attractive game has been developed for a long time for early Nokia mobile devices running Symbian OS. It makes a lot of players embark on a journey to find treasures, diamonds and solve many interesting puzzles. Today, when Symbian phones are no longer popular enough, the game is almost forgotten. However, the developer Bounce Global has brought the game back to the market once again, bringing an exciting journey for players. Please join us to find it out right now!
Introducing Diamond Quest: Don't Rush
The gameplay
You will play the role of an adventurer who has to go into the jungle where the Angkor Wat temple is located. Your task will be to discover, collect and safely escape from many other dangers before escaping from the rooms. During your adventures, you have to go through many bushes, mounds… The rocks can fall on you or block the road, causing you to fail. In each game screen, players will have energy points. You will consume those energy points when moving or being attacked, so you will need to recharge by eating the different foods that you collected or made. Besides, Diamond Quest: Don't Rush also provides checkpoints. If you make a mistake and fail, you can replay the game from that point.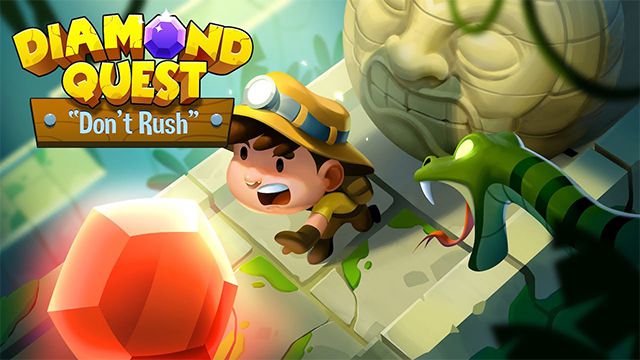 Many levels
Diamond Quest: Don't Rush has many ancient locations, which are challenges for all players like Angkor Wat, Bavaria, Tibet. Each of them will have many screens that require you to collect all the rare red gems. Also, the player has to pass all the levels one by one. Every 8 levels, you will encounter a very difficult screen with very large monsters that is hard to defeat. In the future, the developer will definitely update more screens with more mysterious locations.
Various items
Diamond Quest: Don't Rush is an excellent upgrade version. It will bring a lot of new things for players to collect and craft. First of all, your inventory will be the place for the materials that you collected in the game screen. In the Equip section, you can also unlock multiple boxes to store items that you can bring into the game screen, such as a camera, a drill… Besides, Diamond Quest: Don't Rush will also help gamers make food for more energy. They are following the available formulas and ingredients you collected.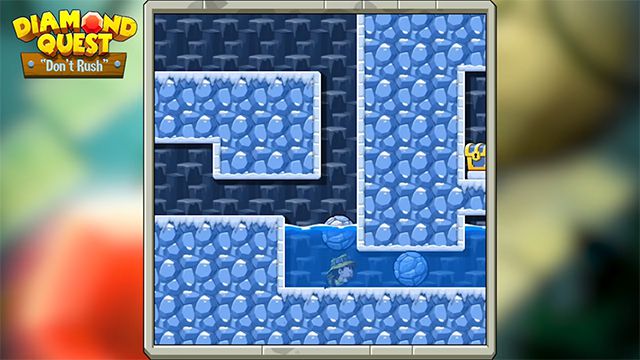 Beautiful design
Diamond Quest: Don't Rush is a new game with modern design. Many familiar images are updated from the classic version but have been remade and upgraded to make them more beautiful. Diamond Quest: Don't Rush is also designed with interesting features, like the old handheld gaming devices. It will help you recall a lot of childhood memories. Besides, the game also brings many sounds coming from adventure activities to make your games much more enjoyable.
Download Diamond Quest: Don't Rush MOD APK for android
The classic adventure game that you and many other players loved was beautifully recreated in Diamond Quest: Don't Rush. It is a new and attractive version. In this article, we provide you with a link to download Diamond Quest: Don't Rush MOD APK for Android phones. Readers can click the link below to download the latest version of the game. Do not forget to rate and share Diamond Quest if you find it interesting. Thanks and have fun!