Dude Theft Wars is a perfectly open world sandbox game developed by Poxel Studios. It simulates human life in a very special way. This game will take you to many interesting cities, in which you can enjoy more fun when you can do whatever you want such as freely moving on the roads, driving, buying weapons, teasing people or becoming an authentic gangster.
Dude Theft Wars offers a free play style, lots of funny images and interesting features. In addition, we would like to bring you a special version of the game named Dude Theft Wars Mod APK. It is a modified version with many advanced features that are not available in the original version. In this article, I will give you all the information about the game, as well as, provide you with the download link of Dude Theft Wars Mod APK for free.
Introducing Dude Theft Wars
The free gameplay
Jack lived a normal life until he thought life would be more interesting when he went out and walked around the city of Dude-o-polis. From here, this guy created interesting games to explore this city. Dude Theft Wars directs players to free gameplay that is similar to GTA games. However, it still has features that players cannot see in other game. You can control Jack and take this guy everywhere, see people in the city. At this point, you can interact with all those people by teasing or attacking them. Of course, the things you do will be monitored by the police. Once you do the crimes, the police will come then running away or attacking will depend on your decision.
Dude Theft Wars does not have stores in the navigation keys on the screen, so you have to go directly to the store in the game to buy things. This is a real-life simulation game, so you need to do as in real life. You can spot all the locations through the map on the left side of the screen. Also, the game provides a large enough map for you to do whatever you want. Besides, to make a lot of money in the game, you can attack the people or make burglaries in the buildings. After that, you can buy weapons or cars.
The key features
Funny graphics: Dude Theft Wars has a very special design with cartoon style. This design gives players more fun, even in criminal situations in the game. In addition, you can experience the game with changing day and night as well as seasonal weather like real life.
Exciting driving: The game offers a lot of unique vehicles. You just need to find them then steal and drive them anywhere. Also, gamers can also drive and perform amazingly dangerous situations like an adventurous racing game.
Humorous AI: The people in the city are all controlled by very intelligent and funny AI. They can talk to and interact with you. However, when you poke them, they will follow very hard to take revenge on you. If you attack, they will run away very quickly.
Rich weapons: Many different weapons are sold in stores. You can come and buy them to prepare for your plan. There are many popular weapons for you to choose from like AK47, SMG, Shotguns, Grenades… They will help you fight the police very well. However, you should consider before using these weapons in the game because fighting with the police is very dangerous.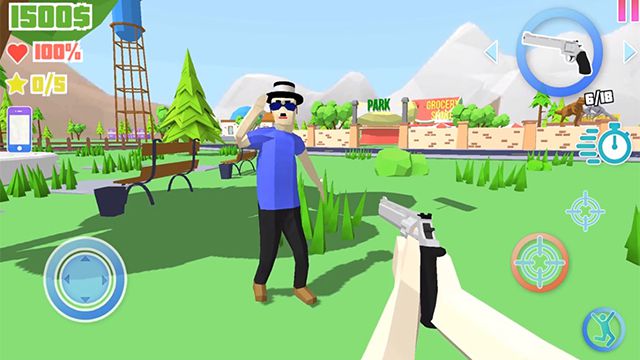 Download Dude Theft Wars MOD APK for Android
Dude Theft Wars is an interesting and fun game, which is for those who love exploration and freedom. Besides, you can play it anywhere without a network connection. The game will help you release the stress and get fun due to the interesting activities in the game. In the future, Dude Theft Wars will have new updates with many cities, weapons, vehicles, etc. Please click the link below to download the game. If you have any question about the game, please leave a comment below. Do not forget to regularly visit our website for more games and apps! Thanks and have a fun game!