Supercell is a famous game developer in the world. Its head quarter is in Finland. This is also the developer of many popular games on the mobile platform, such as Hay Day, Clash of Clans, Clash Royale… They are greatly invested to bring more fun to the player. Today, we would like to introduce to you the latest Supercell game, which is inspired by the world's leading farm game Hay Day. The game is Hay Day Pop. In which, gamers can solve interesting puzzles, grow more plants and raise lovely animals. Please join us to check it right now!
Introducing Hay Day Pop
The story
Hay Day Pop is the sequel to the story of Hay Day. One day, you got a letter from your uncle. He wanted to retire and decided to send you a serious offer for taking care of his farm. You will be asked to move to the countryside to live in harmony with nature, plants and animals. Here, you will not do manual work in the usual way. Instead, you will need to solve puzzles like challenges to complete the work of a farmer. Hay Day Pop will be a simple but meaningful story to help you get a peaceful natural life.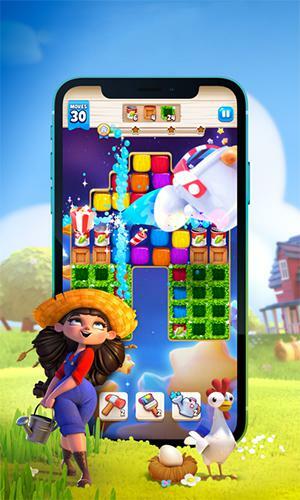 Fun gameplay
Hay Day Pop is inspired by a farm game combines with puzzles. However, the main task of the player will still be to solve the puzzles. In the game, players will be put into the game screen with many colorful wooden barrels in a messy arrangement. You have to do different tasks during the game, such as destroying barrels, collecting certain items… You can look up at the top of the screen to determine the main tasks at that level. Besides, the player will have certain moves. If you use all the moves without completing the mission, you will have to play that level again. Also, players will be provided a certain number of lives. If you use up life, you will have to wait for it to recover or buy them from the store. Hay Day Pop has similar gameplay to many puzzle games. Surely, you will find it easy to play.
Diverse challenges and Boosters
Hay Day Pop consists of many different stages arranged in a long sequence according to the levels. The higher the game screen is, the more complex the task will be. They will require you to constantly thinking from all players. Also, the developer will regularly update the game levels so that the journey of puzzle lovers will never end. Moreover, all users can have supports from many interesting and unique boosters. You can have a magical hammer, a paintbrush, a bucket of water, fireworks… They will help you destroy more barrels and easier to win the game. However, you can collect some boosters by matching boxes, opening a reward or buying them in stores.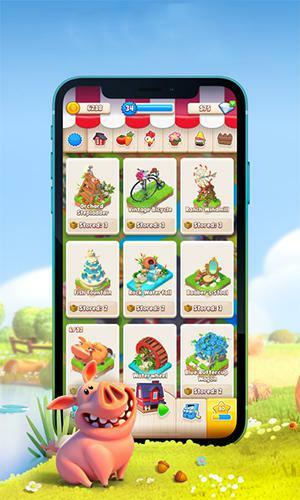 Build your own farm
Hay Day Pop will also add to the farm developing and building. They are also the Supercell's brand, which makes their game more and more popular. Players can receive rewards during solving the puzzle. After that, you can use them to build your farm. Besides, gamers can plant trees, grow animals and build many other unique buildings. You will have to learn how to take care of plants and animals so they can make you more and more profit. Also, players can decorate your farm with many different decorations. You need to buy them from stores and place them in good locations on your farm. Moreover, the decoration of a beautiful farm will show your aesthetic, lifestyle and work. You can take a picture of your farm and show it to everyone.
Play with friends
Hay Day Pop is an interesting puzzle game. This is a difference compared to many other puzzle games in the market. You will never get bored because you can play with many friends. Star River will be the place where you compete with other players to get good achievements and amazing rewards. Besides, you can also interact with many other players by visiting their farm to learn how to build and design the most impressive farm.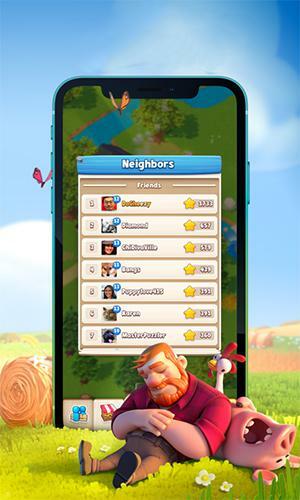 Beautiful design
Unlike Hay Day, Hay Day Pop uses modern technology with quality graphics. Besides, the images are designed in detail, sharper and much smoother. Everything will still bring the joy of the countryside life. Also, the characters and animals are cute and adorable. Hay Day Pop also offers many beautiful effects and vivid sound system from puzzles and fun farm background. Hay Day Pop is sure to be one of the most interesting games in the world.
Download Hay Day Pop APK for android
Overall, Hay Day Pop is a new game created by an experienced developer SuperCell. It brings a lot of fun in terms of the gameplay, diverse features and beautiful design. Currently, players can both experience the puzzles and build the farms. In this article, we will regularly update new versions of the game. Besides, we bring you the modified version of the game named Hay Day Pop APK, which provides gamers with more advanced features. Do not forget to visit our Blog regularly for more interesting games and apps. Thanks and have fun!