Slugterra: Slug it Out 2 is a puzzle game under the development and provision of the publisher Epic Story Interactive. This game has a lot of puzzle elements combined with a bit of strategy, which will make players passionate. The content of the game involves some heroes and special slugs. Everything will take place in a special way that anyone who experiences it will enjoy. Please join us to evaluate the game right now!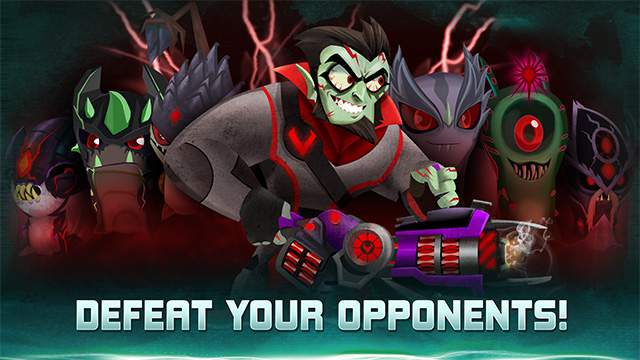 About Slugterra: Slug it Out 2
Fight with slugs
Your battle will be presented in the form of a gun battle between the characters. Players will use the weapon to shoot slugs at the opponent so that they deal damage that drains the enemy's health. However, the charging mechanism to shoot the slugs is done by solving the puzzles. In a match, you can bring 4 slugs. They will be displayed to the board like a match-3 game. At this point, gamers will move those symbols in a row of at least 3 to explode them. Thereby players will accumulate energy for your slugs. During the fight, you should look at them in the left sidebar. When their icon burns, you can shoot them. Your opponent will also do the same thing to shoot slugs at you. The slugs that touch each other will immediately explode and disappear. The game will only stop when one of the two sides runs out of health.
Various game modes and missions
Multiplayer mode: This mode allows you to find matches with many different opponents. Also, you can take advantage of the "Set your defense" mechanism to practice fighting skills. This game mode will bring huge rewards of premium slugs and exclusive skins.
99 Caverns Mode: In this mode, gamers go to mysterious caves, in which there are many monsters. Players will fight to win rewards for each different cave. Rewards will automatically refresh on this or weekly basis for each type of cave.
Story Mode: Story Mode is a separate level numbered from low to high. You will take turns to fight with opponents to win and receive rewards. Also, you can then unlock the next levels.
Duel Mode: This is a pretty basic mode that anyone can participate in. The system will immediately create a suitable opponent for you to fight immediately.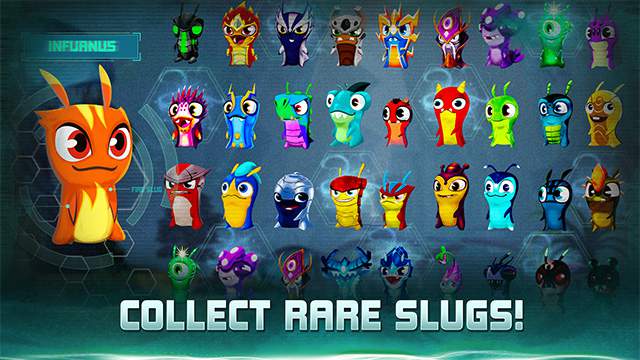 The characters and slugs system
Characters: Slugterra: Slug it Out 2 has many special characters for players to collect. Besides, the characters will have different fashions for players to collect and change. Characters do not bring any change of power to players' combat but for the beauty only.
Slugs: They are an important element of this game that you need to collect and upgrade a lot. You can collect them by fighting or opening precious chests in the shop. They will be graded from 1 star to 5 stars. Each slug will have stats such as health, attack, and speed for players to refer to. The higher the stats are, the stronger your slug will be. In addition, players can also level up or evolve for slugs to make them stronger. Moreover, you can create a nickname for the slug for more fun.
Slugterra: Slug it Out 2 MOD APK has more interesting things
A lot of money
In Slugterra: Slug it Out 2, the currency is what limits the player's power a lot. You will need it in most of the game's activities. However, the Slugterra: Slug it Out 2 MOD version will give you a lot of money, gems and evolve. You can freely use them to upgrade, shop, and especially freely open legendary chests in the shop to receive many 5-star slugs.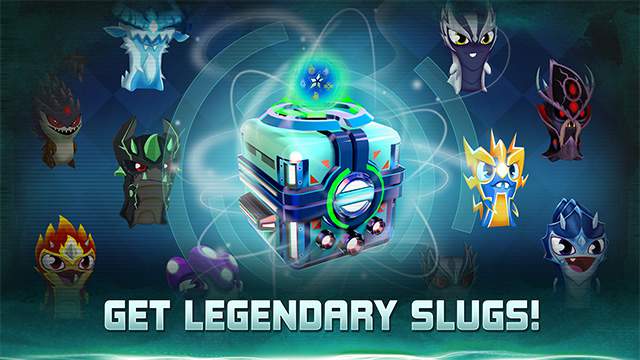 Free to and safe to play
Slugterra: Slug it Out 2 offers many great benefits to make your gameplay much more enjoyable, but we provide it for free. You won't need to pay any money to download or play it. This game has been very well modified to work stably and safely on many Android devices. Don't worry about installing it from a source outside of the Google Play store.
Download Slugterra: Slug it Out 2 MOD APK for android
Finally, Slugterra: Slug it Out 2 is a fun and refreshing puzzle game. We have shared some information about the game above. If you are really interested in the modified version, please download it at the link below. Don't forget to share and rate it if you find it interesting!