Hero Factory is an attractive idle simulation game. Many players are enjoying it at the moment. This game delves into the epic heroes' world, using giant factories to craft heroes and send them into battles with powerful bosses. Also, you can make a lot of money from battles and become the richest person in the world. Please join us to find out more about this interesting game in this article!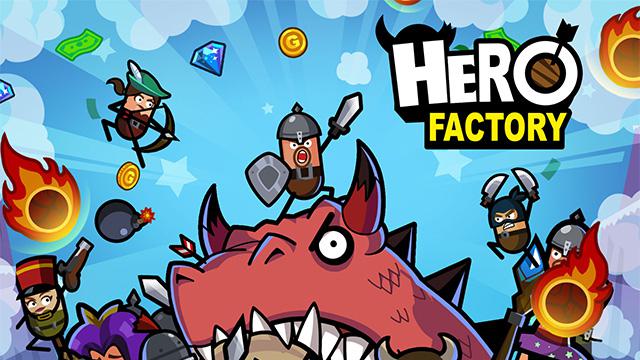 About Hero Factory – Idle tycoon
The story
In this game, you will play the role of a boss, who has to run a specializing factory in the production of life's necessary items. However, the recession made the economy worse. You had to sell everything to pay back and eventually went bankrupt. At the end of the hardship, you had found hope from a job that no one dares to do. It is producing heroes. In this game, you will produce heroes in a new factory and take them to the battlefield to fight monsters to collect rewards. Then, you would return to being a rich and powerful boss.
Gameplay
Hero Factory is a genuine idle game. It does not require players to have much skill or concentration. Instead, you just need to use your fingers with a few simple taps to play. Initially, gamers can start with small chains, which can only craft a few heroes. After you finish crafting your heroes, you will immediately send them to the battlefield to destroy monsters. If your hero wins, you will receive rewards that could be gold, gems or some other items. Right now, players need to use the rewards to upgrade machines and unlock a new production line.
Besides, the higher the level is, the more powerful the monster becomes. At this point, your hero will spend a lot of time killing them. Now what you need to do is to recruit stronger heroes, equip them with better weapons and have more special skills to fight. Specifically, you can earn those things by passing levels, opening treasure chests or buying directly in the store. Also, the game can help players speed up the game with a unique Booster, such as speeding up production, increasing more bonus gold…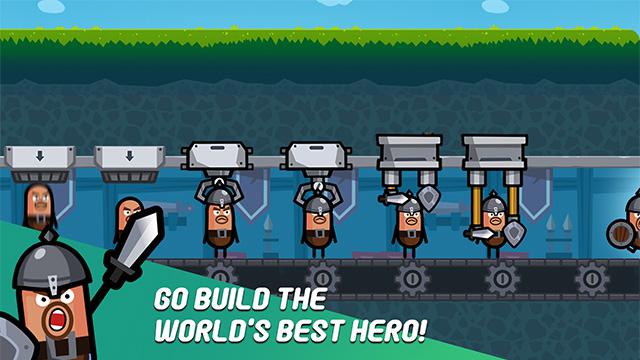 Many different heroes to collect
In Hero Factory, each production line will bring a hero with special abilities. They can be archers, warriors, or assassins. Players can access the "Management" feature of each line to collect new heroes. Besides, the strength of the heroes will be classified according to colors, such as gray, yellow, green, purple, or orange. The stronger the hero is, the more money you need to be able to unlock it.
Factory upgrade and management
At this point, the game is a long process of demonstrating the player's management abilities. You can use the money to directly upgrade the production lines so that they level up. After that, you will get more benefits, such as faster hero production. However, there is also a simpler way to speed up the production process that players need to repeatedly click on the line they want to speed up until the "TURBO" bar is filled. After that, the production line gets a super-fast productivity speed boost in 20 seconds.
The skill system
In the game, the monsters are getting stronger and stronger. So, you need to practice more skills. Each player will have 100 MP to use the skill. Also, you can bring up to 3 skills to the battle. Every time you activate the skill, you will spend a certain amount of MP. Currently, the game offers 9 different skills after you pass levels such as 100, 200 or 500.
Equipment and gems
Hero Factory has a lot of hero-specific equipment that the player has unlocked. You can collect better equipment in the game's store by buying them directly or opening chests. Also, these items are graded by color and number of stars. The more vibrant the color and the more stars the items have, the stronger the equipment will be. Besides, the game also offers a gem system for you to level up equipment. The "Enchant" feature will help you match gems and put them in any item you want.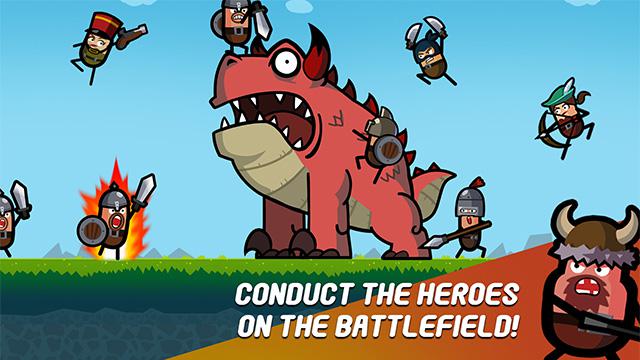 Mission and challenge
Although Hero Factory is a simple idle game, the quest system is diverse. The game has both a daily mission system and an achievement record. If you complete the daily quests well, you will have a chance to gain a legendary chest after a few days. Besides, the game's achievement system will also be more diverse according to the players' good performance. The player will receive diamonds for completing those targets.
Play without the internet connection
With many attractive features, Hero Factory is completely free. Besides, as soon as you download the game successfully, you can also play it without an internet connection. Of course, players can still use the internet to get double bonuses by watching ads. That will be a not bad choice for players who want to speed up the game.
Unique design
Hero Factory has a simple 2D design, which is suitable for many mobile devices. It is a fun and unique simulation of how heroes fight and act. Also, the game gets fun and addictive styling from battles. Besides, players also experience vibrant soundtracks and many other interesting sound effects. They make players completely immerse themselves in this wonderful idle game.
Download Hero Factory MOD APK for android
Overall, Hero Factory is a fun and easy-to-play simulation game on Android phones. It has many interesting features along with simple gameplay, making players passionate. You can choose this game to play anytime you want. In this article, we share with you a mod version of the game named Hero Factory MOD APK. It will offer you a more advanced feature (unlocked). Readers can download the game at the link below!