Idle Aqua Park is a leisurely simulation game for Android phones, which was developed by Green Panda Games. In the game, players will play the role of a water park manager, who controls all the business activities of the park. You have to do your best to attract more and more visitors as well as expand water parks to earn a lot of money. Idle Aqua Park is built with simple gameplay, vibrant images and many attractive features. In this article, we would like to bring you all the information about the game as well as provide the link to download it for free. Let's find it our right now!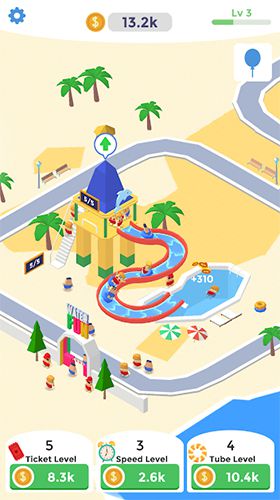 Introducing Idle Aqua Park
The gameplay
Idle Aqua Park is a game that simulates the business activities. It gives players a water park with many players there. You can enjoy the game while watching related activities here. Your job will be very busy at this park. In the game, you are an experienced manager. However, you are sometimes like a ticket salesman. You will have to collect money from visitors to expand the park. When the park got bigger, you can open more games. It will attract more customers as well as help you get more money.
Idle Aqua Park is suitable for all players of all ages. It does not have strict requirements for skills and reflexes. You only need to do the simple actions such as swipe, touch… to control all activities of the park. However, Idle Aqua Park also requires players to be creative in building, upgrading and developing all the elements in this business. The ultimate goal is making your water park the biggest. After that, you can show off your achievements to your friends or other players in the world.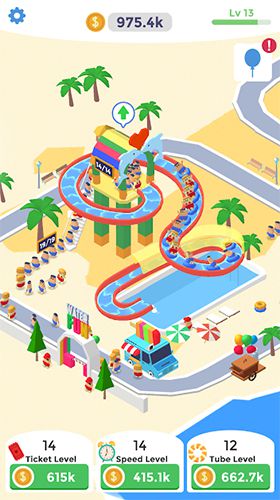 Other features
Various upgrades: Idle Aqua Park has quite a few parts to upgrade. They are expensive. You should focus on upgrading. It will make your water park more sparkling then attract more visitors.
Ornament: The game also has decorative objects that are unlocked according to your level. At levels 5, 10, 15, 20, you can unlock Balloons, Icecream Car, Vending or Hot Air Balloon.
Power: Idle Aqua Park provides some random powers such as doubling money, experience point, speeding up, etc. You can get these powers by watching the ads, which appears randomly.
The graphics
If you are bored to be alone for a long time, Idle Aqua Park will help you change the atmosphere with the joy and excitement together with many other people. In this game there will be a lot of people simulated by the AI. They will participate in random and frantic activities. When you play Idle Aqua Park, you will definitely remember the concepts that you used to play at the most interesting events. Besides, the sound of the game is also designed very nicely. You will hear many exciting things in the game. It has also been customized to sound clear and a voice echoes like the sound of flowing water.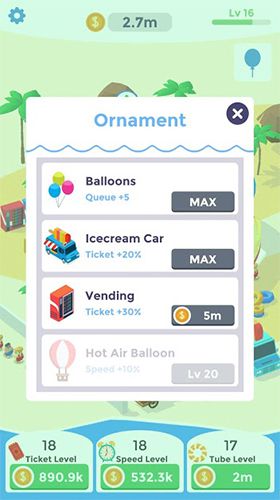 Download Idle Aqua Park MOD APK for android
Idle Aqua Park is an interesting and simple game for everyone. You will play it easily and quickly. Also, Idle Aqua Park Mod Apk is shared in this article, which helps you upgrade everything for free. Please click on the link below to download Idle Aqua Park Mod Apk. If you have any question about the game, please leave a comment below. Do not forget to visit our website regularly for more interesting games and apps! Thanks and have fun!