Dangerous and thrilling sports always make players exited, such as shooting, archery, throwing knives… They are very interesting. In the gaming market today, the developer Ketchapp has just released ​a unique knife-throwing game called Knife Hit. This is a simple but very addictive game, which brings a real feeling of throwing knives. Especially, it is not dangerous to you and the people around you. Knife Hit is available for mobile devices, so don't miss out on this fascinating game.
Introducing Knife Hit
Addictive gameplay
Knife Hit is a simple gameplay. The task of the player will be throwing knives at a block of wood and break it. Each game screen will have a certain number of knives that the player needs to throw. When the piece of wood is broken, you can overcome challenges and move on to other levels. Of course, it's not easy to throw all the knives on the piece of wood because it constantly rotates without any rules. Besides, on the pieces of wood, there will be other pre-inserted knives or thorns. If you hit those things, you will fail and have to start playing from the beginning. Knife Hit will cause a bit of feeling that makes the player feel quite regret when failing. Since then, the player will try to throw the screen successfully. You will be addicted to this game from time to time without even knowing it.
Many challenges
In Knife Hit, the challenges are seemingly endless. The pieces of wood keep rotating, and you will throw a knife at them. However, the difficulty level will be increased gradually as your piece of wood can rotate quickly and erratically. There are many knives available on its surface. After about five levels of the game, you will encounter the boss with higher difficulty levels. However, you will also receive more rewards.
Diverse knife models collection
Knife Hit will have hundreds of unique knives that players can collect. You will need apples to be able to unlock them. In the game, knives are divided into many categories at different prices. The prettier the knife is, the more expensive for unlocking it will be. Not only can the knives be unlocked with money, but players can also collect them in some ways such as watching ads, winning bosses, overcoming challenges…
Unique design
Knife Hit has a nice and modern design. Players can easily see many quality images though it only uses 2D graphics. However, this makes the game work smoothly and suitable for more devices. The game does not use distracting soundtracks. Instead, it only uses the sounds of the knife-throwing but quite realistic and fun.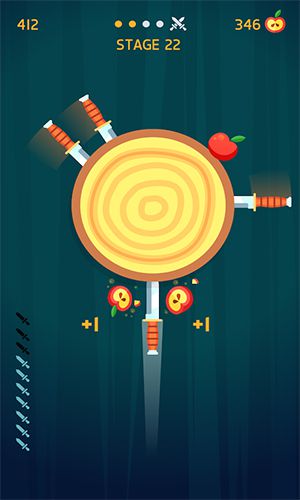 Download Knife Hit MOD APK for android
Overall, Knife Hit is a simple but very interesting game, which brings a true experience to everyone. If you are looking for a game to relax, Knife Hit is definitely a perfect choice. We will connect you closer to the game by providing a download link of Knife Hit. Besides, we bring you a modified version, which provides lots of money from the beginning of the game. Readers can download the game at the link below. If you have any ideas about the game, please leave a comment below. Thanks and have fun!