Today, everyone has at least one account of a social network or a favorite game. But many people own more than one account, which puts them in great trouble managing all of them. Will you need more phones? It is not necessary when you only need an application like Multi Parallel to control everything you have on your phone. Let's find out about this interesting mobile application through our useful information below!
About Multi Parallel
Like the famous application Parallel Space, Multi Parallel allows duplicating applications in special environments. The duplication versions are simple for you to install and use. The developer Winterfell Applab has built an application that is simple and fully compatible with the applications available on the market. Besides, Multi Parallel Premium will help you have a more private and smoother experience. However, you should not run too many versions of cloned apps at the same time because it will cause your device to slow significantly.
Special features
The application is intuitive and easy to access
In Multi Parallel, users can freely perform work with a very simple interface. Specifically, you only need to click the "Add a Copy" button to be able to copy any application on your original phone. Then, you can continue to click directly on it to open, or press and hold to add more options such as customizing, creating shortcuts, enabling keys, or removing them. Besides, Multi Parallel will be very lightweight that will not require any user's requirements. Also, it won't drain much of the device's battery, helping you run apps longer.
Copy the app and log into multiple accounts
With easy operation, Multi Parallel will let you copy any application and game you want. After that, the copies will be a separate version from the original file. It is like a new application that you can completely log in to and add a new account to use.
Compatible with most applications and games
Using Multi Parallel will be like using another phone. It provides almost absolute compatibility with apps on Google Play. Also, there are applications from many other sources that are greatly supported. The app will work on 64-bit apps without the need to install support.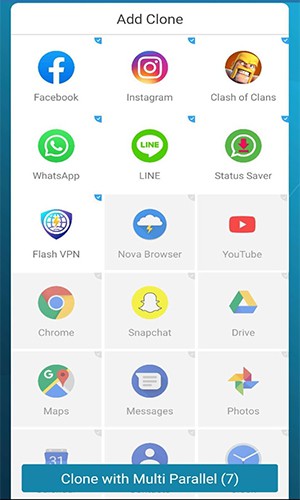 Protect your account with code
The problem of logging into your account in a copied application is not safe. Others will easily break in and steal your information. At this point, users only need to click on the app they want to lock and enable the lock to set the password when they want to use the app in Multi Parallel.
Switch easily between the original and the copy
Multi Parallel allows you to switch between applications very simple. There are not too many complications to worry about. However, you must learn to recognize copy symbols by color. Specifically, the color icons of the copy will be the opposite of the original one.
The LITE mode helps users enhance the device's performance
For better performance, Multi Parallel offers a LITE mode, which will help you save battery power and memory by running copied applications in a light version. You will still be able to use the full features of the original app. However, the experience may not be as good as the original one.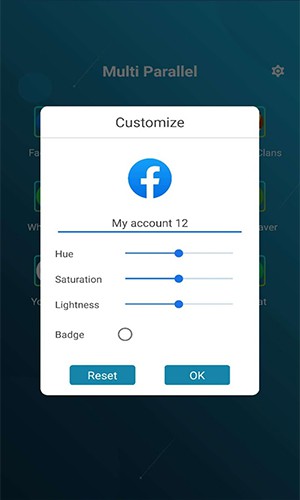 What's more in Multi Parallel Premium?
Multi Parallel VIP is a premium version, which requires users to pay to upgrade. It will add some more advanced features including:
Security code for copies.
Remove ads.
Use on multiple devices.
winterfell applab clone app status
Clone app status downloader
If you need to use this VIP version, you can upgrade them. However, the free version is also quite good with full features.
Download Multi Parallel MOD APK is free for everyone on our website
Moreover, for those who love this app, we would like to share Multi Parallel Premium for free at the end of this article. You can now use all the advanced features without paying any cost. Readers can access the link at the bottom of the post and download the APK file. Then, you can install it on your device to get all the features.
Conclusion
Overall, Multi Parallel is one of the best tools for users to work or play by creating copies of apps on the phone system. It works simply and is convenient for any user with multiple accounts. Besides, Multi Parallel VIP/Premium also helps you have more advanced features to optimize everything. Readers can download and use the app then give us the ratings below. Thanks and have fun!