In the world of Overdrive – Ninja Shadow Revenge, a wonderful hybrid created a new species. It is a combination of humans, technology and black metal, which is "cyborg darkness" with the task as a defence force. But there have been rebellions that caused people to be miserable. Its sequel has been put into the game Overdrive II: Epic Battle from the developer GEMMOB Adventure with hack and slash battles. Overdrive II: Epic Battle is still a great science fiction idea, which will continue to make gamer excited.
Introducing Overdrive
The story
Overdrive II is a story about the world 100 years after the apocalypse event. Humans have not yet been completely destroyed and are slowly rising with the help of robots and cyborg. A dark AI wanted to destroy the world and built his own robot army to rule the world. From here, an endless battle between a robots army and a good cyborg army happened. You need to know how to hold the energies to restore this world.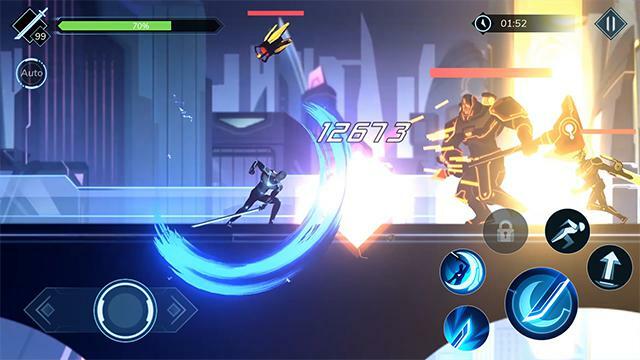 The gameplay
Overdrive II is an interesting action game with the fast hack & slash gameplay. In which, players will continue to play the role of a robot warrior and fight against the dark forces. You have to control your character through many locations and destroy powerful enemies and bosses. Players can use special skills to attack enemies. Besides, strong combos will be essential during the fight. Also, gamers do not forget to collect the rewards after each victory to continue developing the character.
The game mode
Overdrive II has many attractive game modes that players can participate in all-day battles without getting bored. Please see the section below for more detail about the game mode:
Story: Story mode is the basic mode of the game. It includes lots of chapters and many unique missions. After each match, you will receive additional rewards.
Adventure: This mode is a very strong adventure that takes you to cities with lots of enemies. Gamers will have three levels, including easy, medium and hard.
Coin Vault: This is a mode that helps you hunt for bonuses. The more you slash, the more rewards you will get.
Daily Dungeon: This game mode will bring players to the special Dungeon, which will be opened at certain times of the day with many attractive rewards
The Tower: This mode brings players to matches in the tower. Gamers must fight continuously to pass different levels. The level will end when you are defeated all the enemies. After that, you can get rewards, corresponding the number of floors that you have passed.

Weapons, equipment and skills
Weapons and equipment are the important factors in Overdrive II. You will need to focus more on those elements to increase the strength of the characters as well as their fighting ability. Also, gamers can collect ingredients to make even more powerful equipment and weapons. Besides, the skill is also interesting point of the game, which is loved so much. You can unlock them by leveling up and upgrading with special pieces. The higher the level of the skill is, the stronger and more beautiful the characters will be.
Download Overdrive II MOD APK for android
Overdrive II is a new and exciting game for action game lovers. It has lots of advanced features for gamers. Also, the game provides beautiful designed. In this article, we provide you with the link to download Overdrive II Mod Apk for free. Do not forget to visit our website regularly for more interesting games and apps! Thanks and have fun!