In recent years, survival shooting games have been popular on mobile phones. At this point, we have to mention PUBG Mobile from Tencent developer. That game has been carefully designed and developed with a lot of advanced features. However, that also creates a drawback that players have to buy a good enough phone to be able to experience the game smoothly. It has led many gamers on a budget to think about how to play PUBG Mobile. Realizing this, developer Trilokia Inc. immediately released PUB Gfx + Tool (with advance settings) for PUBG. This is a great application to help reconfigure the game and minimize the lag when playing PUBG Mobile.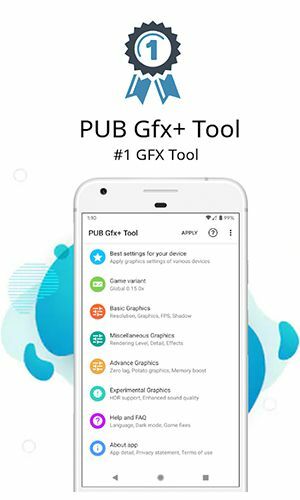 About PGT +: Pro GFX & Optimizer
What is PGT +: Pro GFX & Optimizer?
To optimize for PUBG Mobile, there will be many different ways for players to do, such as installing the game or using the PUBG Mobile Lite version for devices with weak configurations. However, for using PUBG Mobile Lite, you may have to play at a different server and not meet your friends. Besides, your country may not support the PUBG Mobile Lite version. The settings also only give you three options, low, medium and high. That would certainly not be enough for many players. At this point, PUB Gfx + Tool will be a perfect application that helps you intervene more deeply to create quality customizations to best suit your device.
Stabilize FPS for PUBG Mobile
If you think that powerful devices don't need the PUB Gfx + Tool, you might have to think back. Even if you use a powerful device, your frame rate may change dramatically during battle or transition. That can cause your game to experience a slight lag, which makes your gaming experience not so interesting. At this point, PUB Gfx + Tool will help you lock the FPS at the most stable level to avoid log. With two modes, Zero Lag and Vulkan, will help you maintain the most stable frame in the long run. Each mode also provides various choices with different FPS levels and retention times.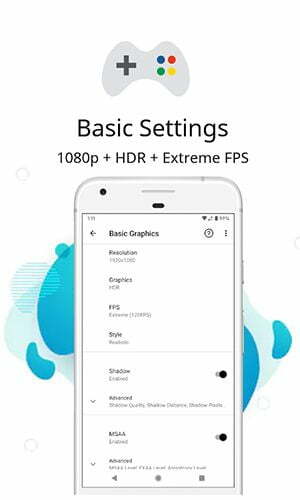 Improve performance
PUB Gfx + Tool is not only a powerful application in terms of optimization, but it is also very effective in helping you enhance the graphics experience. PUBG Mobile can allow users to change the resolution of the game to 1080. Also, the highest frame rate is FPS EXTREME. However, for low-profile devices, PUBG Mobile does not support HDR graphics, but PUB Gfx + Tool will unlock and allow you to use it. However, gamers have to accept that it will make the game jerky. Besides, you can select the shadow feature in the Shadow settings. PUB Gfx + Tool will also have some other features like anti-aliasing, anisotropic filter (AF), lighting effects, graphics rendering…
Save battery
PUBG Mobile is not a pure entertainment game that you only play for a short time. Usually, your matches will last long and you can play many matches continuously. That will drain the battery of your mobile device quickly. Your match may be interrupted during the most intense fighting. Therefore, PUB Gfx + Tool not only helps you to be stable and improve the game but it can also help you save battery life. Zero Lag and Vulkan modes will greatly reduce CPU activity. Your device will generate less heat and save battery power many times.
Download PGT +: Pro GFX & Optimizer MOD APK for android
If you are a PUBG Mobile fan, PUB Gfx + Tool will be an indispensable application on your phone. It allows you to intervene more deeply in the phone's hardware settings to come up with your settings. Besides, your game will be smoother, making your experience perfect. PUB Gfx + Tool (Plus version) will require players to pay to download it. However, we will provide it for free with the link below.