Today Weather is a good and simple weather forecast application, which provides detailed information about the weather and also issues of human health. This is an application developed by todayweather.co for mobile phones. Google Play editors selected it as an interesting application. If you are interested in weather information, don't miss the app Today Weather.
About Today Weather
Accurate forecasts
What many people are interested in weather applications is the most accurate forecast. Today Weather can respond well to making good predictions based on meteorological centers around the world. Users can quickly update the standard weather information in any locations via GPS. Besides, the app will split hour by hour so that it provides the most accurate forecast for users. It can forecast up to the next 49 hours so you can arrange schedules for work and play. Also, Today Weather allows users to enter a location on earth. You can then track the weather forecasts in that area in detail. This feature will be suitable for those who have outside activities. Regular update
Weather is something that humans cannot grasp, which will constantly be changing and also need to be updated regularly. Today Weather will help users do it automatically and intelligently. When there are any minor changes in the weather even if it is just the temperature, the app will automatically reload to give accurate indicators. However, you will need a constant network connection to keep up to date with unexpected changes.
Multi-day forecast
In addition, Today Weather can forecast the weather in multiple days. Users can quickly see the weather of the next 7 days on the main screen of the app. And you can view up to the next 16 days when you click on the control bar on the right side of the screen. However, the weather changes will occur regularly, so do not forget to update the weather daily and hourly.
Tracking details
Today Weather is an interesting app that displays extremely detailed information. Everything important will be displayed in a single main page. Besides weather information, Today Weather also brings health information like the air index. This index is monitored and evaluated by aqicn.org website worldwide. It will quickly assess your location to give you alerts about current air pollution.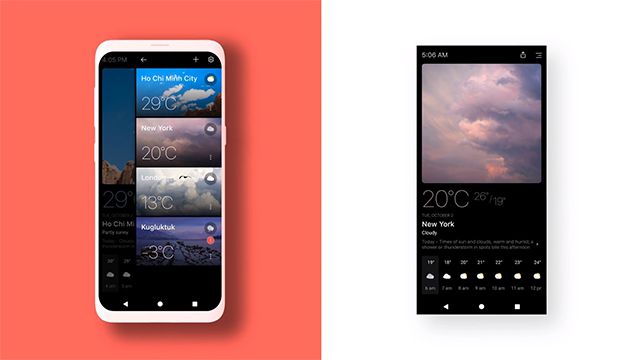 Simple design
Today Weather has a gentle design with mainstream black and white colors. Users can quickly receive the information correctly. The flashy colors will not affect the information. Also, Today Weather supports a prominent feature in the design, which is RADAR. Users can use Google's satellite map to track the weather in a new way. Many indicators will be displayed interestingly by region such as temperature, cloud, wind, air index, etc.
Download Today Weather MOD APK for android
Overall, Today Weather is a special weather forecast application, which provides complete and accurate weather information for users. In this article, we provide a free version of Today Weather Premium with all the best features. Readers can click the link below to download this app. Do not forget to send us your idea about the app for supporting us to do the better post in the future. Thanks and have fun!