Racing cars and speed are always the passion of many people. In which, racing games are significantly interested in. Therefore, there are many ideas about this topic. Recently, the developer T-Bull has just released their special ideas in the game, Top Speed: Drag & Fast Racing. It is a special edition with lots of advanced features in terms of gameplay and design. In this article, we would like to give you all the information about Top Speed: Drag & Fast Racing Mod for Android phones. Besides, we provide you with the link to download the game for free.
Introducing Top Speed: Drag & Fast Racing
Attractive racing
Top Speed: Drag & Fast Racing is a racing game that focuses on highly skilled matches. In which, players will control their cars to compete directly with competitors in a short race. You will use your driving skills to get your car to finish the race in the first position. Besides, gamers have to pay attention to the indicators on the phone screen. The blue speed bars will be the point you need to concern about. Keep your speed up to the point where you can surprise your opponent in this race. Also, it would be best if you took advantage of Nitrous gas tanks to quickly accelerate and overcome your opponent. After winning the race, players can receive rewards, which you have to accumulate to be able to shop and upgrade the better racing vehicles.
Game mode
Top Speed: Drag & Fast Racing offers many different game modes. Each will provide a different challenge that makes this game more diverse. They are Most wanted, Ranking race, Street race… Even players can fight with powerful bosses in Boss battle mode to get a more attractive reward. Also, do not forget to join the ranking matches to improve your rank on the world rankings.
Huge cars collection
In Top Speed: Drag & Fast Racing, cars are something many players are interested in. Lots of modern cars with detailed designs are available for you to choose from. Besides, gamers can use the rewards to buy new and better cars. Also, the player can customize and upgrade them. On the vehicle, there are many different parts for you to upgrade, which will help your car stronger and easier to win the game. Moreover, you can also create your own style by changing the colour and design of the cars.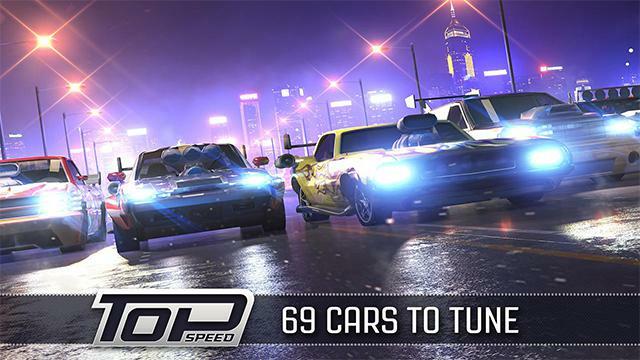 Special design
At first sight, Top Speed: Drag & Fast Racing is a game with very good graphics. Many images are designed in detail that players feel like they are participating in real races. The cars will be what fascinate many players because they are very real. Besides, the game provides gamers with impressive effects and realistic sound. However, with such good graphics, Top Speed: Drag & Fast Racing will require your mobile device to have good enough to run the game.
Download Top Speed: Drag & Fast Racing MOD APK for android
Overall, Top Speed: Drag & Fast Racing brings a lot of fun in features, gameplay and graphics. If you are looking for quality racing games for entertainment, this game is definitely a perfect choice. In this article, we will share a link to download the game. It is a very well modified version with many advanced features. Please visit our website regularly to update the game and other interesting products. Thanks and have fun!