Dota Underlords is a new and independent game from Valve developer. It has a new trend in mobile games worldwide, which brings chess passion and lively battle on the simulated chess table. At the end of 2018, developer Valve launched the Artifact game based on the design of the heroes in Dota 2. However, it failed seriously and made Valve want to give it up. Soon after, Drodo studio launched Auto Chess Mobile that suddenly received a much more positive response from the gaming community.
Valve still recognizes the potential of this kind of game and decided to meet Drodo to discuss potential cooperation. It seems that it was unsuccessful and both decided to become friendly opponents. Drodo has been in the mobile market for a long time. Valve has just begun to enter the market not so long. If you want to see if Valve can compete with other opponents as well as find out the interesting information about Dota Underlords, please follow our article.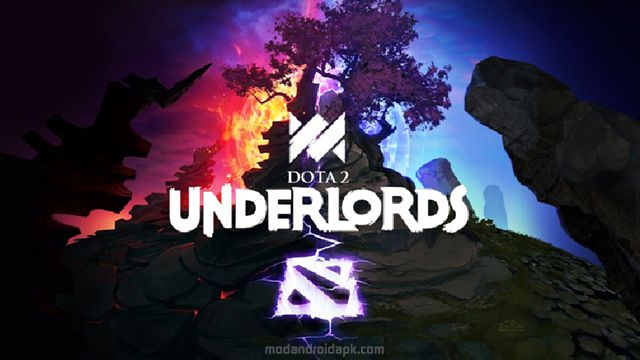 Introducing Dota Underlords
The great tactics
For many players, especially those not involved in the Dota 2 community, they may not know Auto Chess or they only know about it through their friends' share. Then, Auto Chess was born as a powerful game with extreme attraction. In the game, players will experience consecutive rounds to buy chess pieces and place on the chessboard. After that, gamers can bring them to compete with other players. During the game, players can upgrade, spend money to buy items and build forces. The diversity of races and heroes will make players have more choice for creating tactics.
Dota Underlords is a combination of tactics and great risk when the generals will join tense battles. Players need to be really quick to grasp the situation and change tactics. Besides, there are a lot of attractive elements made Dota Underlords interesting to attract tens of thousands of players. Many developers are constantly creating such games. Please consider and choose your favourite version.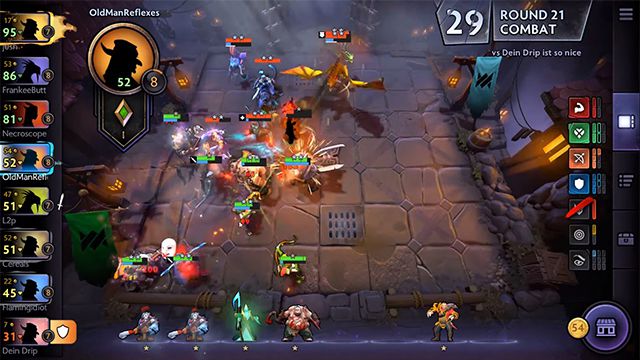 Many heroes
In Dota Underlords, the hero system is extremely diverse. These generals will be divided into 5 different levels from 1 to 5. The higher the rank of the generals is, the better they will be. You can also recognize the power of those generals through their symbolized colour, from low to high grey, green, blue, purple and orange. Each hero will have a lot of unique characteristics from skill to parameters. You can directly click and learn each hero thoroughly. Also, you can upgrade heroes by combining them to increase the number of stars. After increasing the stats like blood, Max Damage, Min Damage will increase strongly. You can upgrade a hero up to 3 stars.
Diverse items
Similar to heroes, the item system is also very diverse with dozens of different types. They will add a lot of stats to heroes during the battle. You need to consider to buy the right equipment for your heroes. This may be a big problem for you to play with each player's tactics and gameplay. Even you and your opponent have the same generals, the ways of making different items decide the winner.
The graphics
In general, Dota Underlords will look darker than the Drodo version. However, I still prefer this dark colour because it suits a war world and mystery. Besides, the image quality will be very sharp. I find that Valve has done this a bit better than Drodo. Also, the heroes will have a rather outstanding design with many beautiful effects such as fire, electricity… It is relatively monumental and brings more emotion to the player. Many people will find that the games in the version from Drodo will be able to last up to 40 minutes. It even lasted longer than an E-sport match even though it was just a mobile game. It will make many players feel tired. Dota Underlords may not be able to improve this at the moment.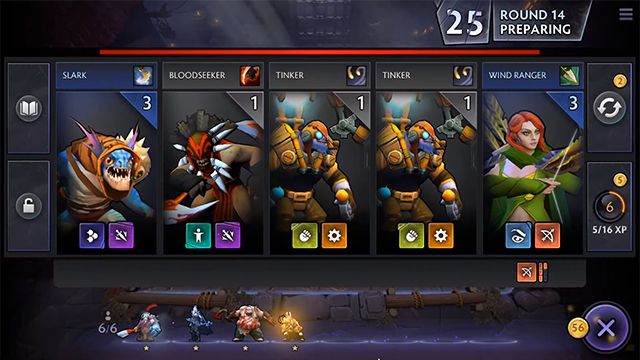 Download Dota Underlords APK for android
Auto Chess has over 8 million registrations in Dota 2. This is a huge number for a new idea. Dota Underlords will be officially bought by Valve. This will be an extremely promising game in the future. If you are really interested in this game, please follow this article to update the latest version. Thanks and have a fun game!