Boom Beach MOD APK is a unique strategy game from the famous developer Supercell. This game has quite familiar gameplay to Clash of Clans but in a different world context. In the game, players will still focus on the issues of gathering resources, building armies and many military operations to fight many enemies. Boom Beach will bring you a fun gaming community and many great experiences that you should not miss.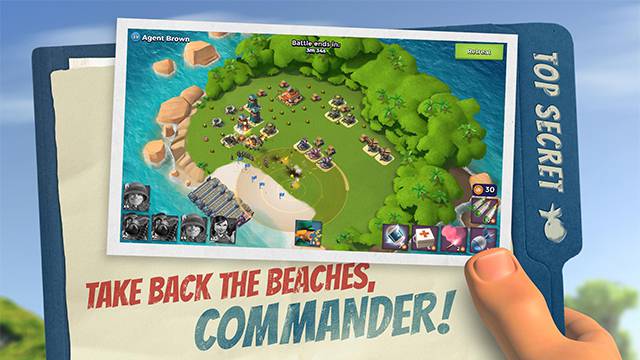 About Boom Beach
The story
The world of Boom Beach takes place in a paradise archipelago where people live in harmony and fun together. However, The Blackguard appeared. This is an evil force often represented by lieutenant Hammerman who wants to invade the archipelago to enslave the locals and take away the power stones. Blackguard has bases everywhere and is constantly expanding its power by sending troops to conquer other islands. At this point, you will be a talented commander who has to lead the army to protect the islands and fight the bad guys.
Epic combat strategy gameplay
In Boom Beach, players will start with a cannon and some energy. Troops will be deployed on the island's beaches and will automatically attack when there are enemies. By using energy, they can activate cannons to destroy structures. Besides, gamers can provide support with flares to guide or artillery that can paralyze defences. The main goal of the player will be to destroy the enemy command base otherwise you won't get the resources.
Boom Beach has four main types of resources for players to harvest including gold, wood, stone and iron. In which Diamonds will be the premium currency for important in-game transactions. The function of each type of resource will be different so players have to learn to use them effectively. Gold is for training troops, exploring areas, upgrading troops, and launching wars. The remaining three types of resources will be used to upgrade buildings.
Besides, the headquarters is the building that the player should prioritize to upgrade. Players will unlock more options and features for their base, more troops and even higher levels of upgrades. In addition, players can play together to form special forces, join in big wars to collect more rewards and resources.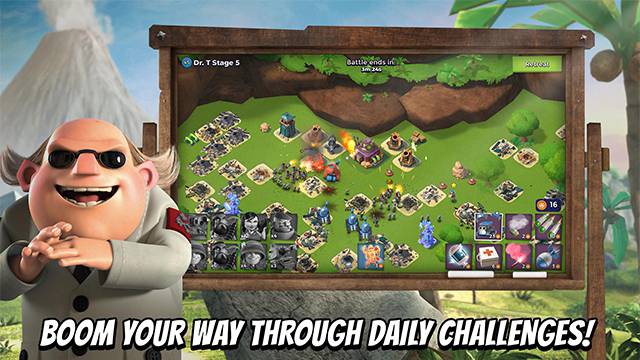 Play with millions of other players
Boom Beach has a lot of unique features, helping players stay connected and have fun in battles. Players only need to play with connected game modes such as force, special forces, intel or High Scores. Also, they will work together for resources or compete for scores. In addition, the game also offers exciting events spread from Monday to Sunday. Events will constantly rotate so players can earn more valuable rewards.
Army and Weapons
In Boom Beach, players can meet 16 heroes with their special abilities, and support the heroes with diverse troops and combat equipment. At this point, players will have to choose heroes and troops carefully so that everything matches. The correct decision will make it easier for you to go to victory. Moreover, players should also study more about Gunboat to be able to add more healing and combat abilities to their squad.
The design
Boom Beach was available very early at the end of 2013 but so far its design is still appreciated very well. It is even better than many games at present. To achieve this, it is also necessary to mention the great efforts of the developer Supercell. In addition to getting high-quality images, the game also has many war fire and explosion effects. Also, the vibrant and rich sound is a plus point for Boom Beach's design.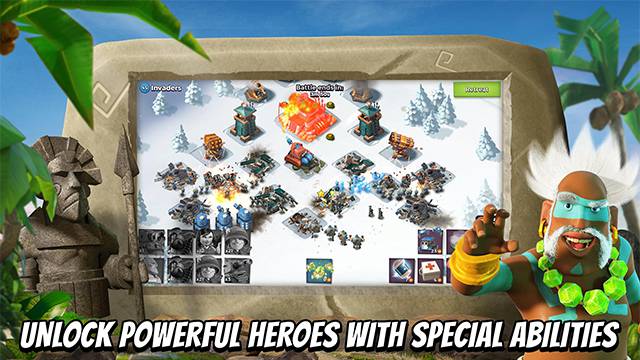 Download Boom Beach MOD APK for Android
Boom Beach is a free game for all mobile platforms. So far, it has been attracting more and more players. Readers can download Boom Beach quickly and safely at the link below. If you have any questions about the game, please leave a comment in this article. Thanks and have fun!