Up to now, it can be seen that Hay Day is the best farm game in the world. It contributes to bringing the famous brand to Supercell developer along with some other games such as Clash of Clans, Clash Royale. Hay Day is on the list of the highest revenue games on mobile. The game has unique gameplay, eye-catching graphics and many other interesting features. Also, it is regularly updated for providing gamers with the most advanced functions. Hay Day supports users in over 120 countries around the world making it the most popular and successful farm game in the world. Let's together with us to find it out right now!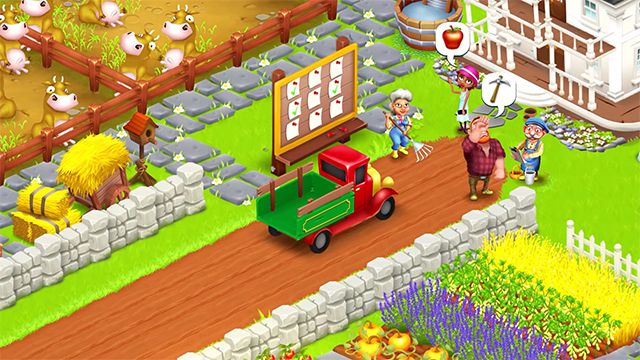 Introducing Hay Day
The story
In the game, you were living in a crowded city with the noise of the streets and the skyscrapers. You dreamed of living in beautiful and peaceful countryside with nature and animals. One day, you received a letter from your uncle. He wants to retire and gives you a large farm. It was a very attractive offer that you could not ignore. You returned home and receive affairs. Besides, you can meet your friends, the mayor of the city and friendly neighbours.
Unique gameplay
In Hay Day, the story revolves around the farm works like farming, planting trees, growing animals and more. Players will have to participate in many different activities for producing agricultural products. You can sell your products to make money, which helps players increasingly progress and have more interesting experiences in farm development. By upgrading, cultivating and harvesting, players can get experience points. That will be an important factor to help players level up. From there, many items, crops, and features will also be unlocked. Besides, you can explore many additional play areas such as fishing lakes and towns. They will be open at levels 27 and 34. Hay Day will provide a lot of decorations and customizations to help players beautify their farms. Events will often occur, giving players rare or expensive rewards. Also, players can chat and help each other as well as compete for prizes at Derbies events.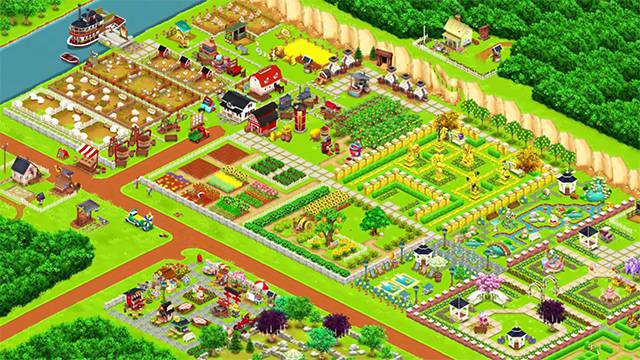 The key features
Hay Day has a lot of interesting features. Also, they are updated regularly. Please see the key features below:
Crops Diversity
Crops are plants that the player can cultivate on agricultural lands. Players will cultivate by sowing seeds on the land and waiting for time to harvest them. Hay Day has many kinds of plants. Each crop will be unlocked through different levels. The harvesting time of each tree will be different so the rewards are also different.
Cute animals
Animals are very interesting in Hay Day. In the game, there are three main types of animals including farm animals that help create the necessary goods, pets and wildlife to bring experience points and upgrade materials. Besides, there are some animals for decoration. Each type of animal will bring different resources so you need to allocate feeding them equally.
Processing agricultural products
During Hay Day, the agricultural products are more and more. You cannot only sell them directly to collect money but you can also use them to process for making other products. You will produce popular things. The people will buy them at a higher price. That means you can make more money. However, you will also need to build factories to produce and process different types of agricultural products. The way it works will be easy and fast.
Mission
Hay Day has diverse quests system. Players will need a lot of different tips to complete and win in them. You can get many attractive rewards from these missions. So you should never miss any task.
Building and upgrading
The job of the player in Hay Day is to develop the farm into a large and beautiful farm. That will require players to build more houses and expand their land a lot. Players will have to start building to have more places for taking care of animals, containing agricultural products, seeds… Also, gamers can upgrade buildings to expand their scale as well as expand the land to have more space for the construction.
Exchanges and purchases
In Hay Day, buying and selling is not merely a complete deal. It takes a lot of thinking and planning if you want to get rich quickly. You can sell your products directly to visitors to the farm, sell orders from people in the town or sell the products on the doorstep. Each way of selling and exchanging has interesting points that players can research while playing.
The beautiful design
Hay Day has been around for a long time on mobile devices. The game is compatible with mobile devices. Moreover, it has been greatly improved in term of graphics. In the game, the image is beautiful and vivid. Hay Day has a 3D farm simulation with lots of playful images, lovely lifestyle and close to nature. Besides, the live soundtrack with rich sounds about all activities makes everything more authentic.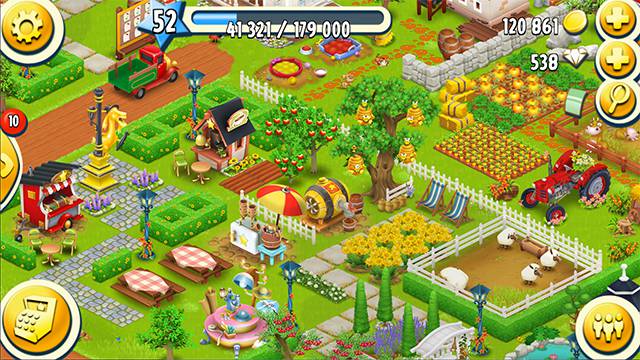 Download Hay Day APK MOD for Android
Hay Day is one of the best farm games on mobile. Its appeal has not diminished over the years. It is even more and more attractive to the players. Besides, Hay Day offers a lot of interesting things. Please pin our article to be able to update its new version regularly. Do not forget to rate and share Hay Day to everyone if you find it interesting. Thanks and have fun!