Hunter: Master of Arrows is an exciting action game for mobile from the developer whaleApp LTD. It is revolving around the story of an archer. The game will take you to the medieval world where the bow is the most powerful weapon, which can help gamers defeat monsters quickly. Players will adventure through many different worlds and face the most powerful bosses. You have to try your best to win and get amazing rewards. Please join us to check it out right now!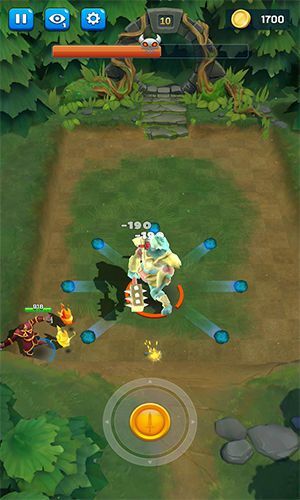 Introducing Hunter: Master of Arrows
Addictive gameplay
In Hunter: Master of Arrows, you will be transformed into an archer, whose task of killings the evil. The monster will be the goal that you need to achieve in each game screen. You can attack them by shooting arrows. In each game, there will be one or more enemies appearing continuously so you need to destroy all of them to win. Of course, your enemies won't stand still for you to attack. Instead, they will move and counter-attack you with a variety of weapons and magic. You will need to be clever in moving to ensure the safety of the next game screen. Do not forget to accumulate your rewards to develop your character.
Many lands to explore
In addition, the game brings you many interesting challenges. They are divided into levels. Besides, the map will be separated into specific areas and themes such as forests, temples… The levels will continuously take you through the teleporting gates to reach the fighting locations. Moreover, the battling places will have different layouts depending on the level and difficulty.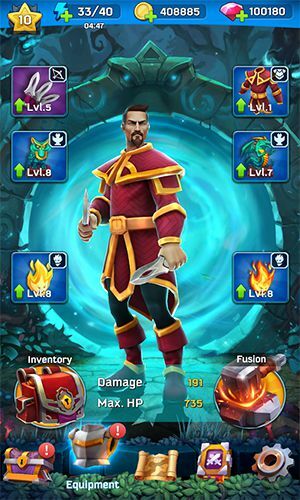 Upgrade skills, equipment, and privileges
In Hunter: Master of Arrows, players can upgrade a lot of things to strengthen the character. Also, you can enhance your ability to win. You should focus on some elements below:
Skill: In the game, the main weapon is the bow. After winning certain levels or meeting an NPC, the player can freely unlock one of the three recommended skills. Those skills will help your character shoot better.
Equipment: Characters in Hunter: Master of Arrows will have unique equipment that can be worn on the body to enhance the power index. You can collect them through levels and upgrade them with drawings. Also, gamers can also combine them into new items.
Privileges: This game will have 6 different critical skills that support your character's power. You will use gold to unlock these privileges randomly. If you unlock two of the same privileges, you can combine them to increase their level and stat.
Impressive design
Hunter: Master of Arrows has a nice design, which brings gamers many characteristic medieval images. Besides, the characters and landscapes are drawn in detail, making players more excited. Besides, the visual effects and sound are also added a lot to inspire the battle. With a lot of beautiful things, Hunter: Master of Arrows is well-optimized to allow fast-paced matches without any lag.
Download Hunter: Master of Arrows MOD APK for android
Overall, Hunter: Master of Arrows is a new game with a good idea, which has been trending at the moment with interesting action gameplay. If you are choosing a game for entertainment, Hunter: Master of Arrows will be a perfect choice. Readers can click the link at the end of this post to download the latest version of the game. Do not forget to rate and share if you find the game interesting. Thanks and have fun!