The construction game genre is very interesting, which makes players more passionate. Every day, there are a lot of exciting ideas about construction games around the world. In which, Green Panda Games is a developer specializing in producing idle games. They combined the idea of ​​an idle game and a construction game to create a great product. Idle Construction 3D is such a game. Players will become an enthusiastic boss, who has to control the workers to build monumental works. Besides, Idle Construction 3D has a lot of attractive features to attract players. In this article, we give you all the information about the game as well as provide the link to download it for free. Let's check it out right now!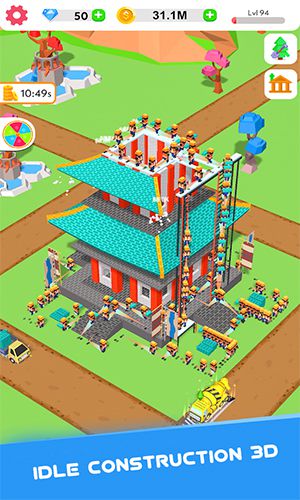 Introducing Idle Construction 3D
How to play
Idle Construction 3D is a simple game that is suitable for all players. In which players have the task of building many great works in the city. You need to hire workers, manage works, and develop your business. Players will start the game with the task of transporting bricks to build houses. To do that, you can use your finger and repeatedly click on the screen to speed up your construction. Every time your character builds bricks, you can get additional bonuses. Besides, you can continue using the bonuses to hire more workers. They will work continuously so that your project will be completed quickly, so you will receive more money. When your works finished, you can decorate them with items such as trees, walls, lights… Then, players can start new works.
Lots of constructions
Currently, Idle Construction 3D provides 13 major projects that require a lot of time to be completed. Later, more and larger scale works will require the construction effort of the workers. In the future, Idle Construction 3D will bring more than the great works that are the most famous wonders in the world.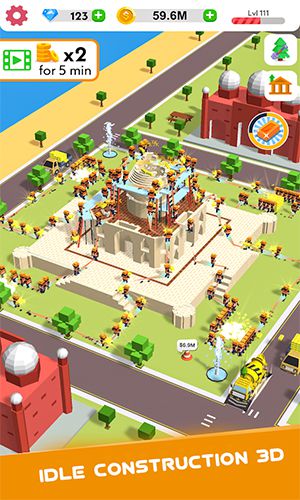 Upgrade
Idle Construction 3D will bring gamers three upgrades to help players can quickly complete works, including Earning, Speed, and Workers. Each kind of upgrades will bring a different ability. Players can depend on the tactics that select the right one.
Earning: This upgrade helps players get more money when workers place bricks on the building.
Speed: This will help increase the movement speed of workers to help you build the construction faster.
Workers: For each upgrade, the player will receive an additional worker.
Design
Idle Construction 3D is not only a simple game but also offers a pretty attractive 3D graphics. However, the images are minimalist enough to bring smoothness to the player. In the game, the characters also have quite flexible and diverse activities. Besides, the game also offers many special effects.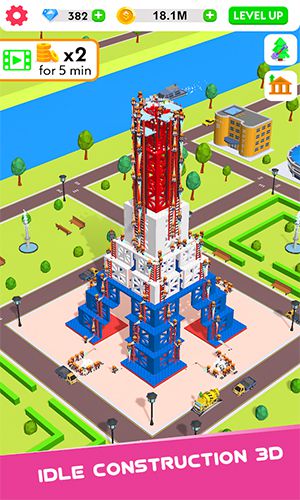 Download Idle Construction 3D MOD APK for Android
Despite being launched only a short time, Idle Construction 3D has received a lot of positive feedback from the gaming community. Besides, the developer also pays great attention and adds new features. In this article, we give you Idle Construction 3D MOD APK with more special features. If you are interested in it, don't forget to follow this article regularly. Thanks and have fun!