Today, comic books and movies about Pokemon are very interesting. Many people believe that they are real. However, Pokemon are imaginary creatures. They are like human pets and join us in many activities. Besides, Pokemon games are also extremely successful in the world. Recently, there has been a great Pokemon game in the market named Mons Land. It will be a perfect replacement for Pokémon Sword and Shield on mobile. The game will be based on the classic TV series with a fascinating story and gameplay. Let's together with us to check it out right now!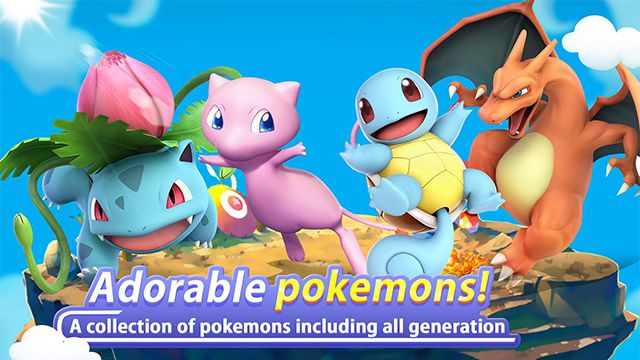 Introducing Mons Land
Original story
Mons Land is not a game from The Pokemon Company. However, it will also perfectly represent the story of the original TV series. It is the arduous journey of a new trainer in the world of Pokemon. Players will have to explore and train Pokemon to become even stronger. Mons Land will recreate a memorable childhood with all the familiar Pokemon, and its evolution and skills.
Attractive gameplay
At the beginning of the game, players can choose male or female characters, representing the trainer that you will incarnate in this game. Mons Land will have a Gacha mechanism. It means you will spin to have the first random Pokemon for accompanying you. Each player can choose up to 3 Pokemon to form a squad. These Pokemon will use the same skills as you read in the comics. Besides, to use skills, it will also need mana and have the cooldown time. They will give you many ideas for playing the game.
In Mons Land, Pokemon will belong to many different systems such as water, fire, earth… Each will have a counter to each other, so you will need to understand them for the best use. Besides, Mons Land will have a unique turn-based combat mechanism. Each Pokemon will attack the enemy in turn. The game will end when the Pokemon of a side is completely defeated. After win the match, gamers can receive attractive rewards. Also, the game will have auto and boost systems to help players more hands-free in completing tasks or fighting. However, you must be careful about using this auto system in battles because they will cause your squad to fight in a wrong way.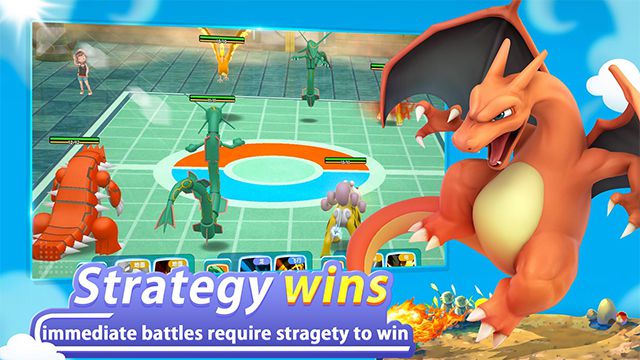 Full Pokemon collection
Mons Land will provide all kinds of Pokemon. They will be simulated honestly and perfectly both in appearance and skill. Besides, their evolutionary version will also be designed in detail. In the game, Pokemon are divided into different systems and types. Also, their ranks are divided into different levels. You can identify them through colours like green, blue, purple, yellow … or the letters C, B, A, S, SR…
Upgrade and evolve
Upgrading and evolving Pokemon is important. To upgrade, the player can collect experience cards through battles. Pokemon can reach level 20 and skills will be unlocked by each level. Every type of Pokemon can evolve. The game will require you to collect various pieces of material for evolving your Pokemon. After finishing, Pokemon will change appearance, enhance strength and skills. However, players should pay attention to the indicators of each type of Pokemon, such as attack, defense… from which you can make reasonable choices for battles.
Beautiful design
The first thing that players can see in Mons Land is the cute appearance of Pokemon. They are very fun and bright styling. The picture and sound quality of the game are also customized with many different levels. Users can customize and change to match your device. Besides, Mons Land also brings a lot of beautiful effects coming from in-game activities such as combat, upgrades or missions.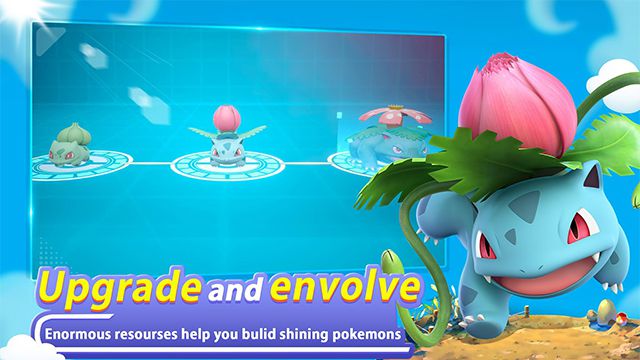 Download Mons Land APK for Android
Mons Land is one of the fascinating games on the topic of Pokemon, which brings the full story and the most unique gamplay for players. Players can join the game now to enjoy and experience the fascinating features that the game brings. Hopefully Mons Land will bring new experiences and unforgettable memories about the war of the Pokemon. Links for download will be available at the end of this article. The size of the game will be very large about 1GB. Make sure your device has enough memory to proceed with the installation. Thanks and have fun!