Idle Courier Tycoon is an entertaining game from the developer Century Games Pte. Ltd. It has a simple style with free gameplay, which will make players feel happy. Please follow us in this article to find out more about this interesting game!
Introducing Idle Courier Tycoon
The gameplay
In Idle Courier Tycoon, gamers will become a warehouse manager of the courier company. Your task is to manage it to receive items from everywhere then pack and ship them to everyone. Starting the game, you will have a small shipping line with some rudimentary machines. At this point, players will immediately have the first deliveries arrive and get your business up and running. You will receive those items through the conveyor to pack them. Gamers should upgrade a few parts to be able to unlock more stores. At this point, you will need to develop the machines to make them run faster and more efficiently.
Also, items will be packed and delivered to a larger vehicle. This big truck will deliver goods to everyone and bring you big profits. After having money, you can use it to continue purchasing machines and hiring more employees. After that, you will have a bigger business and make more money.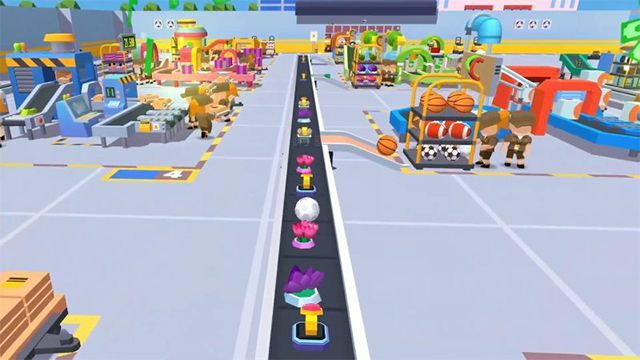 Diverse upgrades
Besides, you have to upgrade many different things. First, you should pay attention to the equipment and machines in your workshop. Specifically, you can click directly on them to upgrade the working speed of the machine as well as hire more workers for expanding your business. Also, your workshop has a large conveyor to help transport goods. Second, you can upgrade the shipping speed or the Modify sorter. Besides, players can also upgrade in the parking lot by speeding up the loading process, hiring new vehicles… At this point, players will need to balance in the upgrade stages of the game to get the best results. If one step is faster or slower than the rest, your work will be in big trouble. Moreover, players can hire a senior manager to help you manage all your work when you are offline. The money will still flow into your pocket steadily.
Idle Courier Tycoon also offers players many warehouse locations as your job gets bigger. Now, you can rent a new larger factory site with more machines, and get everything done on a larger scale. You can even deliver goods by plane now.
The design
Idle Courier Tycoon has a simple design style, which is similar to many famous Idle games. In the game, players can see everything from a top-down perspective. Also, it is developed with a simple image. However, they are very intuitive with a bright and fun cartoon style. Besides, the sound of the game is also exciting, making your game experience more attractive.
Download Idle Courier Tycoon MOD APK for android
Idle Courier Tycoon is a simple and playful game that is suitable for entertaining. In the game, there are many interesting activities of the workers, diverse activities of upgrading and transporting for players to enjoy. Besides, the game will be suitable for everyone that you can play at anytime, anywhere. Readers can download the game at the link below and share with us your idea about this game. Thanks and have fun!