Dinosaurs are interesting creatures that lived in prehistoric times on the earth. Most of them are dangerous but epic. But they were extinct long before humans appeared. Today, you can only see their fossil skeletons in museums or the movies. Currently, some developers are also starting to focus on tapping mobile games on the dinosaur theme. In which, Jurassic Monster World: Dinosaur War 3D FPS is an exciting game from the developer Azur Interactive Games Limited. It will take you to the dinosaur world and the online battles with many players around the world.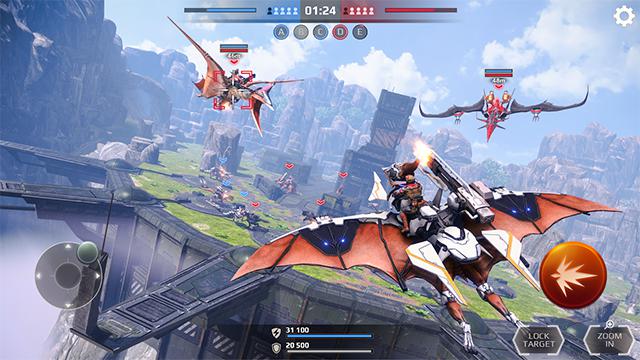 Introducing Jurassic Monster World
The gameplay
Jurassic Monster World is a very attractive online game. This is a PvP action shooting game, allowing up to 10 players to participate in a battle. Players will control the dinosaurs flying in the air or moving underground. You will equip them with weapons all over the body to attack the enemy. To play well, gamers have to move skillfully to dodge and kill enemies. Also, players need to know the characteristics of each type of dinosaurs to take advantage of tactics. Jurassic Monster World is a team game so you have to coordinate well with your teammates to get more chance of winning. After each victory, you will receive a certain amount of rewards, which you should save to buy and upgrade more equipment for the dinosaurs.
Many dinosaurs
Dinosaurs are the highlights of Jurassic Monster World. You will see many different dinosaurs available in this game. Your job is to level up to be able to unlock more types of dinosaurs. Each of them will have unique characteristics and indicators, such as vitality, speed, damage, range. Besides, each dinosaur will have several hidden skills to improve combat efficiency. You can click on each dinosaur to see the skills information. It would be better to choose a suitable dinosaur for your tactics or team.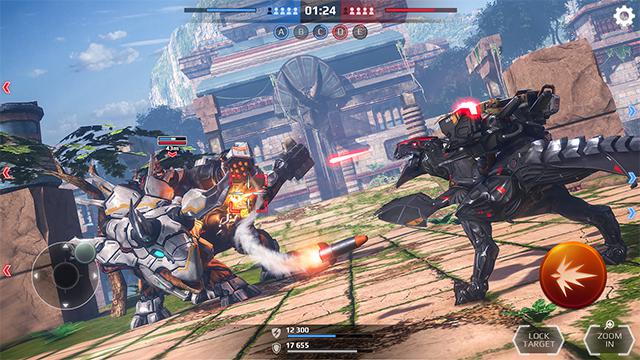 Upgrades and more
Weapons are a very important factor to help you win the match. Also, gamers need to level up to be able to collect more different types of guns. Each of them will have different power, and is rated by colors such as white, blue and orange. Combining weapons with the dinosaurs will also be something that many players have to research. Moreover, Jurassic Monster World also allows players to upgrade weapons with the collected rewards.
Impressive design
Jurassic Monster World is has beautiful 3D graphics. In-game images are designed in detail to bring true feeling to all players. The dinosaurs and the hero works very flexibly, making the game very attractive. Also, the combat effects are exciting with spectacular effects such as shooting, rockets… Besides, the sound is also impressive with vibrant gunfire.
Download Jurassic Monster World MOD APK for android
Jurassic Monster World is a free game that is welcomed by many players. It offers a lot of interesting features for a hot action game on mobile. We also want to share a special version of Jurassic Monster World MOD APK. This is a modified version, which provides gamers with lots of bullets right from the beginning of the game. You can download Jurassic Monster World Mod Apk at the link below. Do not forget to rate and share this game if you find it interesting. Thanks and have fun!