Otherworld Legends is a new action game from the developer ChillyRoom, which is also the creator of the famous game Soul Knight that have had tens of millions of players worldwide. This game is a fairly new idea of warriors and endless adventures. Besides, players will become a hero with the task of collecting hundreds of weapons, exploring mythical scenes and completing difficult missions. Otherworld Legends will definitely be an enjoyable experience. Please join us to find out more about this cool game right now!
The story
In the game, you will be a good fighter. After a nap, you woke up in a strange place. Right away, you had to find out where you are. You already know that you are no longer in the field but are being summoned by Asurendra to a world called illusion. Then, you met a stranger and he guided you through the basics of this illusory world. Immediately, you are taken to a room where many other heroes are summoned together. Now, you officially join the world of Asurendra, which is going through many adventures and harvest rewards to unlock new heroes.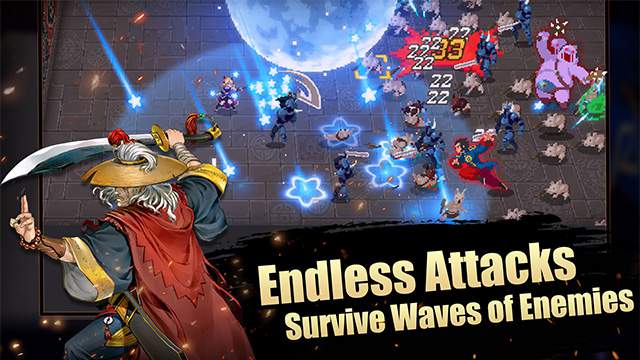 Attractive gameplay
Otherworld Legends is a very engaging pixel roguelike RPG game. Its gameplay focuses on controlling the character to explore rooms and fight monsters. Specifically, gamers will control the character with the navigation key on the left side of the screen. Then, you can use the attack keys on the right side to defeat the enemy. In the game, the interesting thing is that players can use the character's skills to dodge and launch quality combos to fight the monsters better.
Also, Otherworld Legends somewhat resembles a role-playing game where the player needs to play the role of elite warriors. Besides, you have to complete many quests and overcome all the challenges to receive valuable rewards. After winning, you can use the rewards to upgrade the character's power. At this point, you should pay attention to a lot of different items, such as equipment, skills, weapons…
Distinctive Heroes
Currently, Otherworld Legends provides you with 6 different heroes including Quan Huying, Katherine, Akaisha, Ginzo, Gerard Quentin, and Oli. Each hero will sit in a different position in the common room so that players can choose from. They have unique characteristics skills, specifically:
Quan Huying: This is a martial arts girl who has inherited the martial arts secrets of the East. She has developed many fighting skills to cope with the most fierce battles. Besides, this character is impressive with a large amount of blood and big punches. Quan Huying's skill set includes Tiger Charge, Shadow Strike, Shoulder Bump, Thunder Phoenix Fist.
Katherine: If you choose this character, you are a talented witch from the magical continent in the southwestern part of Elfland, which is famous for its elemental control magic. Also, she has low health but very strong armour. Her skill set includes Infernal Lotus, Glacial Tempest, and Thunder Strike.
Akaisha: This is a female character. She is a legendary archer from Elfland, who has the ability to defeat any opponent from afar. Her skillset includes Arrow Rain, Leprechaun, Rapid Shot
Ginzo: He is a famous swordsman from a mysterious land with excellent sword skills. In the game, he is capable of launching fast and powerful attacks. However, he has very little health. His skill set includes Hiken Shooting Stars, Hiken Tsubame Gaeshi, Hiken Heirloom Katana
Gerard Quentin: This character is a knight from Montargis with heavy armour and shield. He easily moves between the enemy's lap with a large amount of armour and health. Besides, Gerard Quentin's skill set includes War Mass, Roars of Gauls, Shield Strike, Angelic Pact.
Oli: She is a weapon genius, who can collect weapon pieces in the battle to create more powerful weapons. Her skill set is Ping Pong Gun, Oli's Flying Fish, Oli Mecha.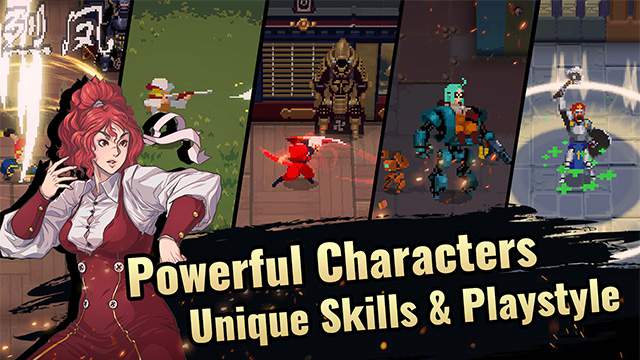 Collect bizarre and funny items
In Otherworld Legends, your character can carry a maximum of 4 equipment on the body. You can see them in the inventory. The equipment will improve your character's combat ability. Also, if you don't need them, you can sell them to make money. Besides, the number of items in the game can be up to hundreds that we cannot figure out. Most of them will be provided to you through collecting in battles. Similar to equipment, the items are also particularly rich. They can support instant features for the player in combat, and those items will not last long.
Retro Pixel Art
Otherworld Legends has fast-paced and engaging gameplay. However, its graphics are only 2D with classic Pixel style. This is a quite familiar design in some ChillyRoom games. The player will not see everything clearly during the battle, but you will find them very flexible, fast and smoother.
Contrary to classic graphics, the sound of Otherworld Legends is much more vibrant and realistic. Also, non-verbal music with all kinds of emotions will be heard every time you visit different locations. Besides, you will hear the sound of punching, kicking, screaming or using the character's skills. Everything is great in a perfect combination.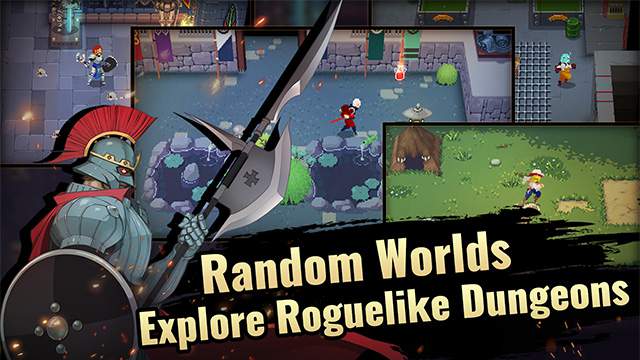 Download Otherworld Legends MOD APK for Android
Otherworld Legends MOD is a free modified version like its original version. However, it won't be easy for players to download it on mobile stores. Instead, you can download MOD APK files. Links to download those APK files is at the end of this article. You can click to download it automatically and rest assured because it is very safe for your phone.
Summary
Otherworld Legends is one of the most exciting games recently. The game is like a refreshing adventure into a world of action, combat and monsters. It attracts the player with the simplest things. Right now, you can download the game and experience many advanced features at the link below. Thank you and have fun!