Clash Royale continues is an excellent game from the developer Supercell. This game was launched when mobile games were booming with lots of competitors. However, Supercell has been developing as one of the leading developers in the world. Clash Royale continued to create waves to the game market. It is a completely new strategy game with unique gameplay, beautiful images and many advanced features. Clash Royale did not disappoint its developer by earning $ 1 billion in less than a year. Surely, many gamers will be eager to learn and download this game. Let's find it out right now!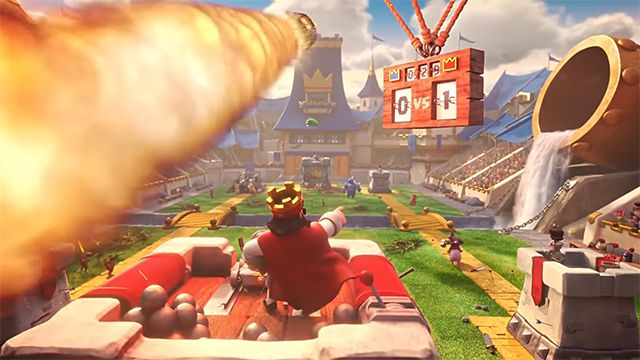 Introducing Clash Royale
Unique gameplay
Many newcomers will think that Clash Royale is a familiar tower defence game. But they only correctly guessed a small part of the big idea in this game. Clash Royale allows 2 or 4 players to participate in a 1vs1 or 2vs2 match. The goal of the player will be to take the troops to attack the opponent's towers.
Each match will last 3 minutes with the effort of both sides. Players will use the same Elixir points as in Clash of Clans to summon troops. However, these points cannot be produced. They will only automatically increase over time and reach a maximum of 10. After calling a soldier with cards, they will appear on the map and consumes certain Elixir points. Besides, the two sides will constantly call out the strongest soldiers. The match will stop until one side's main tower is destroyed. However, when the two sides have not destroyed the main tower within the required time, the side that breaks more pillars will win.
The strategy will be the deciding factor for your victory. In the game, the armies will counter each other in a circle. That means no one is the weakest and no one is the strongest. You need to make quick decisions in the situations of the game. Moreover, the rewards for the winner will be relatively diverse including money, experience, chests, crowns or card pieces. You can take advantage of the rewards to unlock more troops or level them up.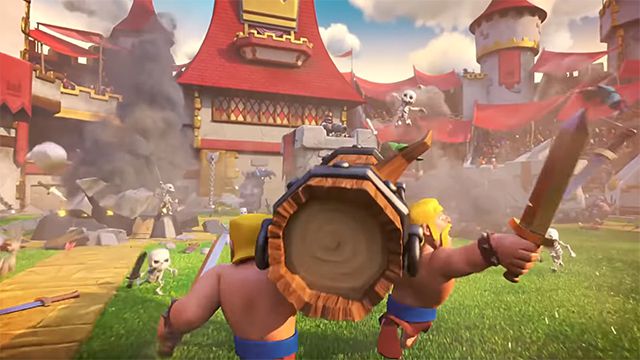 The key features
The diverse cards collection
Cards make the diversity of Clash Royale tactics. All troops, buildings and magic are displayed as cards. Players can select a maximum of 8 cards to bring into the match. By the end of 2019, Clash Royale had nearly 100 different cards. They are divided into four categories including Popular, Rare, Epic and Legend. All cards are limited to level 13.
Upgrade
In Clash Royale, players do not need to upgrade too much into towers or structures. Instead, they only need to focus on upgrading and developing the cards. You have to collect enough pieces of cards and gold to be able to level up the card. When your card level up, it means that your troops or magic will be stronger. At this point, victory will come to you easier than ever.
Mission
In Clash Royale, the quest will be added as an update of the player's achievements. Players will have to complete certain tasks to receive a reward. The mechanics of these missions have changed many times to match the rewards of the game. However, players can still often do these tasks to receive more valuable things.
Guild
This is a quite familiar feature with Clash of Clans. Clash Royale will allow players to join clans. Players can meet and associate with many other players in guild wars. Besides, the clan with the most victories will win this battle and earn clan chests. Also, Clash Royale not only allows you to challenge other players but also allows you to play with friends to see who is the best.
Impressive design
Clash Royale features the beautiful design that you have seen in other Supercell game developers. This design has made a strong impression on many players around the world. In the game, cards are displayed in a novel and unique way on your phone screen. The warriors are detailed and beautiful. There will be some familiar warriors with the player, but there will also be more interesting in the new updates. This impressive graphic design has made Clash Royale more prominent in the eyes of many players. Also, the sound of the game is quite quality. The warriors will all be voiced fighting very carefully. Your fight will be more exciting when listening to so many interesting sounds.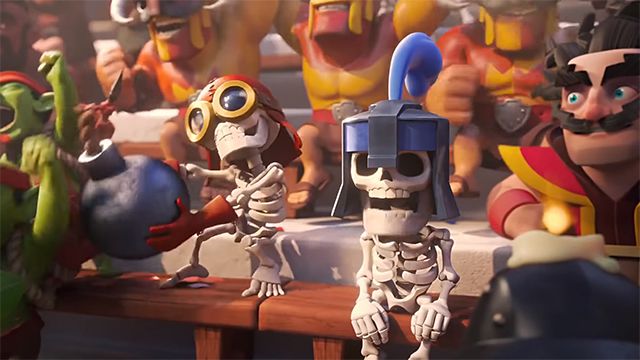 Download Clash Royale MOD APK for Android
Clash Royale is one of the most attractive strategy games on mobile. This game has been popular in many countries, which is loved by many players. It brings many attractive features in terms of gameplay and design. You can instantly experience this game by downloading it at the end of this post. Clash Royale will have lots of interesting updates in the future. Please pin this article for more update about the game. Don't forget to share this game if you find it interesting. Thanks and have fun!