Supercell is the world's leading developer with a lot of interesting games like Hay Day, Clash of Clans, etc. Recently, this developer has released its sixth product. This new game is called Rush Wars, which will be an extremely unique strategy game for mobile devices. In the game, players will build and develop bases, armies and weapons to fight the enemies in intensive battles. Rush Wars offers a lot of fun in gameplay, missions, army, graphics and many other features. In this article, we would like to share you all the information about the game as well as provide you with the link to download it for free. Let's check it out right now!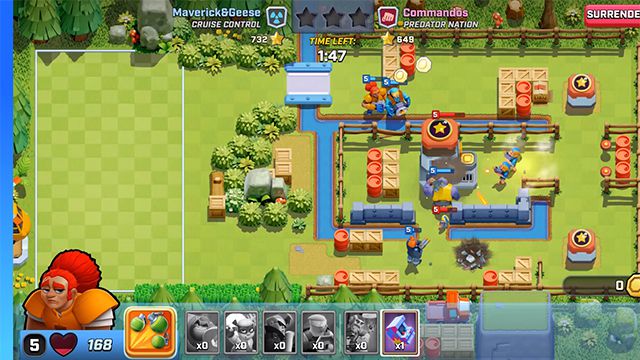 Introducing Rush Wars
The great tactical gameplay
In Rush Wars, the player's task is to build military bases and attack other players to occupy their resources. As for construction, players will be provided with a base consisting of the main house, military houses and gold mines. In which, the houses will be the places for you to learn and buy your army. You can upgrade these houses to enhance your power and unlock more new troops. Besides, Gold mine will be the place where your enemies always aim. You need to buy modern weapons and armies to defend this place.
Also, the enemy's gold mine will be your target to attack. Through a helicopter, you can put your army in front of an enemy's gold mine to prepare for battle. You will have 1 minute to arrange the formation before fighting as well as 2 minutes to attack the enemy's gold mine. If your army wins, you will complete the mission and gain rewards and stars. The strategy will be the key factor for the victory. You need to study the types of troops and their modality to arrange the best formation.
In addition, Rush Wars does not require players to be fast while playing as well as do not need to have good skills in combat. What players need to do is study the strategy very carefully. Use your fingers to arrange the formation in the most reasonable way and watch the results of the battle. Hurry will be the most dangerous thing that will lead to the failure in Rush Wars.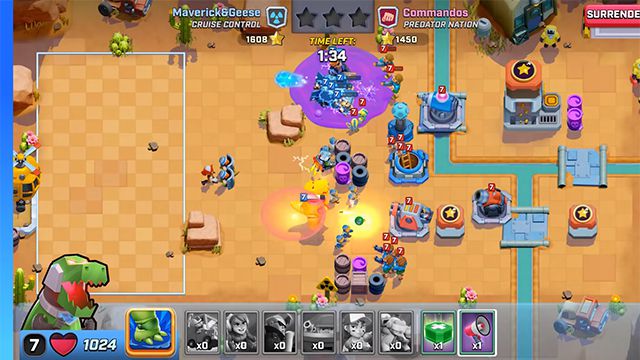 Military and items
Warriors will be indispensable in Supercell's strategy games. For Rush Wars, you can recruit different types of troops such as gunners, bombers, people flying, tanks… They will be the main force to help you protect the gold mine and attack the enemies. As mentioned, the types of troops in Rush Wars will have unique characteristics. You need to play to gain experience and have reasonable arrangements for buying troops. The higher your level is, the more troops you can bring to the battle. Also, players can carry several types of items to assist in attacks such as heal, gathering speaker, etc. The higher the player's level, the more troops and items can be unlocked. So you should focus on developing equally between level and strategy.
Many players and activities
Like many Supercell games, Rush Wars also allows players to connect very well with friends. You can call friends to play to create strong alliances. The game will rank the best players and teams on the global rankings. Moreover, you can even attack friends' bases to tease them when they are offline. But you should be careful because they will counter-attack you.
Also, Rush Wars offers lots of exciting activities and events to attract players. You certainly love opening a chest like many other Supercell games. The reward chests will appear after winning. You only need one key to open and receive valuable rewards or wait for them to unlock themselves.
The graphics and sound
Rush Wars has a quite similar design to Supercell's previous games. A 3D graphic is built in great detail. The colours of the game are bright and very beautiful. Besides, the characters are designed in a fun and lively way to make players excited. The sound is also very lively with various activities such as upgrading, shopping and fighting. Rush Wars deserves to receive praise from experts and players.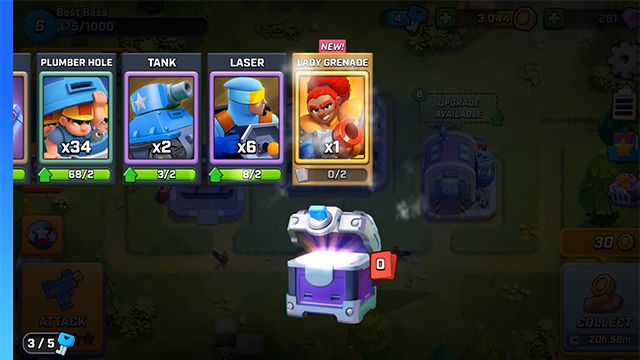 Download Rush Wars APK MOD APK for Android
Overall, Rush Wars is a great game full of attractive elements of a top strategy game. In the future, it will definitely continue to bring interesting things like other Supercell games. If you are looking for a strategy game or simply a good game, Rush Wars is a perfect choice for you. you can easily download it right from our article. Thanks and have fun!