Dragon Ball is a fascinating game series associated with the childhoods of many people around the world. Since its launch, the game has become one of the most successful manga and anime series of all time with great influence. Many games and movies have been inspired by Dragon Ball, most of which have achieved great success. Today, we would like to introduce a new game from the developer OneSoft Global PTE. LTD called Stick Battle Fight. This is a special version that brings the attractive fighting style of the stickman characters. They are inspired by the famous characters in Dragon Ball. Please join us to check it out right now!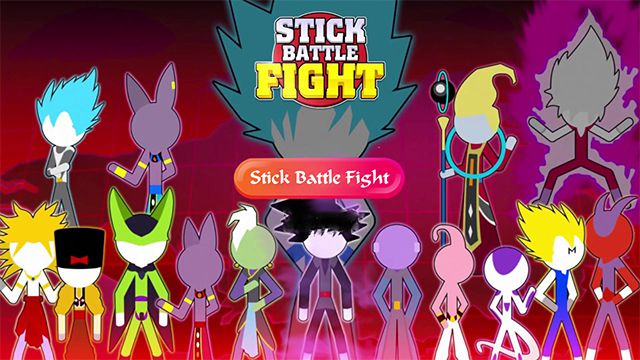 Introducing Stick Battle Fight
The gameplay
Stick Battle Fight is an interesting fighting game. In which, players will control stickmen that simulate the characters in the movie Dragon Ball. In the fierce matches, players have to control the character to fly and use skills. Your goal is to defeat your opponent at any cost to receive a reward. Besides, your enemy will be stronger and stronger, so you have to practice your skills regularly. To defeat the enemy, gamers can attack to accumulate energy points then use skill combos to reduce the opponent's blood. Also, you should use flying control freely to be able to dodge the attacks from the opponent. After winning, you can accumulate a lot of money to unlock and upgrade characters.
Diverse game modes
Stick Battle Fight is a simple game but its game modes are very diverse. Please see the section below for more detail:
The story mode: Players can challenge skills through each screen with intelligent AI. Your enemies will be the villains in the original story.
Confrontation: In this mode, you can choose your opponent. The game will provide you with many levels including easy, normal, hard, hell and legend.
Training: This mode allows gamers to choose a character and play randomly with different opponents until you destroy all of them.
PvP: This is a multiplayer online mode. Your opponents will be online players with good skills.
Tournament: This mode will create tournaments with knockout matches. In which, gamers have to win many matches continuously for being the champion.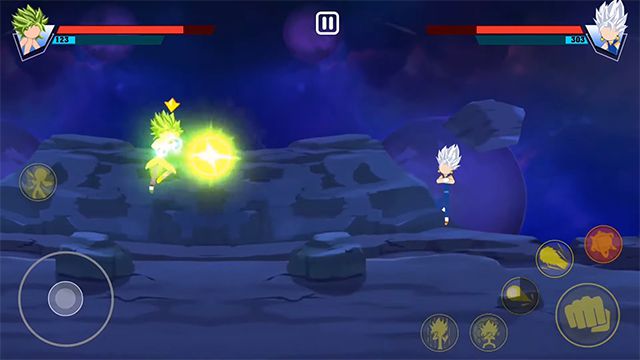 Unique character collection
Currently, Stick Battle Fight offers 58 different heroes with unique shapes and powers. These characters are divided into various ascending classes including E, D, C, B, A, S (Special), SS (Super Special), SSL (Super Special Limited), U (Ultimate), L ( Limited). The stronger the character is, the more expensive it will be to unlock but also the greater the power. The strength of the characters will be shown through the Black Yoku Rose index points. You can level-up for the character to increase the index points. Besides, each character will have 4 skills that players can develop during the leveling up.
Interesting design
Stick Battle Fight has a simple design with 2D graphics. You will be observing the matches visually. Also, the game provides you with a sharp stickman, which helps the game save space to fit more devices. Stick Battle Fight has simple graphics but the effects and music are amazing. They are very beautiful and honest.
Download Stick Battle Fight MOD APK for android
Stick Battle Fight is a game for fighting lovers and Dragon Ball fans. In the game, you can join epic matches with beautiful skills, transformation, and many other cool things. In this article, we will share the link to download Stick Battle Fight Mod APK for Android phones. Please regularly visit this post and our website to update its new version and other exciting games. Thanks and have fun!