If you are a fan of Battle Royale games on a mobile phone, you probably know NetEase. This is a famous developer, which is behind many popular games around the world. Their products always receive tens of millions of downloads from Google Play. Most of their games are invested quite carefully and elaborately with high-quality graphics.
Recently, NetEase continued to release a very good game for Android phones called Cyber ​​Hunter Lite. This game is available for free on Google Play. However, if you are in countries where this game does not support or your Google Play has some errors, I will still share a link so you can download this APK file and data of this game. Besides, I also share more interesting information about the game as well as provide instructions to download and install it quickly. Let's find it out right now!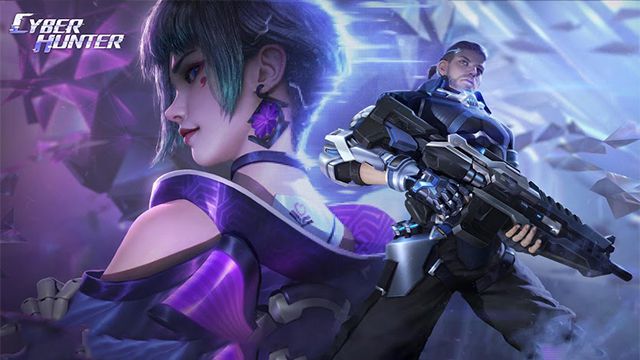 Introducing Cyber ​​Hunter Lite
The gameplay
Cyber ​​Hunter Lite has similar gameplay to Cyber ​​Hunter and still retain the typical style of a Battle Royale game on mobile. Players will have the opportunity to participate in fierce battles. The game takes place on the island with 49 other opponents. This is an extremely difficult fight. Only one person can survive until the end of the game. When starting, players need to quickly equip themselves with weapons and equipment. The items are scattered all over the island that you need to collect. Players need to constantly move to cross the terrain and find safe and advantageous locations. After that, you can stay and keep listening and observing the changes on the battlefield such as the roundabout, the movement of the enemy to get the most reasonable combat options.
In Cyber ​​Hunter Lite, skill is essential to win the top position but it is not all. You cannot defeat all 49 people yourself. Be smarter and let your opponents defeat each other. After that, you can choose the right time to join fighting and defeating them. Besides, the control in Cyber ​​Hunter Lite is still quite complicated although it has been greatly optimized. You need to practice for a while to be able to understand how to move, control, change weapons, collect… You need to be faster and more accurate if you want to win.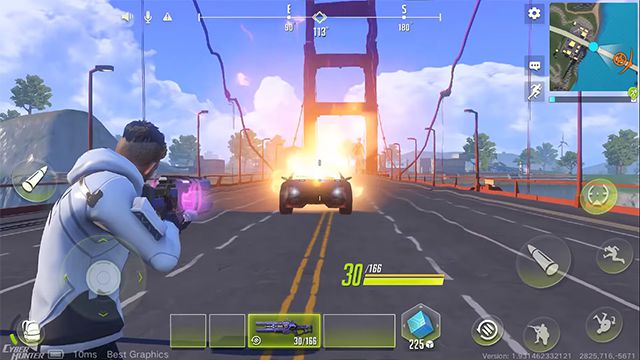 Creation
Cyber ​​Hunter Lite has many interesting things that may be available in other Battle Royale games or players have not yet discovered them.
First, I must mention that players can easily interact with the game environment. You can perform a multitude of different movements in a lively environment such as acrobatics, swimming, diving, etc. The game's fighting style becomes more diverse.
Second, the equipment system is very diverse and unique. They will include many different items that provide useful features for gamers. Most players will need some time to find out their power.
Third, Cyber ​​Hunter Lite allows players to equip support skills before entering the match. They will work as quantum energy. These skills will be quite useful which will evolve when you reach higher levels. However, you still need Quantum materials if you want to use these support skills.
Fourth, you will get a lot of support from a robot that always follows you. They can help you heal the blood, pick up things, etc. so you can fight hands-free. They can protect you by creating shields and parachutes when you jump from above.
Finally, vehicles will have the ability to surprise the player. They will be able to help you destroy buildings, obstacles, move at high speed with Nitro gas… The ability will depend on the rarity of the vehicle you collect.
Above are just a few new things that I want to tell to all players who have just started playing Cyber ​​Hunter Lite. You can also discover many other interesting features after a period of playing the game.
The weapons
In Cyber ​​Hunter Lite, the arsenal is quite modest with only 12 different guns divided into 5 categories. Basically, they will be relatively similar to the current guns but have been slightly modified in terms of names and designs.
SMG guns: This type of weapon consists of two guns, Foxtrot and Omega. This type of gun usually has a high rate of firepower, low damage and low recoil. You can easily see these guns everywhere in the game.
Rifle: This is a great kind of weapons, which consists of three guns: Liberty Alpha, Drake Buster and Crusader. They are sniper rifles with decent damage and long range, which are most commonly used in Cyber ​​Hunter Lite.
Sniper: This type of weapon will consist of two guns, Soulsnatcher and Valkyrie. The range and power are very strong, with only one bullet being able to defeat the enemy. However, this weapon has a long time to replace bullets that is not suitable for melee battle.
Shotgun: This weapon consists of two types: Tiburon and Vortex. They are very modernly designed. They have almost maximum damage at close range. However, they still have a weak point of a slow fire rate.
Machine guns: This type of weapon will consist of three guns, Absolute Zero, Destroyer and Falling Start. Each will have different characteristics of destructive power, fire speed…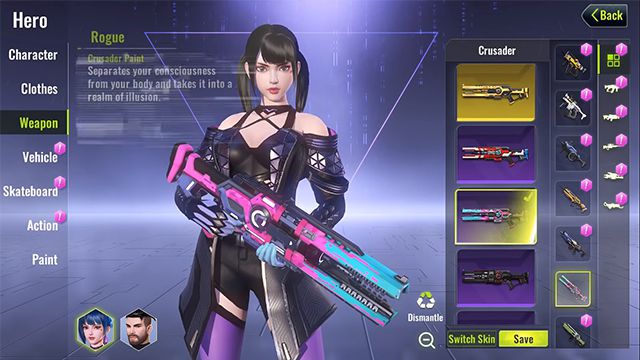 Download Cyber ​​Hunter Lite APK for Android
Cyber ​​Hunter Lite is an interesting game. The game brings beautiful graphics with future technologies. The Lite version will bring smoother and faster experiences to all players with important optimizations. You can use a single account to log in to all versions of this game. In this article, we would like to give you a link to download the APK file and the OBB data. Don't forget to leave a review or share this game if you find it interesting. Thanks and have a fun game!