Super Mario Run is one of the most interesting games developed by Nintendo. This is a perfect version of Super Mario for Android phone. The game will recreate the entire adventure of Mario in the mushroom kingdom. In the game, the players will continue to overcome countless difficult challenges to rescue the princess from evil monsters. Super Mario Run provides addictive gameplay, a modern style graphics and diverse features that bring gamers the most exciting experience.
In addition, this game is available on Android phones in March 2017. Since then, the game has received great interest from the Mario fans. It has had more than 100 million downloads. In this article, we will give you all the information about the game as well as provide you with the download link for free. Let's check it out right now!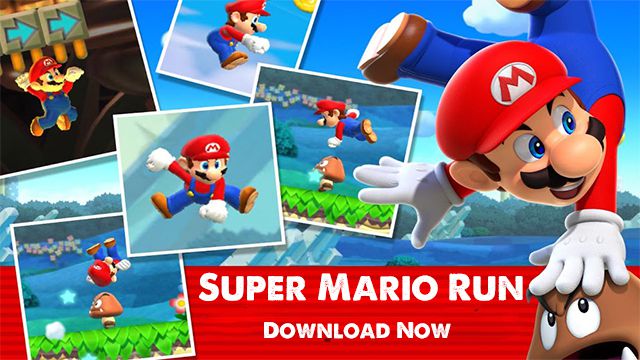 Introducing Super Mario Run
The addictive gameplay
Super Mario Run allows players to meet the famous Mario again. You will continue to participate in endless adventures. The game is divided into separate stages that players need to play and pass one by one before moving to the next stages. In the game, you will control your character running on different terrains. From there, you can see the challenges that the game offers. Traps, deep pools… are things that always hinder your progress. Besides, you will also encounter other evil monsters, which always try to touch you and make you lose your life. You can decide to jump over or attack by jumping on their heads.
In addition, the control mechanism of the game has changed compared to other traditional Super Mario games. Now, you won't need to use two hands to control the character anymore. With just one finger and continuous clicking actions, you can easily control your character to jump. However, this control will also be a big drawback for players who want to have old experiences. You also cannot pick up additional power or weapons to boost the character. If you like traditional games, I have just introduced Super Mario 2 HD.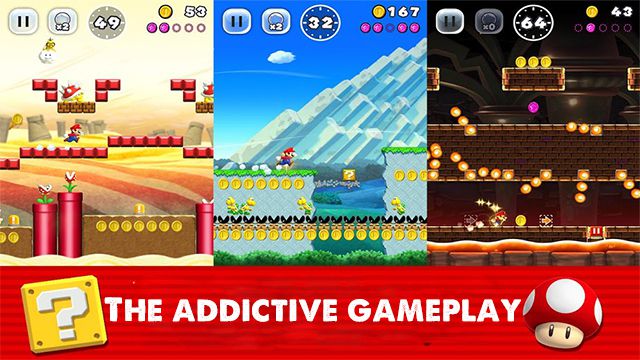 Many unique game modes
Super Mario Run provides gamers with unique game modes that will keep players from getting bored. You can easily change the game mode to create a new feeling. Please see the section below for more information:
Remix 10: This is a new game mode that allows players to play 10 consecutive stages. However, those games are just short challenges with high speed. You will only need to overcome 1 or 2 challenges to be able to reach the destination and pass another stage. Even if your challenge fails, you will still pass the stage until you reach 10 levels. Your goal is to find as many diamonds as possible, which will allow you to unlock a valuable gift box and many rewards.
Tour: This game mode has many separate levels, each of which will have many different challenges for players. The player will have the task to move to the end and pass the level. After that, you can continue to open the next stage with more challenges. The coin is a reward for you at these levels.
Toad Rally: This mode is like a race between players. Here, you can start a race at certain levels. Your mission is trying to run and collect as many gold coins as possible. After getting to the end, who has more coin will win the game. The reward will be the gold coins that you have collected and the bonus for the winner.
Developing the kingdom
Super Mario Run is a special version that allows players to build basic constructions in the game. You get a small kingdom with an available layout. Here, you can freely build, move and demolish special buildings. Besides, your works will most likely be your own achievement. That means those buildings are unlocked only when you have got certain achievements. Of course, there are a lot of accessories for you to decorate like flowers, mushrooms… You can use the money you have earned to buy and build them, which will make your kingdom look brighter before you collect achievements in the game. In addition, your kingdom will also have the main house that you can upgrade to increase the level.
The beautiful graphics
Super Mario Run gives players a more modern graphics than many other games. This will touch the player's eyes as soon as they start the game. Besides, the colours are bright and extremely outstanding, which is a big change from other classic Super Mario games. However, this will also be a minor drawback. When you start the game, it will be a bit slower because your device will need to load. However, the game's operation is extremely smooth. In addition, Super Mario Run is also greatly improved in the visual effects part of the character. When players join the race, they will have more sparkling effects. Even when you jump, collect money and do other things, it brings you many other beautiful effects. Besides, the game also brings a lot of maps for players, which will eliminate boredom compared to other traditional games.
Download Super Mario Run APK for Android
Super Mario Run is an engaging game, which definitely brings gamers the most interesting experiences about an endless race. Please click on the link below to start downloading. If you have any question about the game, please leave a comment below. Do not forget to visit our website regularly for more interesting games and apps! Thanks and have a fun game!