Blend It 3D is a funny and creative game for mobile phones. It is provided and developed by SayGames, one of the most popular developers in the world. They are famous for many simple but very addictive games. Blend It 3D is such an interesting game, which will be a new idea about juice. In the game, players will do this job on the beach and sell things to many customers to make a lot of money. However, the job will not be as simple as you think. So, let us find out a little bit about this game before you start enjoying it.
Introducing Blend It 3D
The gameplay
At the beginning of the game, you will be a fruit juice seller on a beautiful beach. You only have a small hut and a classic fruit cutter. The guests will come to you with refreshments, and you need to sell them the juices they need. Players have to listen to the customer's needs and choose the right kind of fruit. After that, you will put those fruits into the machine, press those fruits down on the blade of the machine to cut. This is a seemingly simple job but it is very dangerous. If you press too fast, the blade will cut into your hand and your job will fail. Besides, you should be careful with each of your actions to complete everything excellently.
In Blend It 3D, to get more bonuses, gamers also need to make the right juices. Please check out customer suggestions for ingredients, water containers and cup decorations. If you do exactly what the customer wants, your reward will be the greatest. After receiving an excellent response to the needs of customers, players can overcome challenges and move to the next stage.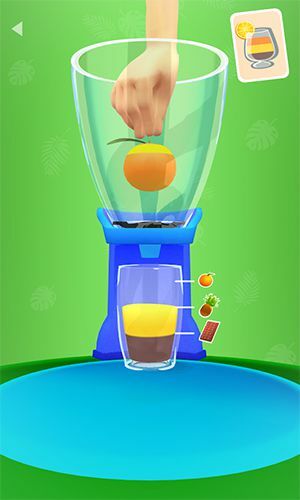 Upgrade your beach
The beach is your business place where your customers come every day. After getting the money from the first guests, you can start upgrading the buildings in your store. The more you upgrade, the more cash you will have to spend. But you will get a more beautiful location. This upgrade is just a form of entertainment and spending money in the game. It helps stimulate players to pursue the goal of getting the most beautiful beach.
Collect
In Blend It 3D, there are a number of things that players can collect, including Custom and Items. In Custom, players can collect new presses or create a new pair of hands in styles like Normies, Hipsters, Jacks… With the Items section, players can collect the machine to make juices such as vegetables, fruits, sweets, meat… Moreover, the game will provide you with many types of cups with different designs. And there will be some special decorations in each style.
The design
Blend It 3D is a very simple game in design. It is well optimized for most mobile devices. However, the game still has a good 3D design with vivid and cute characters and bright colors. It will help players be more excited in the upcoming summer. Also, Blend It 3D has lots of exciting sounds, which attracts players, such as background music, and the sounds from the fun activities in the game. All will make a unique and creative game in design.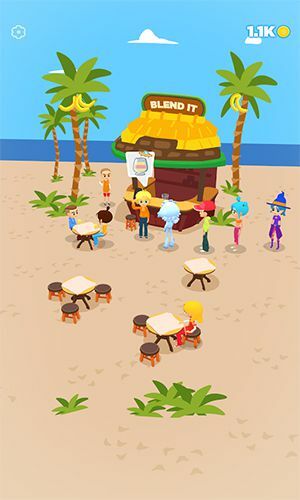 Download Blend It 3D MOD APK for android
Blend It 3D is a simple and light game that brings gamers a lot of entertainment. It has many attractive features that seem to make players addicted to the gameplay. It is definitely a perfect choice for you in your free time. Besides, we also provide you with the modified version of the game named Blend It 3D Mod Apk. It will bring you more advanced features than the original version. Readers can download the game at the link below.