WPSApp Pro is a great toolkit for Android phones, which helps you to check the security of the mobile network with WPS protocol. This is a premium version of WPSApp. So far, it has been downloaded by tens of millions of people. WPSApp Pro can work well on many new and old versions of Android devices. It even works on rooted devices. In this article, we give you all the information about the app and provide you with the link to download the latest WPSApp Pro APK for Android phones. Please join us to check it out right now!
About WPSApp Pro on Android
Today, many mobile users will worry about the security of their wifi network. They always wonder if their wifi gets hacked or stolen by bad users and make your connection slower. WPSApp Pro will be a perfect choice to help you check the security of wifi access points. However, many people will love another special feature of WPSApp Pro that is unlocking access to wifi networks via WPS PIN (also known as wifi hack). No matter which features you use, WPSApp Pro is still great.
Scan wifi information simply
WiFi access points will have a lot of important parameters. They will help prevent users who want to monitor the access point for bad purposes. However, it also makes it difficult for owners who want to control their own access points. WPSApp Pro will give you all the information about your wifi networks, such as speed, devices or channels. You will know almost all important information for tracking purposes.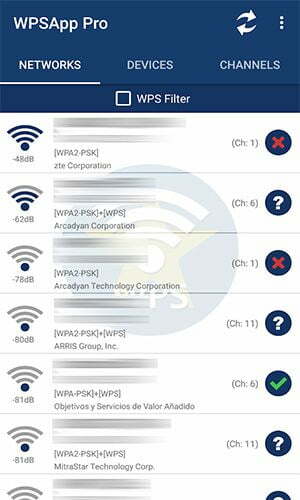 Network Security
Currently, many bad guys want to take advantage of security holes to steal information from wifi networks. WPSApp Pro will simulate the access process of the user who wants to break into your home wifi. You can use it to check the wifi network you are using. From there, users can take measures to prevent unauthorized access. Most attacks will target legacy devices. You should change the settings on the old transmitter or change a new one with better technology.
WPSApp Pro will detect wifi passwords with WPS PIN with 8 digits. These codes will depend on the manufacturer of the transmitter. This application calculates and tries different PINs to find the correct password. When scanning the wifi around, the wifi is red and marked X is the secure wifi. Users have disabled the WPS feature to avoid having their passwords stolen.
Review wifi password
Sometimes, you want to share your wifi password and accidentally forget. In many cases, conventional phone devices will not display your passwords again so you have to remember them. You may need to reset the password for all the devices. That will be a complicated and time-consuming thing for you. At this point, WPSApp Pro will support the password review feature of all wifi networks you have ever connected to. You just need to click on the saved network section to display all the information you need. However, this feature can only be used on rooted devices. Readers can refer to another great app of the same genre, Wps Wpa Tester Premium.
How to hack wifi network with WPSApp Pro?
When using WPSApp Pro to scan surrounding mobile networks. Users will receive a list of different networks in a long filter. Here, you will see the list of wifi networks, which are arranged by the connection speed. The greater the -dB score is, the stronger your network connection will be. Besides, the most important thing is that you should pay attention to the icons on the right side of the screen. There will be three different symbols including "X", "?" and green checked icon.
X mark: These are secure wifi with WPS disabled.
"?" mark: These are wifi with WPS enabled but the application has not determined the PIN. You will use WPSApp Pro to identify the information on these networks.
Green checked icon: These are the wifi at the highest risk of being hacked. It is turned on WPS, and the application has also identified its PIN code.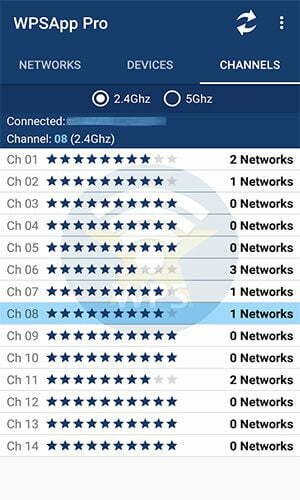 Download WPSApp Pro MOD APK on Android
Overall, WPSApp Pro is a good app for those who love exploration. It can help you check the security of wifi networks, and provide you the detail about wifi parameters, signal quality and more. WPSApp Pro is very light to download and easy to use for everyone. We bring you a great solution to download its WPSApp Pro APK file for free at the end of this article. Readers can visit our Blog regularly to update the latest versions of WPSApp Pro. Thanks and have fun!